Seals, Surf and Gulls
25/11/2019 - 14:36
We have wanted to do this for a long time, so we found a weekend and trundled up to the Norfolk Coast in the hope of seeing (and watching) Grey Seals for the first time. We were not disappointed!
This time of year, Grey Seal females arrive at traditional Rookery sites to give birth and wean their Pups, with the Bulls arriving shortly after to mate. Grey Seals are our largest predator and the UK provides home to around 40% of the World's Grey Seal population. They are larger than the Common Seal we had previously seen before in Scotland and we watched all kinds of behaviours.
All the photos below were taken with a long lens from a designated path (or at Winterton from 15m away) and cropped. Seals are wild animals and should not be approached or disturbed (particularly in pupping season) but should be, as with all wild creatures, observed and delighted in from a very respectful distance.
On a grey but damp afternoon, we arrived at Winterton and after a spot of lunch in the village, went for a stroll along the beach. As we wandered along, little dark faces kept popping up out of the water then disappearing again... We were being watched!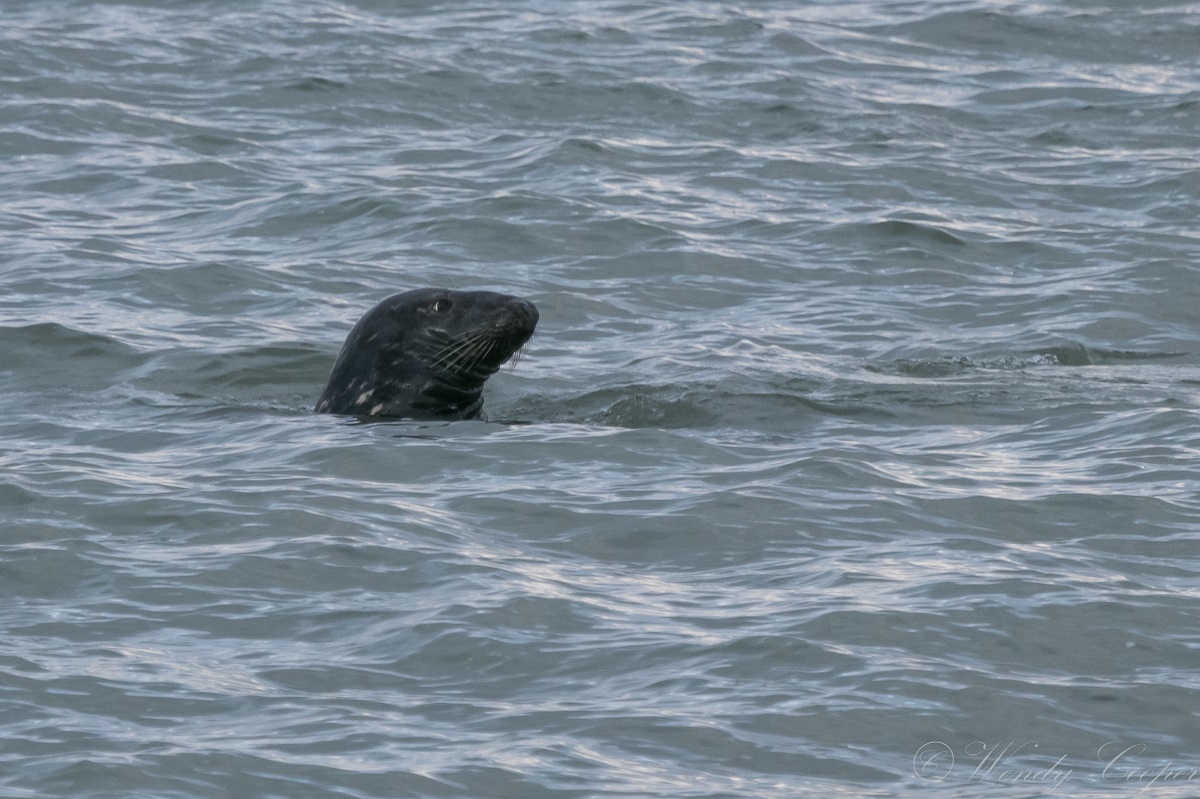 Despite a gentle breeze, the sea was fairly choppy, so the heads disappeared and reappeared from beneath the waves and occasionally small groups of Black Headed Gulls and Lesser Black Backed Gulls skimmed across the waves.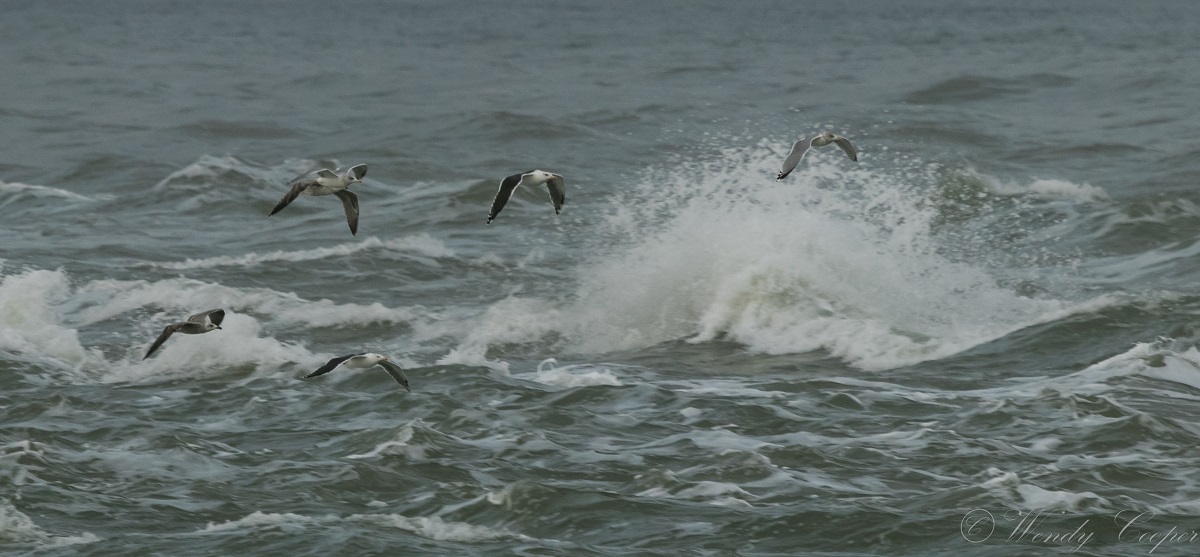 Ahead of us we could see a large dark Bull resting high up on the beach, standing a good distance off we watched him surveying the area, stretching, rolling and scratching and generally relaxing.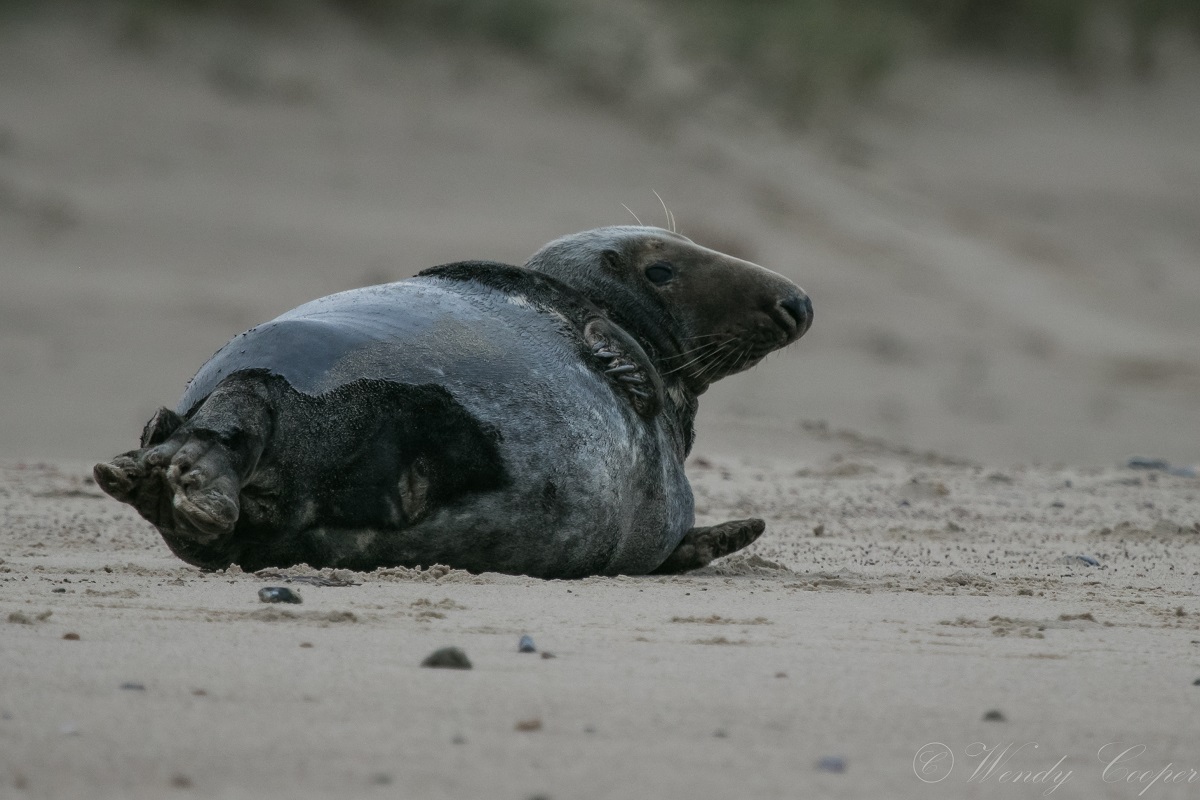 Watching the water, there were more Gulls but also a small monochrome bird bobbing along and occasionally diving – a bit of a treat, a Guillemot out on a fishing trip!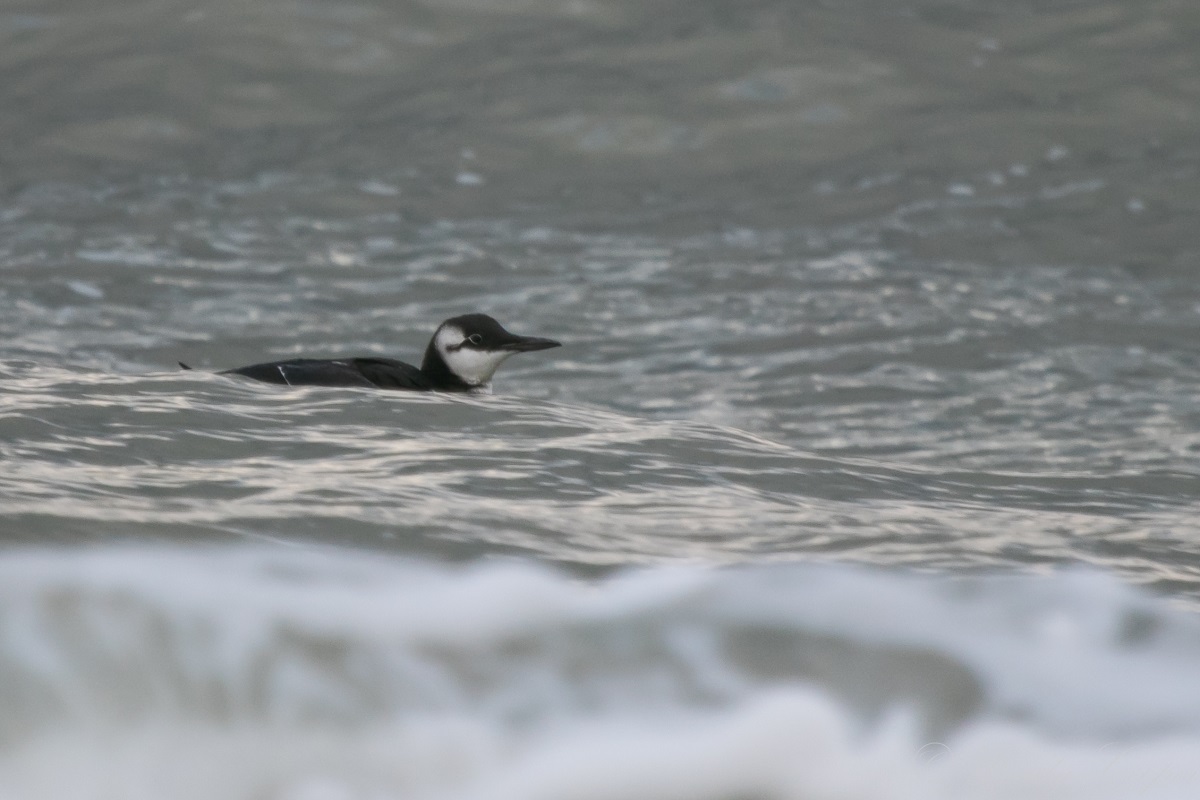 The Bull continued to watch,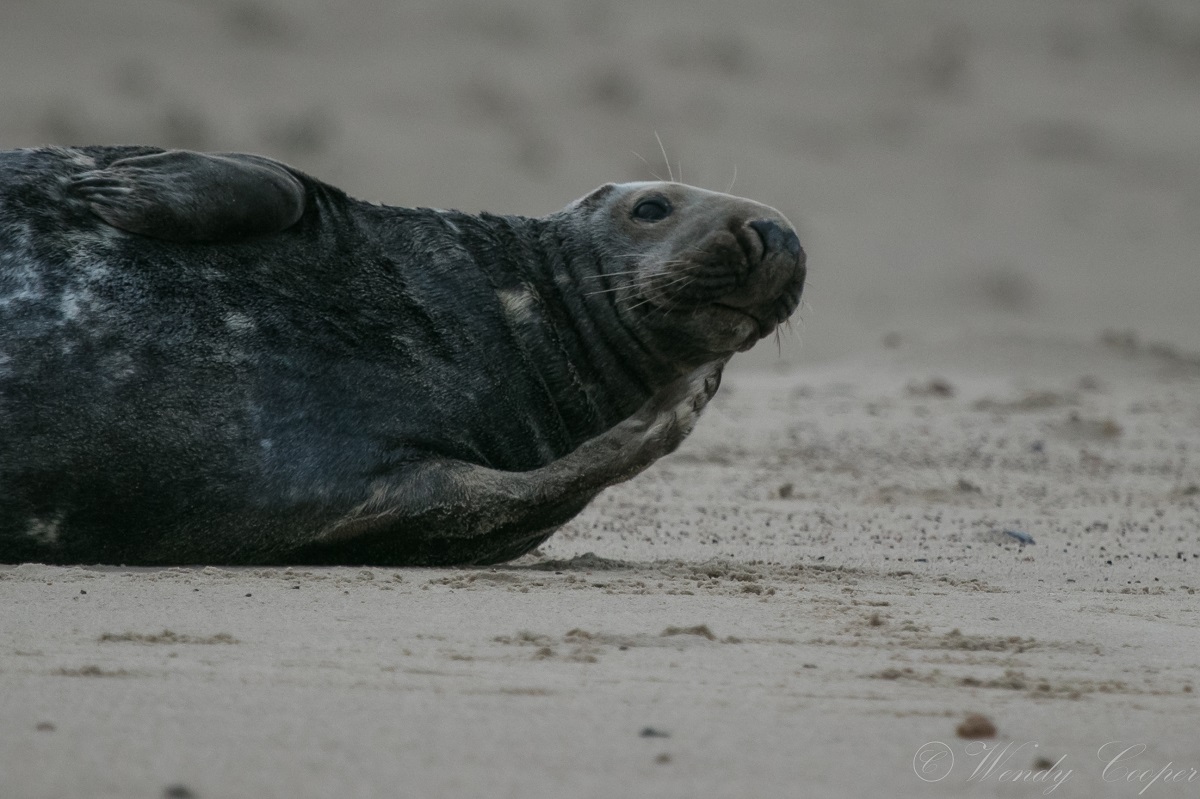 And in the surfy waterline we watched more Seals swimming

and a pair greeting each other before hauling out onto the beach.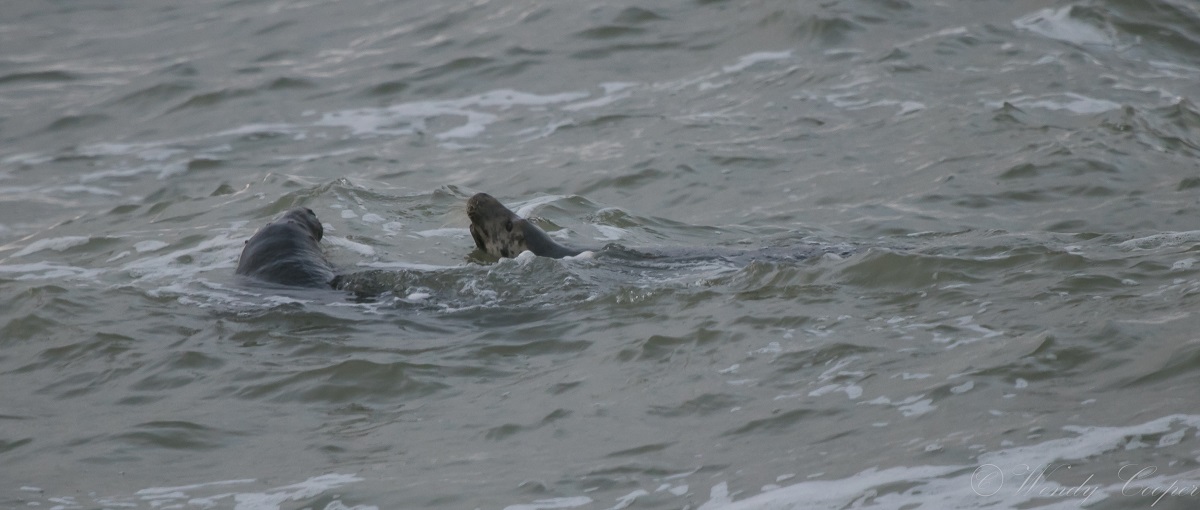 On our return walk, we watched one particularly inquisitive Seal out in the water intently watching a pair of dogs (both under control and safely on leads) who were watching the Seal back!
Further along the beach (we did not wander there – the first Bull for us marked 'their' patch of beach, so peered through binoculars instead of wandering further along) we could hear the Seals calling and see that some kind of discussion was occurring – all settled down again shortly after, but Bulls amongst Cows seemed to be the issue.

The next morning, in extremely windy (and later wet) conditions we arrived at Horsey. We wandered up to the top of the path and our faces just lit up – all along the beach were Mums and Pups as far as the eye could see! In coming weeks, the beach will become far more crowded as more arrive, however, what a sight!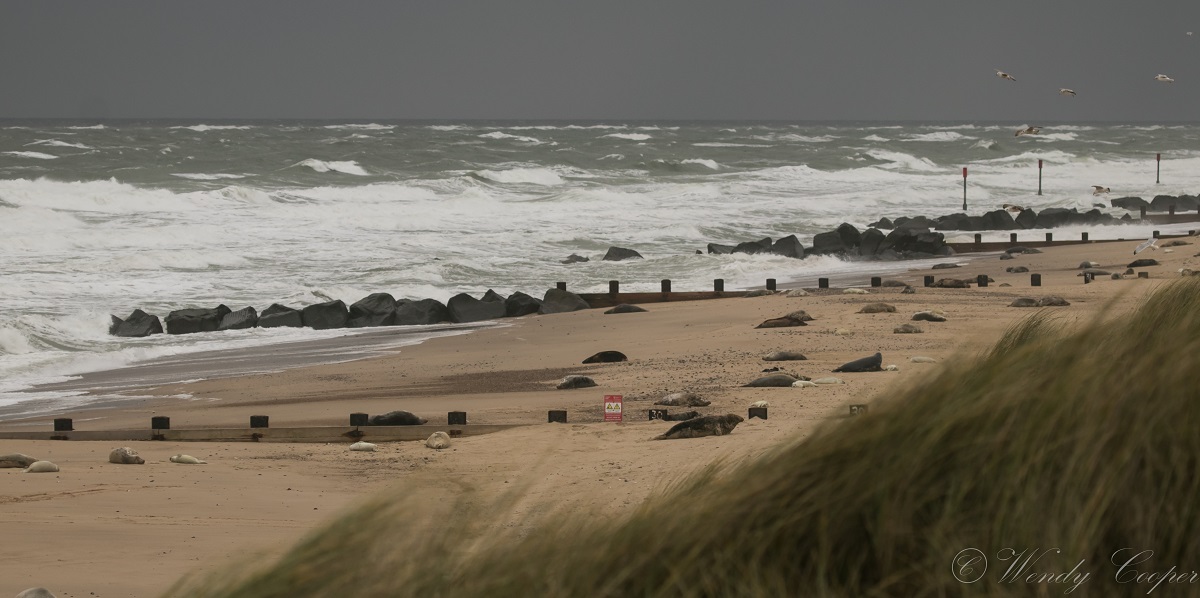 On the sand just below us, a Mum was inviting her Pup to feed, the youngsters have around three weeks to feed up and put on enough weight before Mum departs and to keep them going until they have moulted their baby fur, which isn't waterproof and can then fend for themselves. The Mums recognise their Pups by smell and we saw many identifying and communicating moments between them.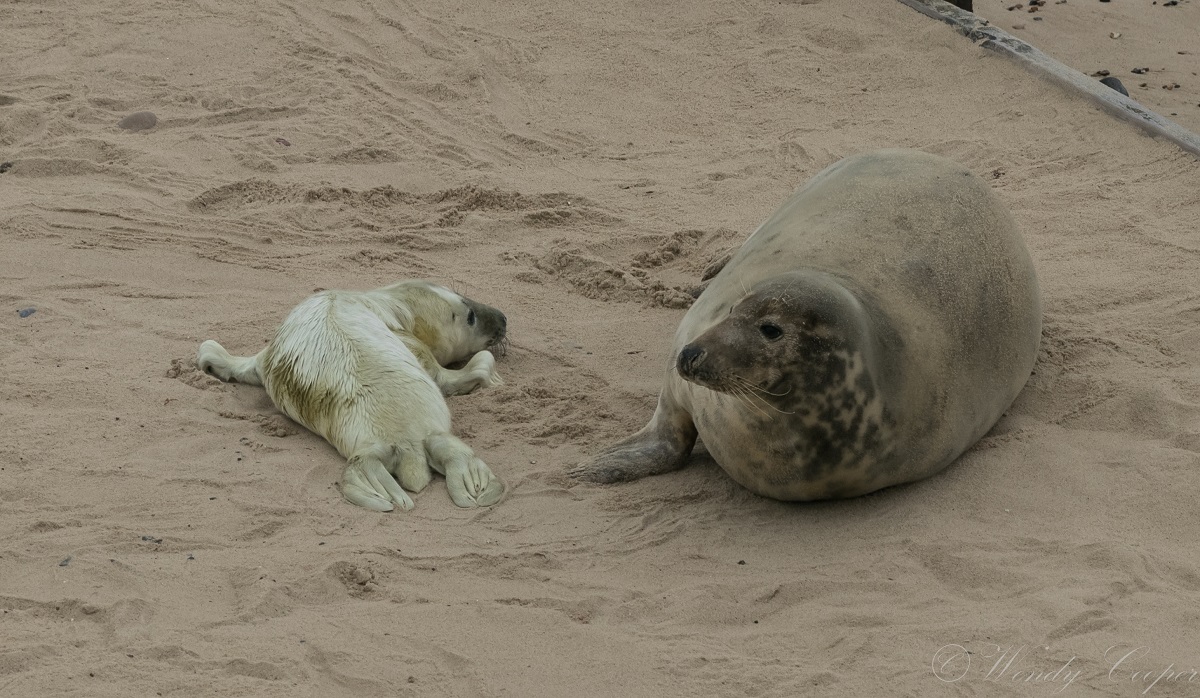 The pups suckle for quite some time on an hourly basis on their Mother's milk, which is extremely rich – around a 60% fat content.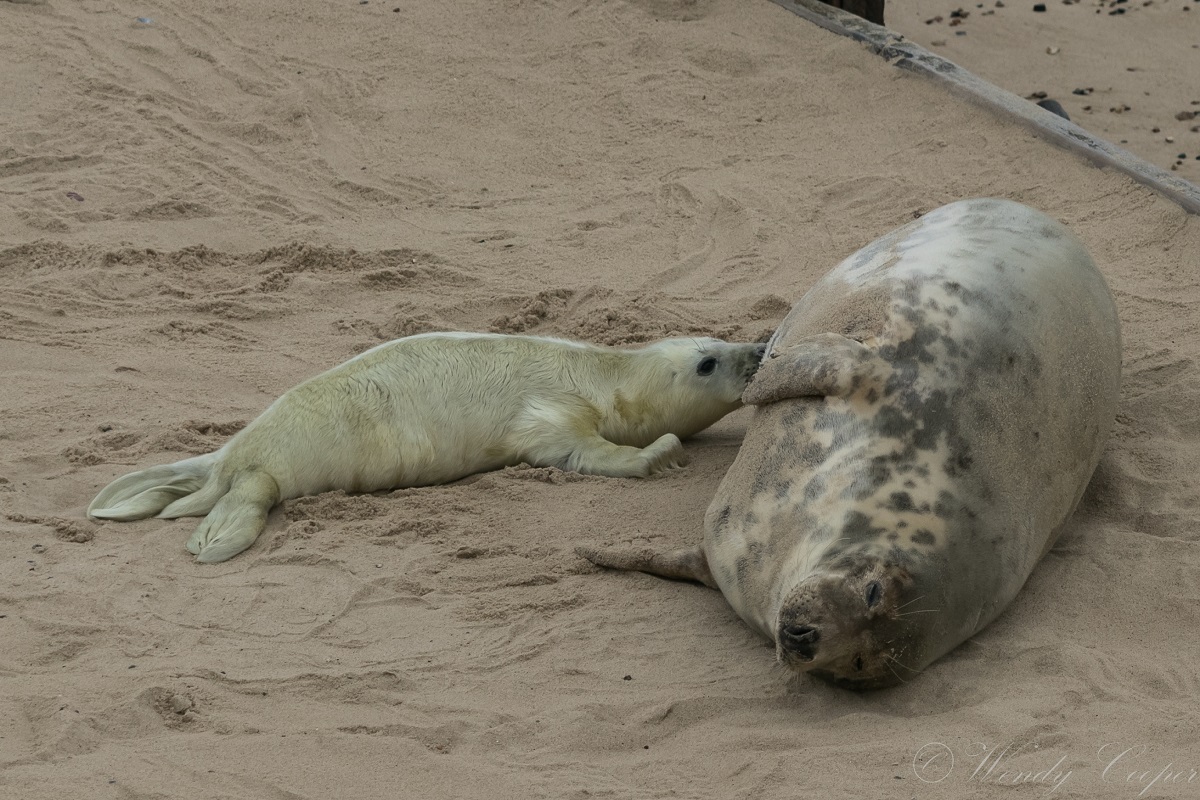 Here and there, lone Pup's were resting on the beach or looking about waiting for Mum to return back from the sea.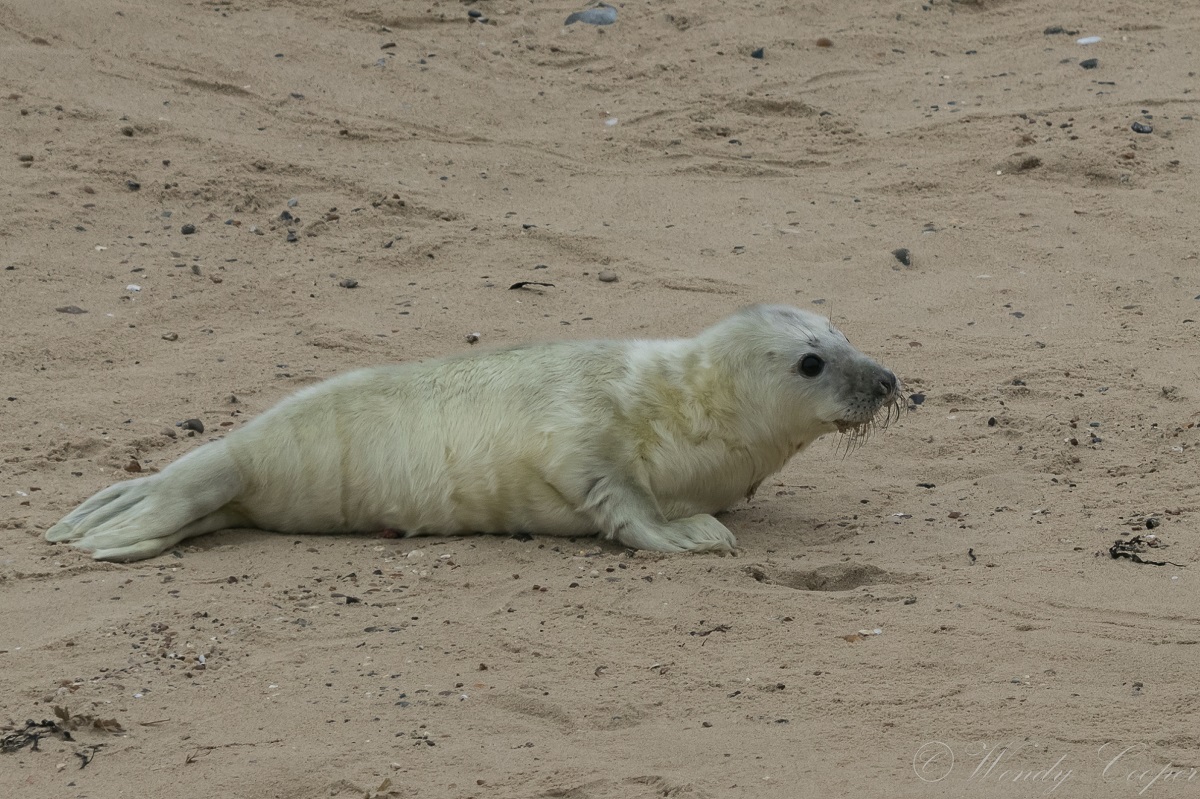 There were also a sizeable number of pregnant Cows resting up whilst waiting for a Pup to arrive.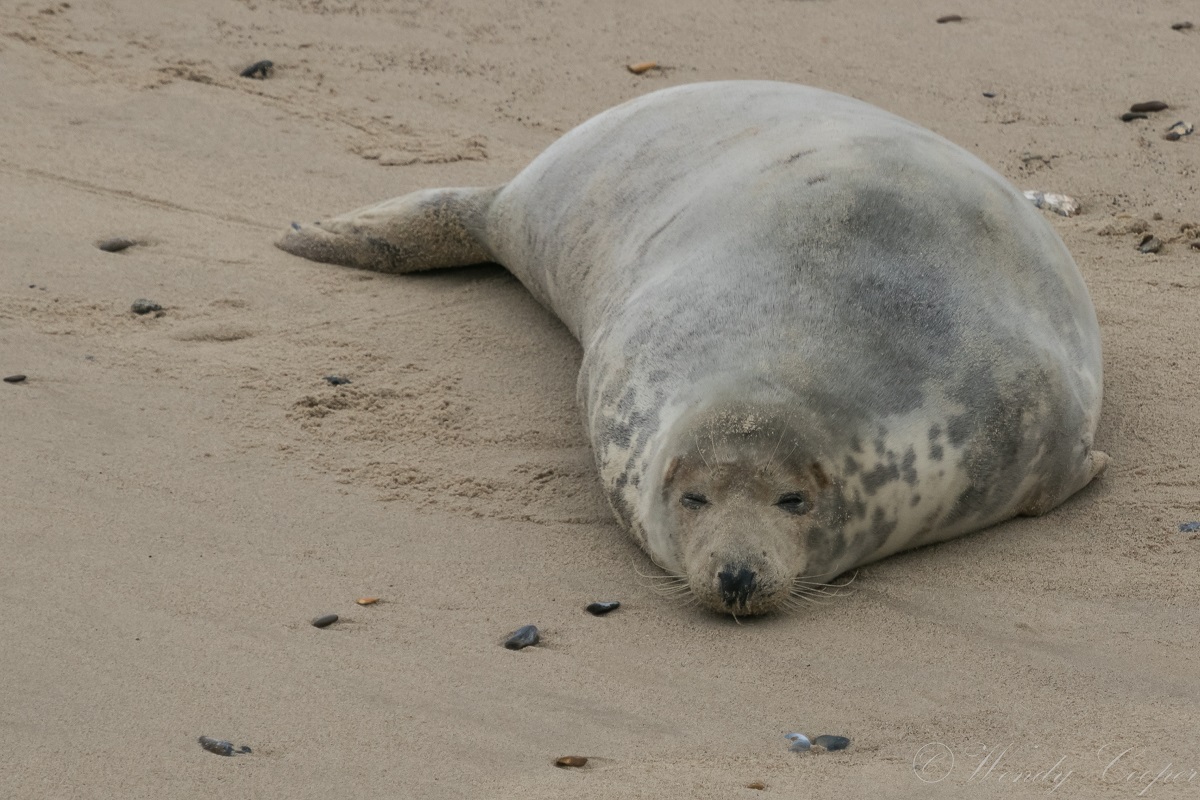 Right in front of us and a few hours old, a Mum and alert youngster, just a few hours old rested after the birthing process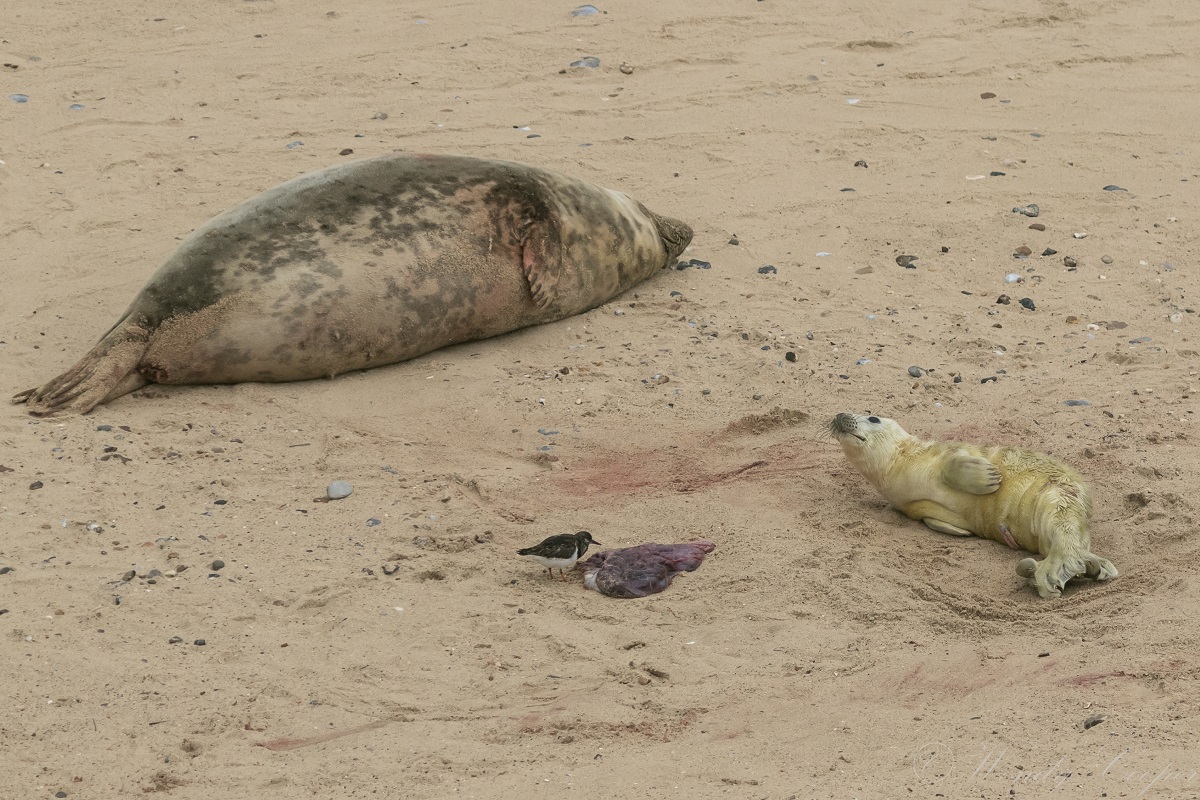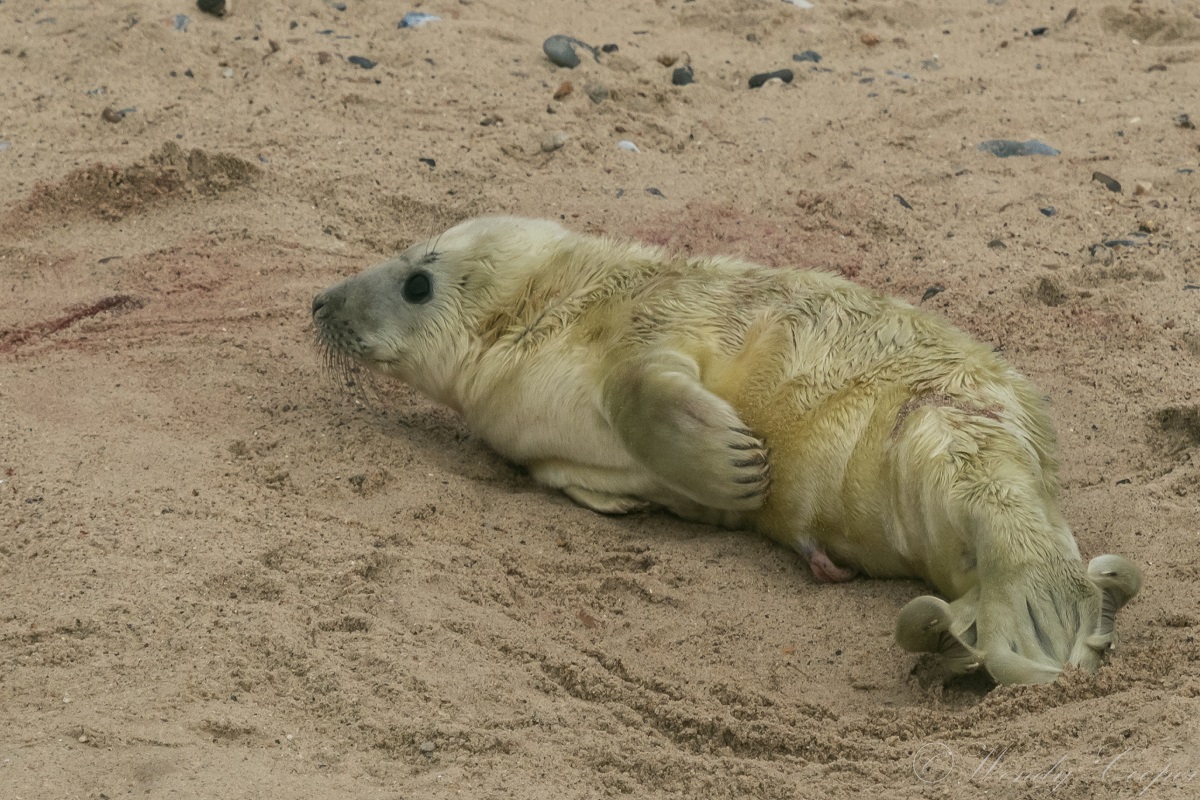 – nothing in nature goes to waste, whilst to some this may not be 'neat & tidy' nature and a bit gory, the Seals have their own clean up brigade – a free meal for the seabirds – here a Turnstone is taking advantage.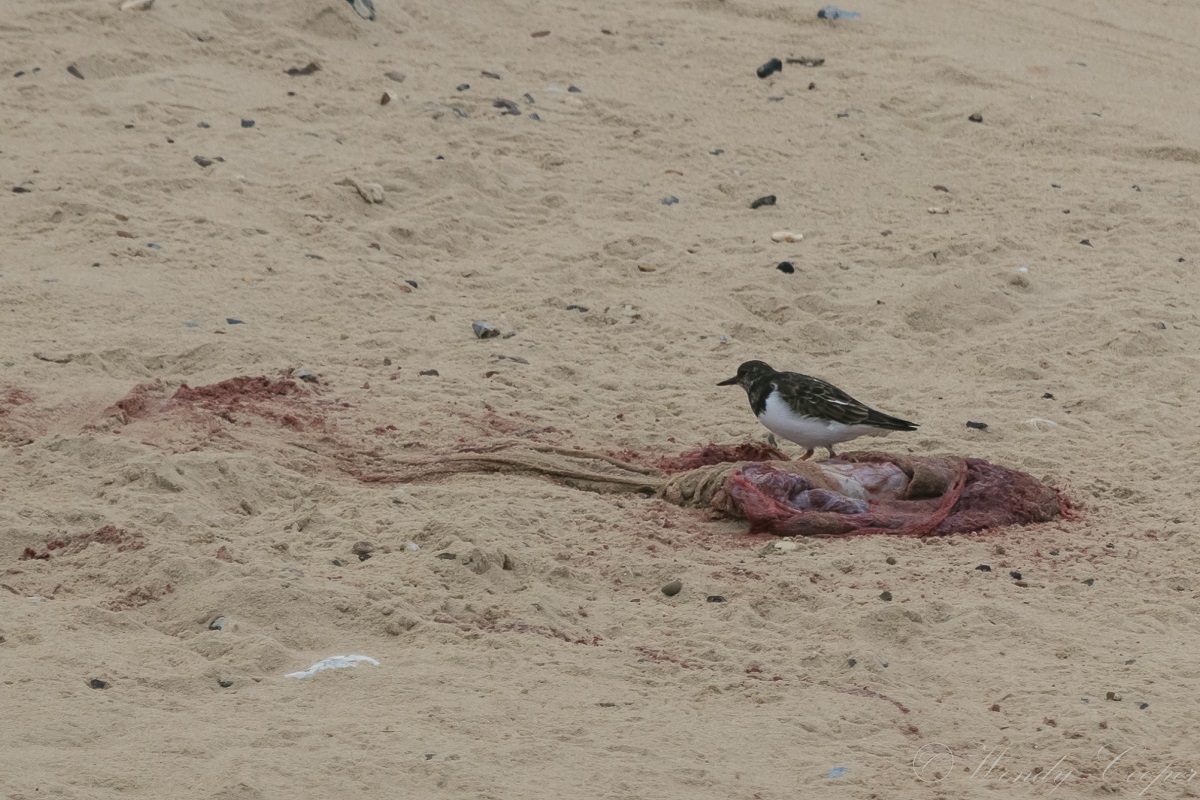 Further along the beach a Pup, just twenty minutes old, was pointed out to us. Lying all alone, it looked incredibly vulnerable, however it was alert and looking for Mum to return. The Cows are very territorial, so other nearby females were giving the youngster a wide berth.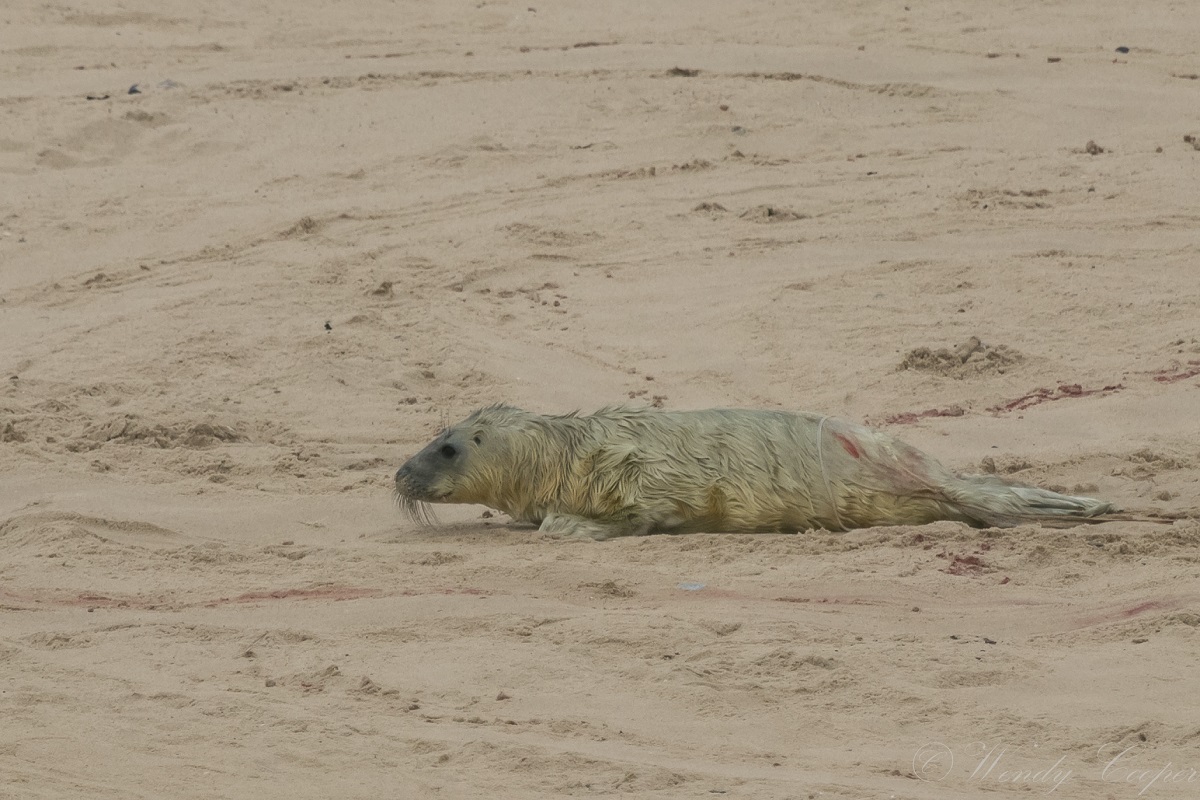 A short way away, another Pup, amongst a group of Cows gave a good idea as to how quickly the youngsters grow – this one is around a week old!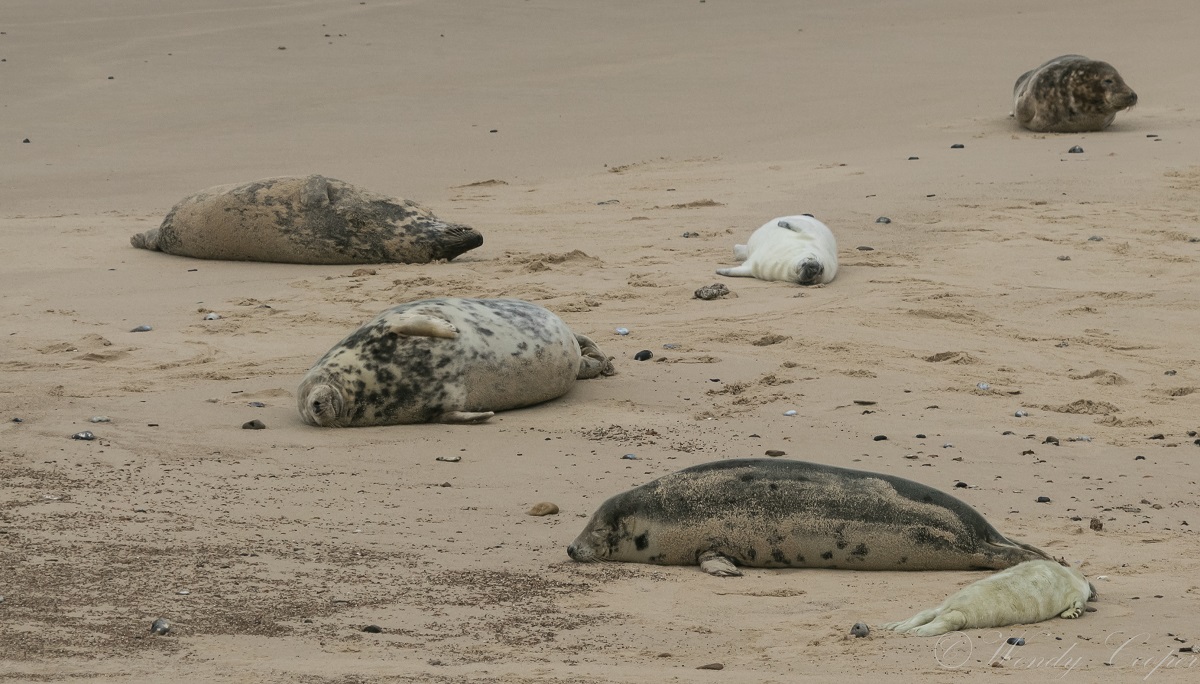 Overhead a group of Gulls were organising themselves,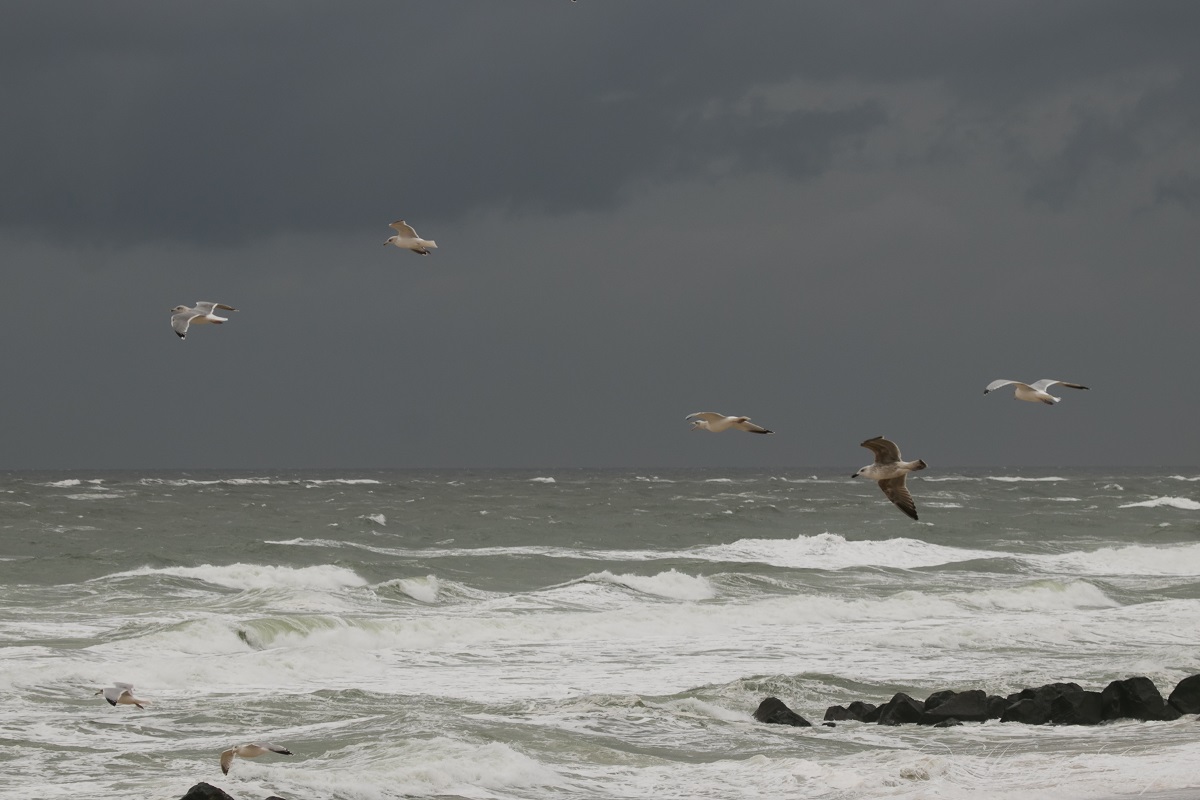 A free meal had been spotted on the beach! (When we returned the following day, there was barely a trace).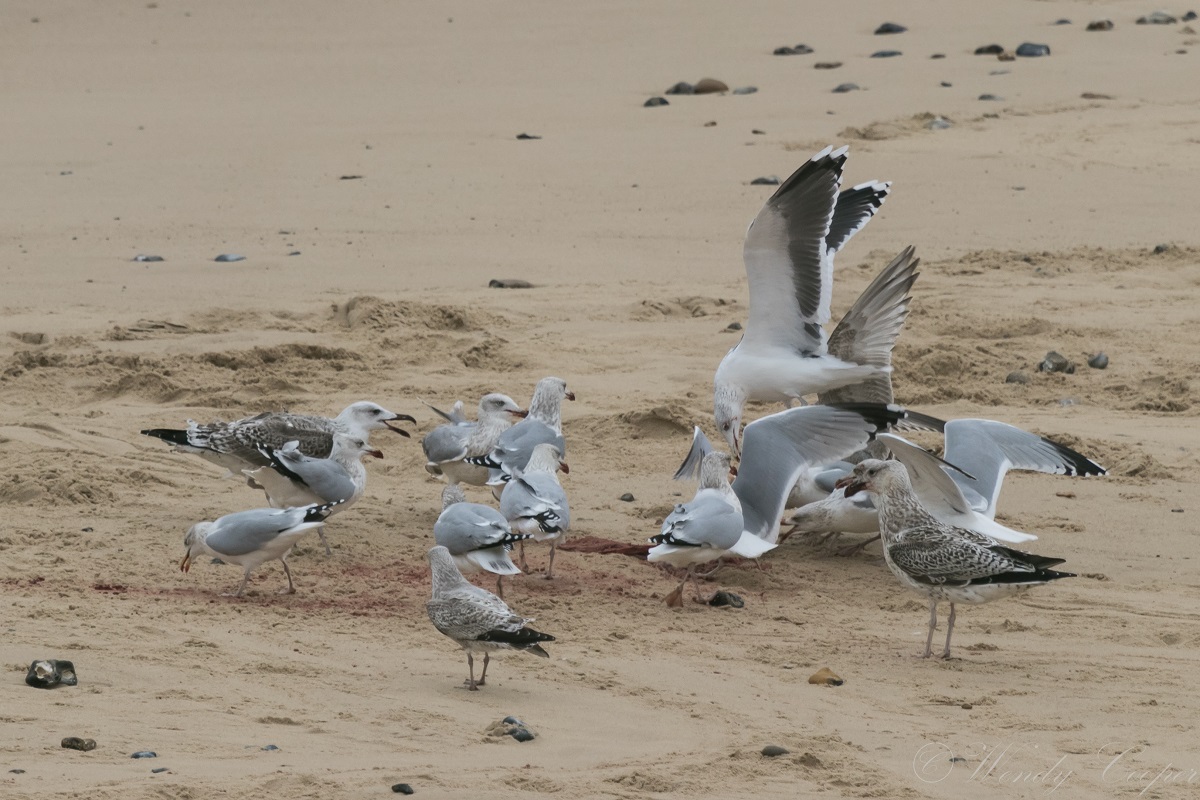 Looking back to the lone youngster, a greeting moment was happening as Mum made sure the youngster was her Pup!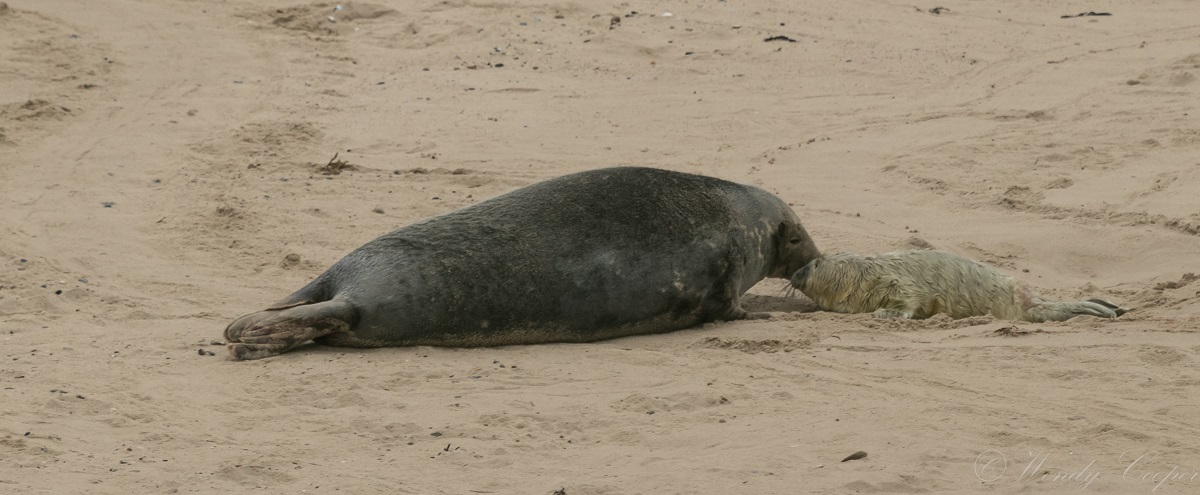 On our walk back we watched many Pups suckling,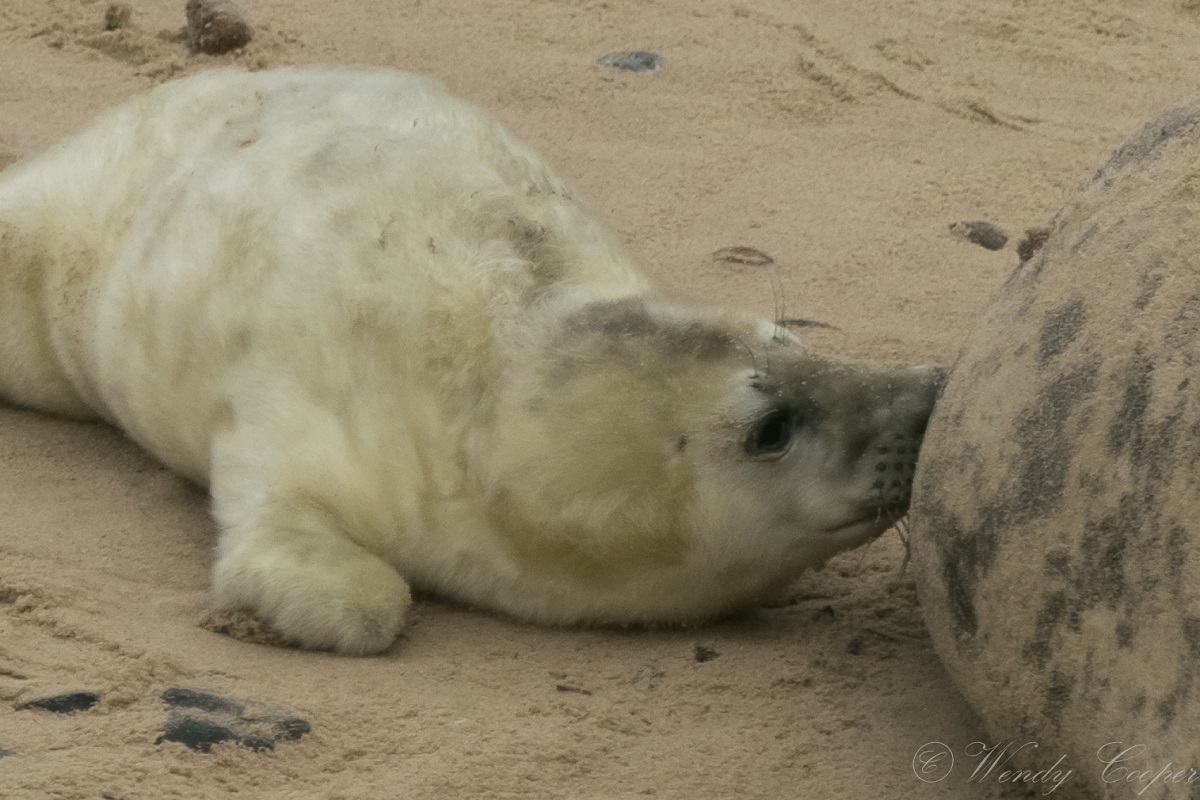 Mums resting and occasionally Bulls emerging from the waterline and a lot of extremely cute Mum & Pup moments! (I could easily just fill a page with just such as these..);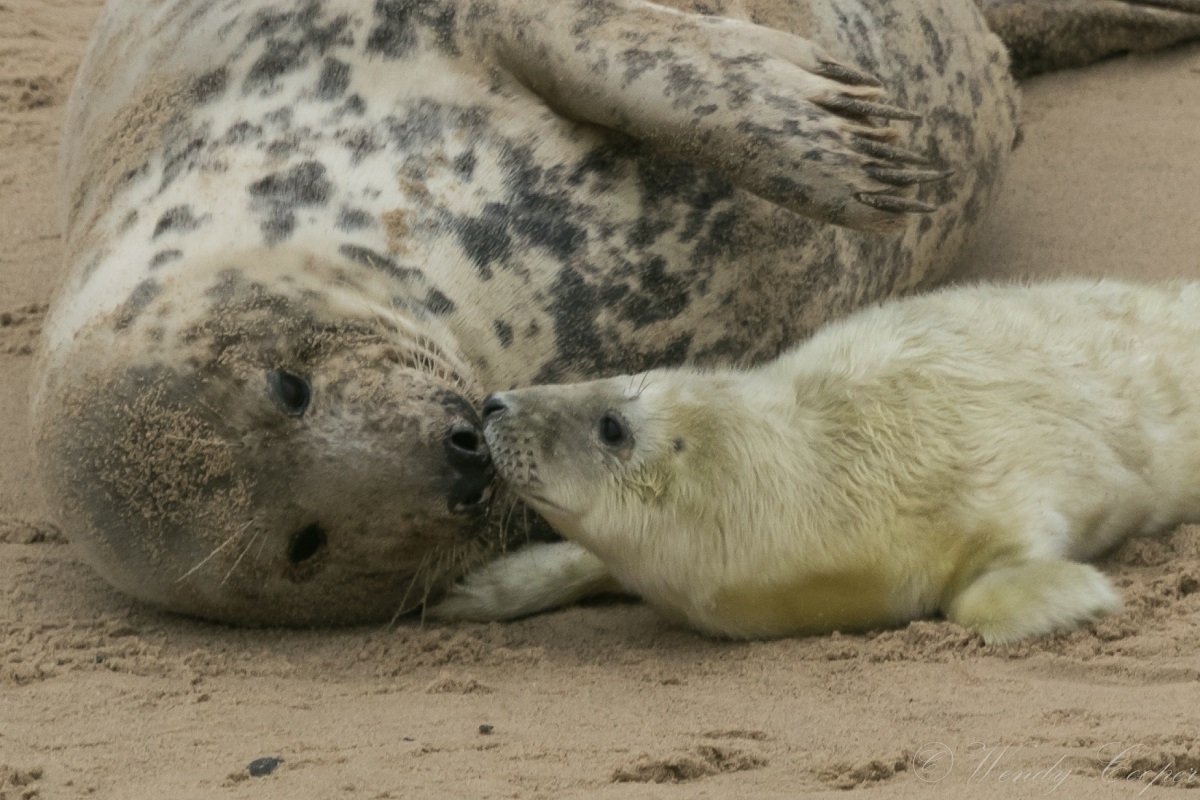 After a coffee and a scrummy cream tea at Poppylands, we returned for a short while… sitting out the rain before venturing back to the beach briefly in very high winds and heavy intermittent rain. After a while I admitted defeat with the weather (much to the camera's and Hubby's relief and despite worst efforts from the weather, there are some lovely soft filter images where the front of the lens was covered in spray & rain) and called it a day.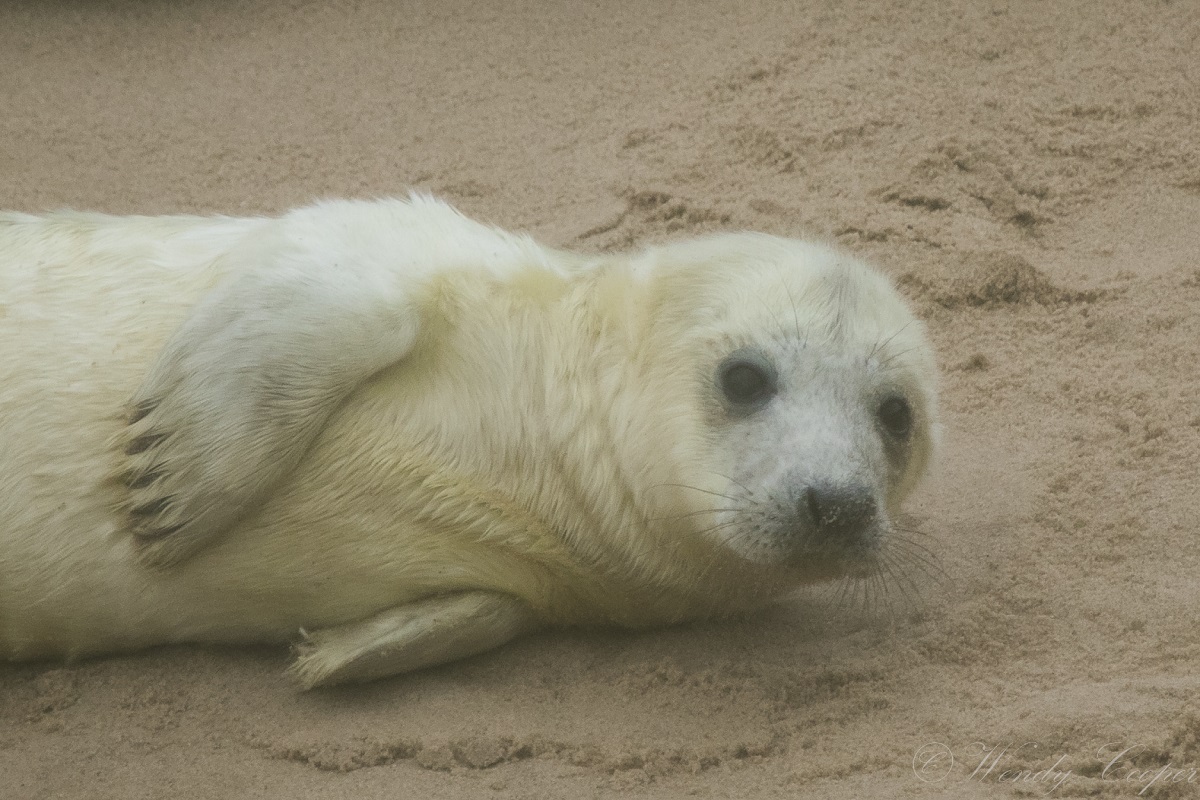 The next morning arrived with patches of blue sky, a big shiny thing and gentle breezes, so we returned to Horsey for a more comfortable wander. The sea was still quite choppy, with more than a few impressive waves, however a few Mums and Pups had ventured into the shallows, apparently by way of an introduction for the youngsters to their future 'home'.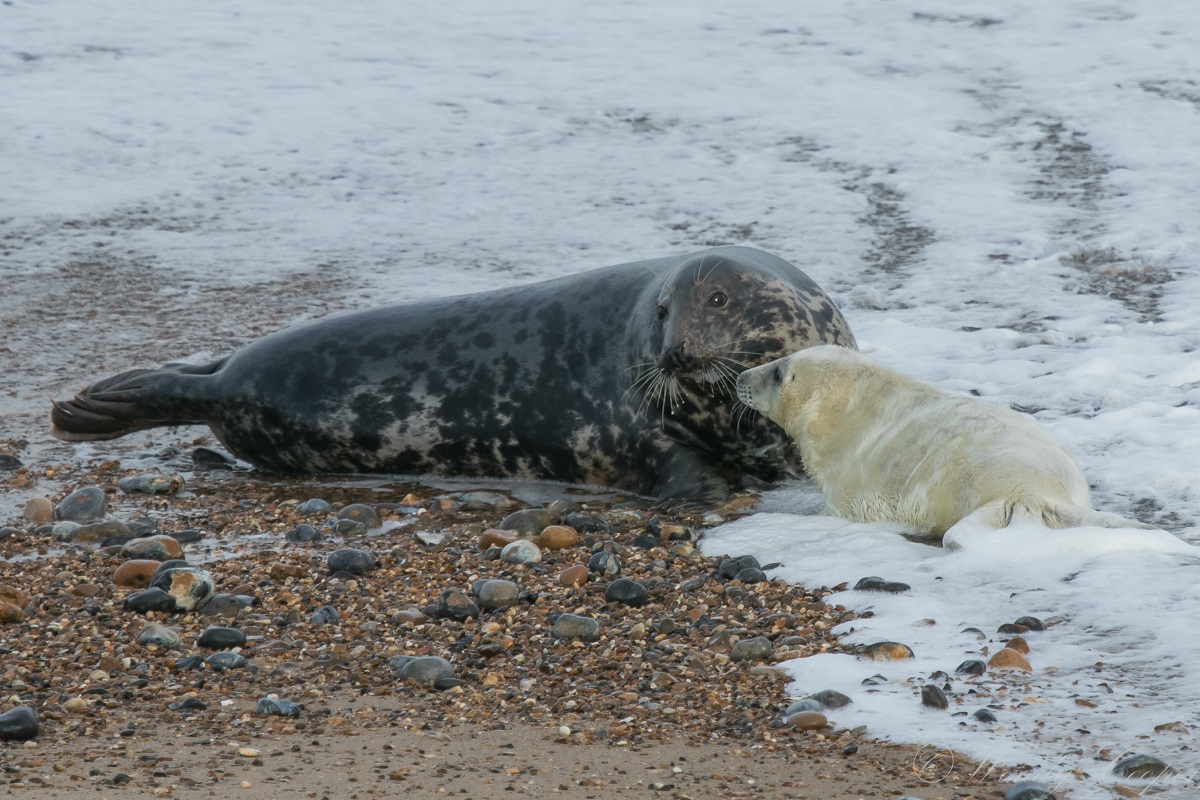 There were other Pups looking on after Mum had wandered off,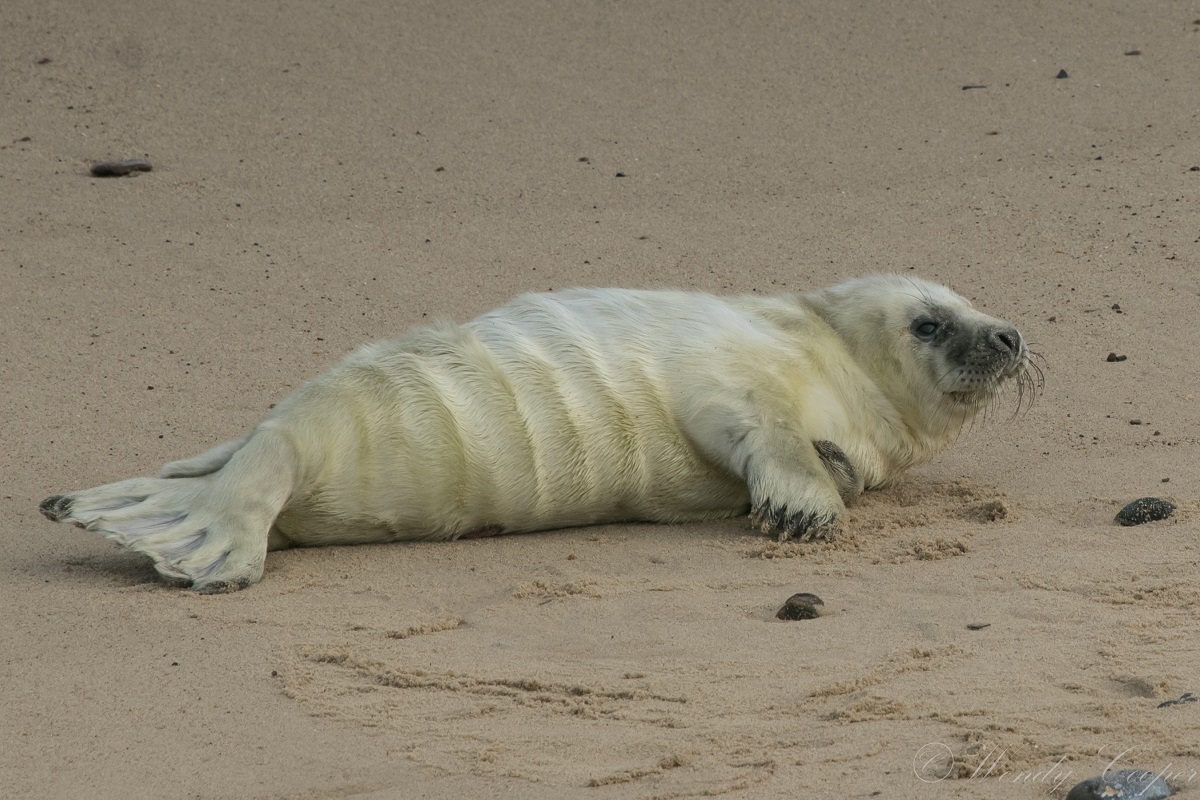 Whilst a few of the Mums had a roll in the surf…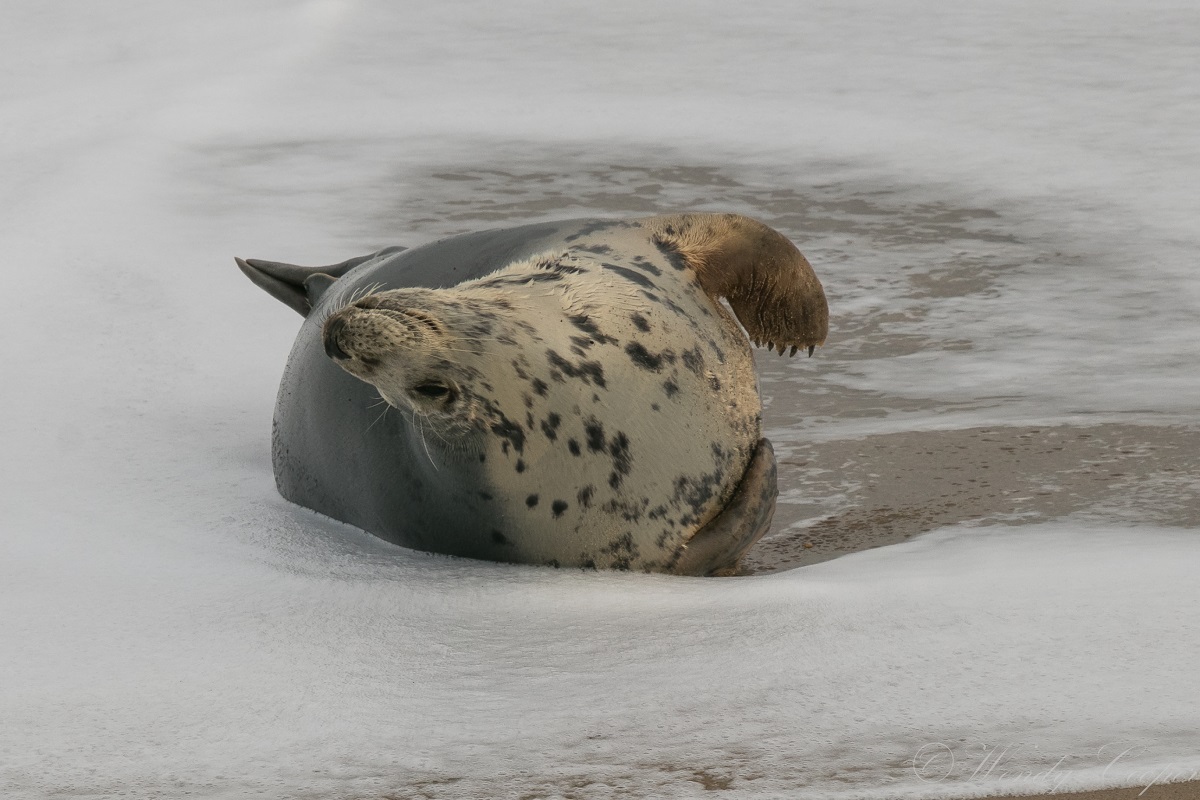 And Bulls made hopeful arrivals from out of the waves and eyed up the ladies, with the younger ones also eyeing up the competition - the mature Bulls, which are around ten years old or more are the most likely Beachmasters, however the younger ones may try their luck.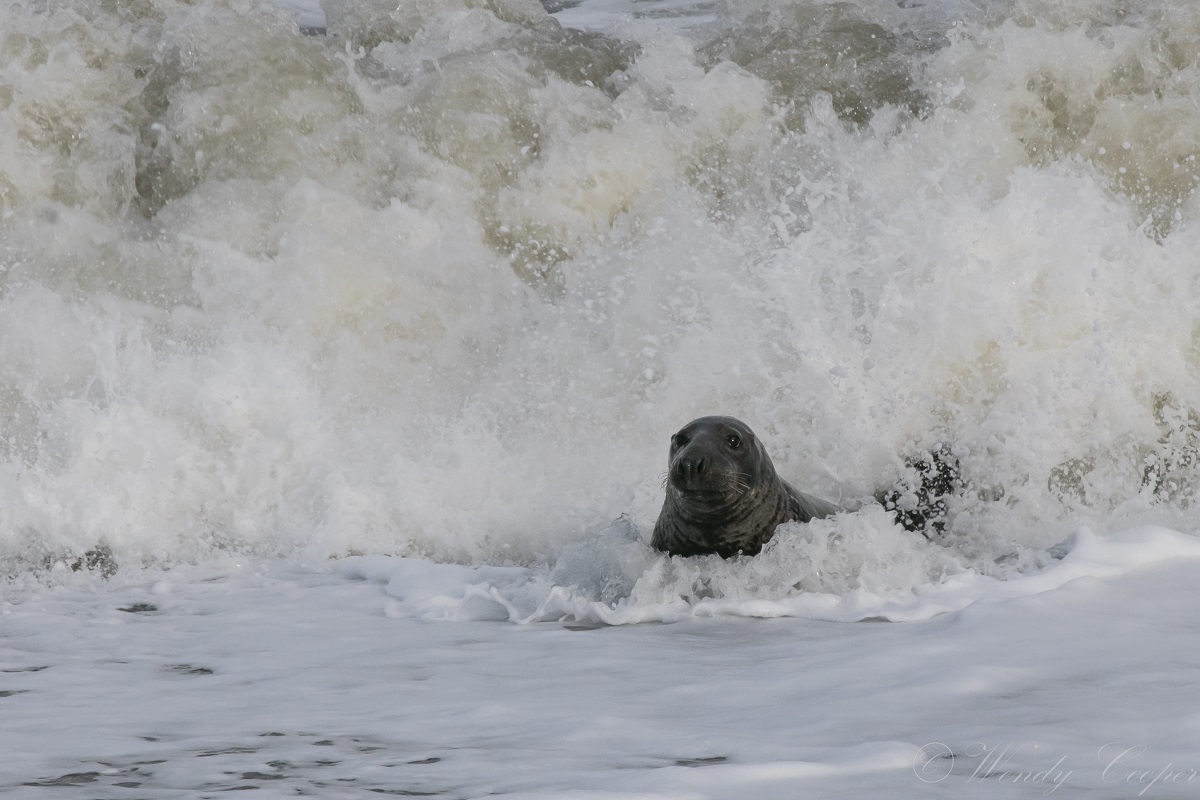 All the while, the females were on alert for any threats to their young and with Bulls arriving from the sea or resting on the beach as well, a good lookout was kept.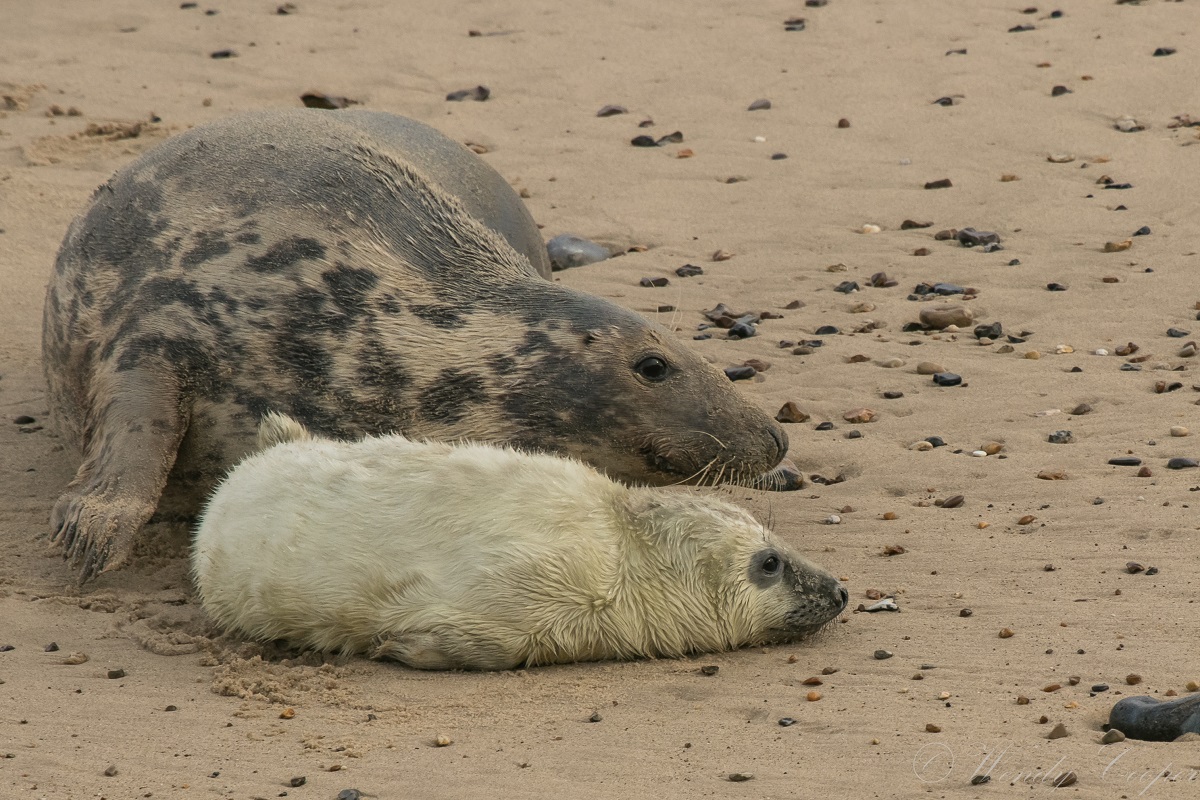 The Mothers would defend their own little patch against other females as well as any Bulls trying to introduce themselves and where there were newborns I noticed the other females would appear to respect the space and not get near the youngster unless Mum was closeby.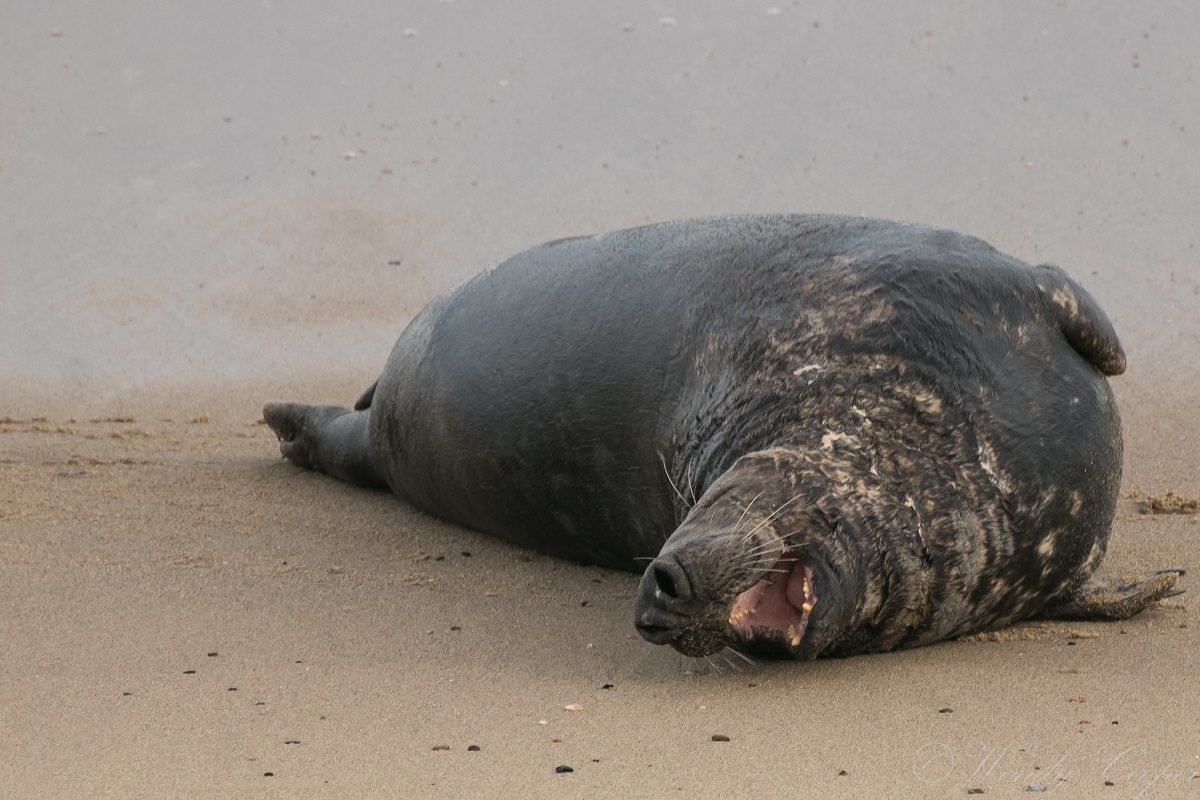 The Bulls are much larger than the females and the mature ones will try to become 'Beachmasters' forming as large a harem as possible and breeding with the females as soon as they are receptive. (Seals are clever and 'delayed implantation' occurs around three months after mating, so the females are able to feed well once back out at sea and pregnant) Bulls will fight each other for dominance, with younger Bulls challenging – given their size this activity can threaten the safety of any Pups which have the misfortune to get in the way.
Down on the water line one such exchange was seen. I was watching the youngster, who's expression changed from the usual curious / smiley look, to one of apprehension.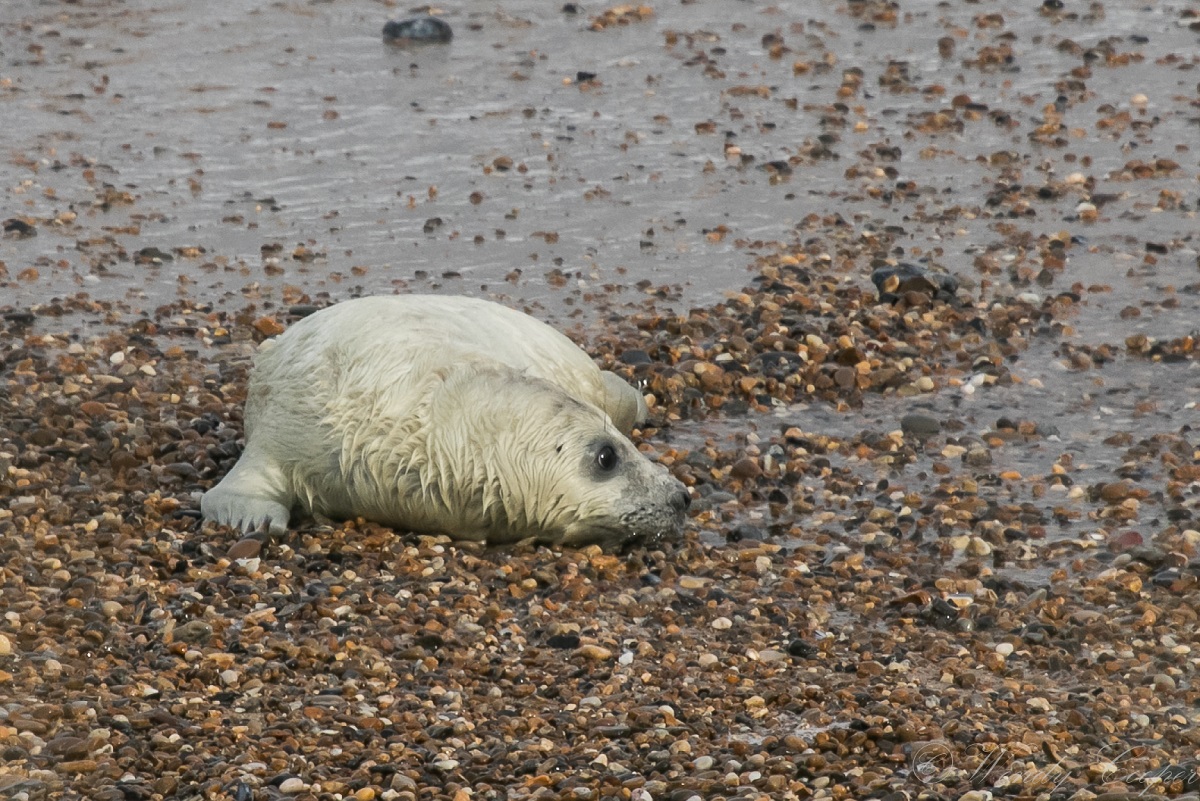 Mum was nearby and soon on hand, rolling fast across the sand and shingles to the Bull almost barging him, whilst in no uncertain terms asking him to move!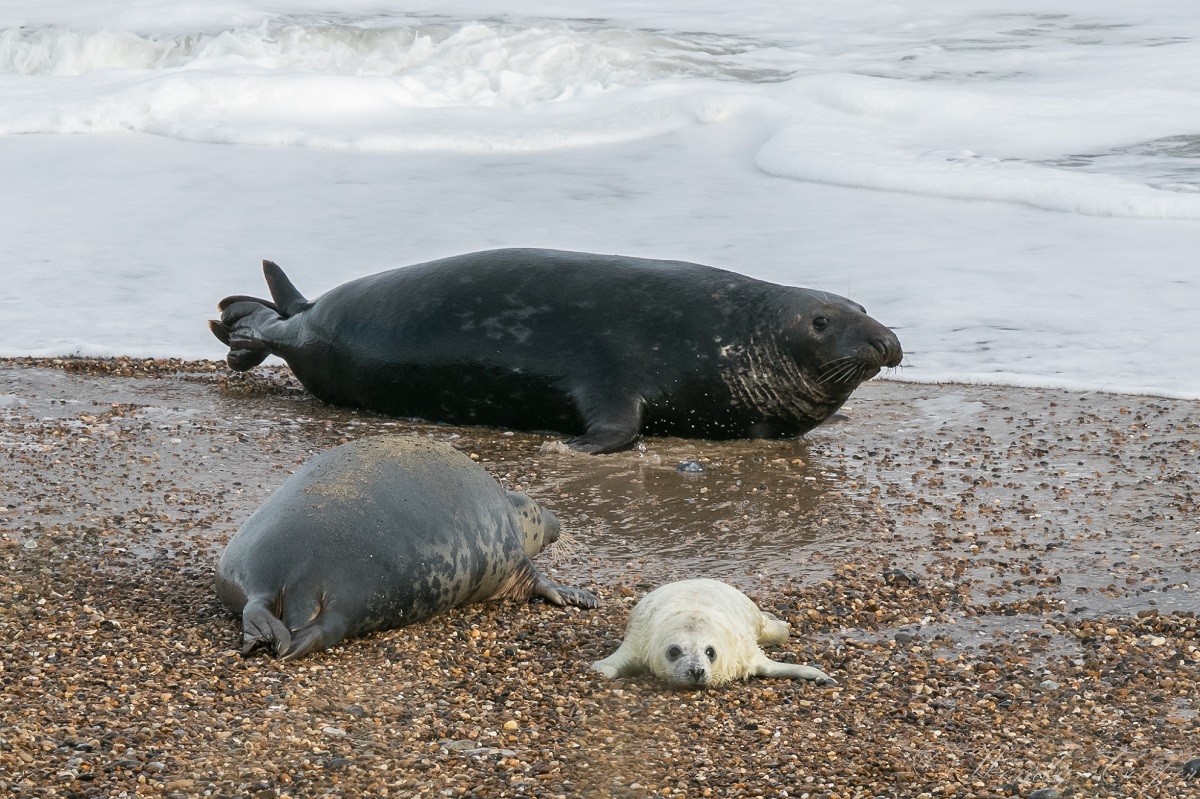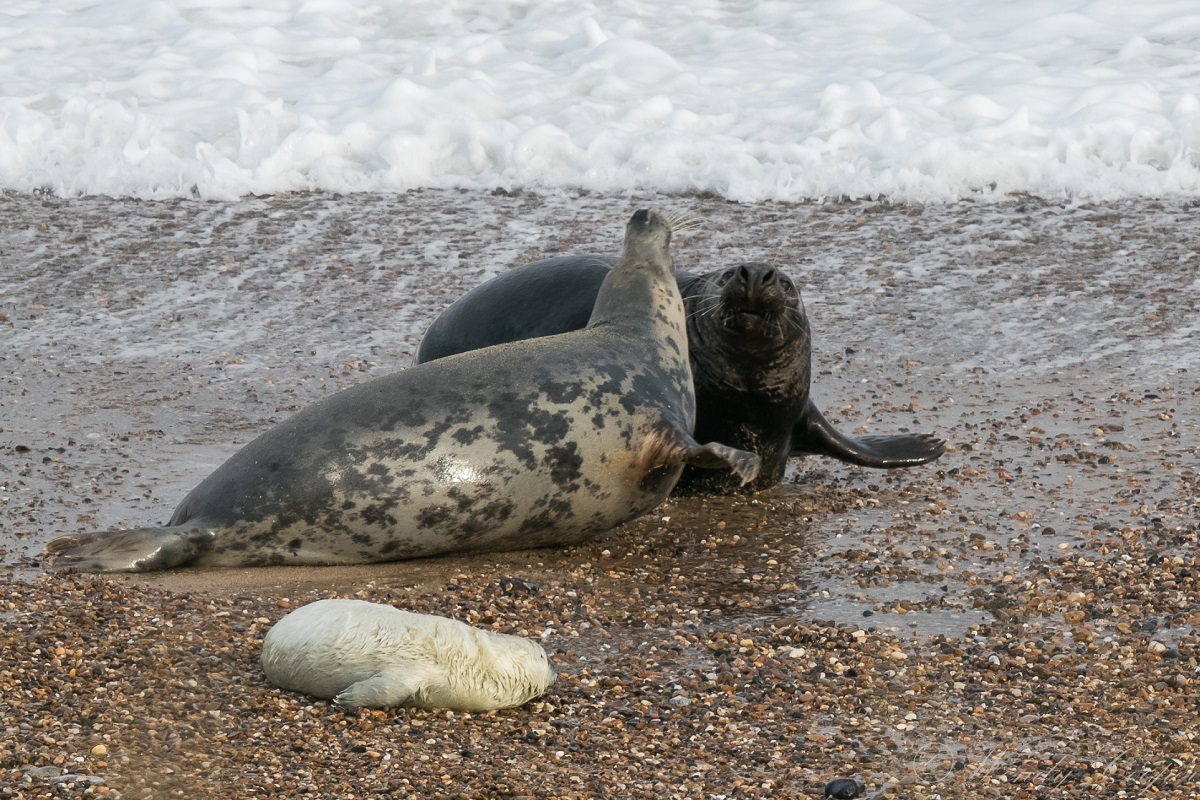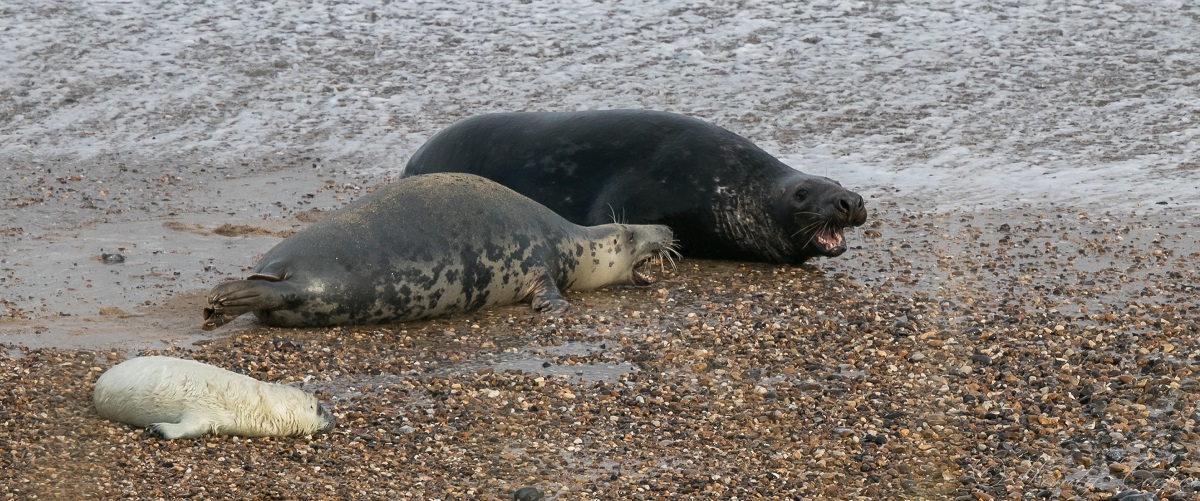 After a few moments calm was restored with the Bull keeping his distance.
Although the Seals were quite a way off, their cries could be heard - with almost a 'human' quality to them although it is quite a beautiful sound; it is easy to understand though the myths of ' Sea Sirens' from fishermen of old. Watching some of the newborn and newly deserted (albeit temporarily) Pups and listening to them call, they sounded almost like a human baby.
Higher up the beach amongst a group of Cows and Pups, a hopeful Bull hauled himself amongst them in the hope of making an introduction,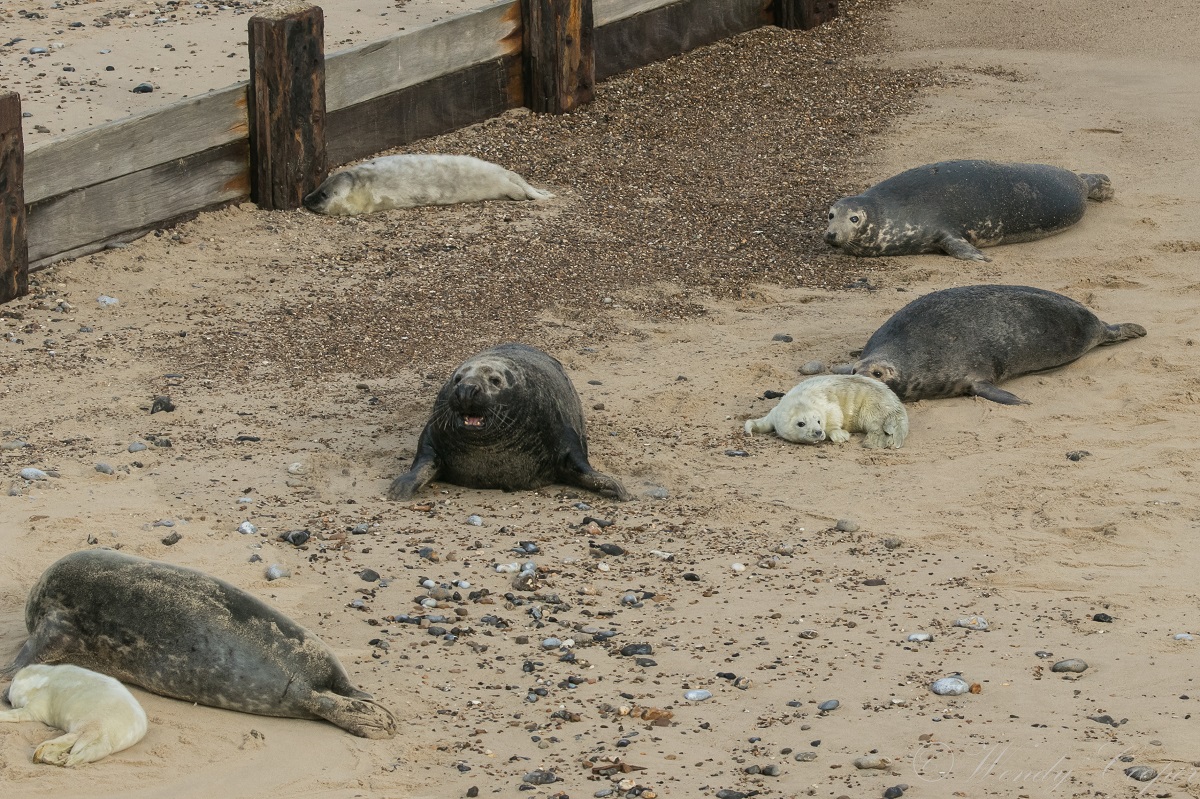 however he too was warned off!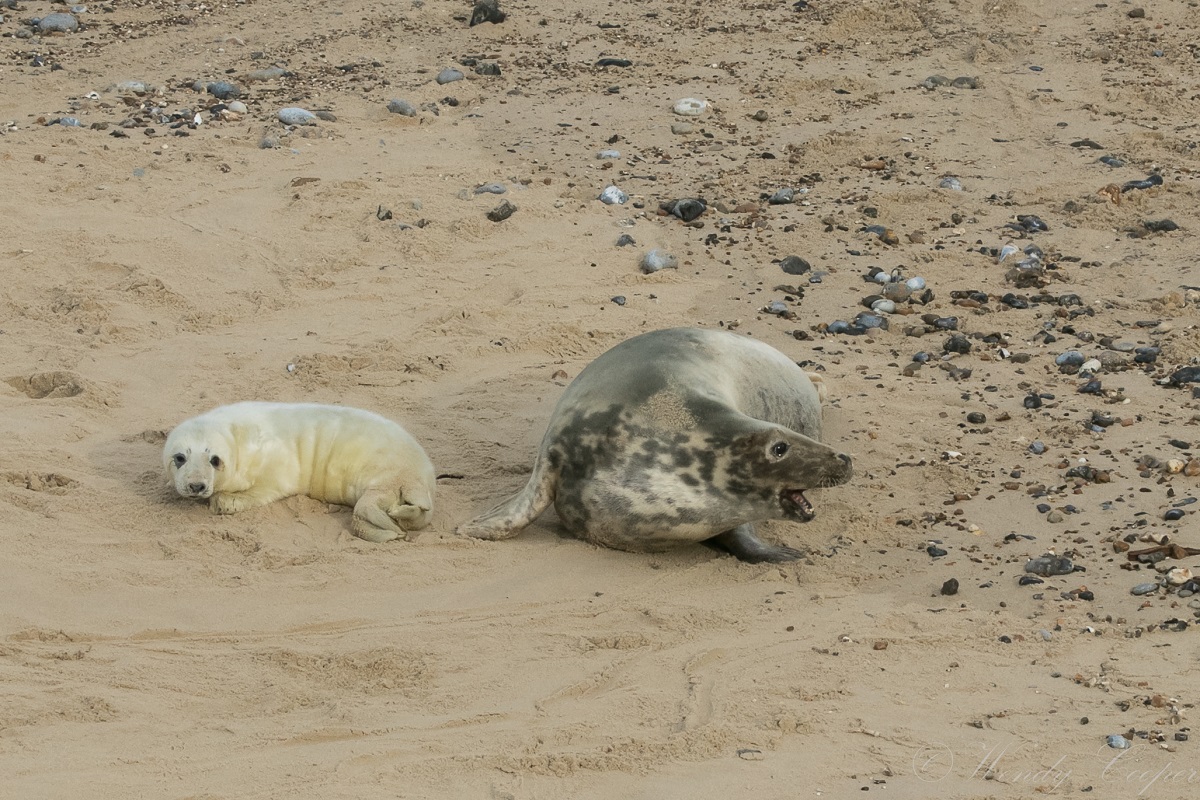 There are many more images gradually being added to an album over on Flickr, if you click on the cheeky youngster below, you can pop over for a further browse!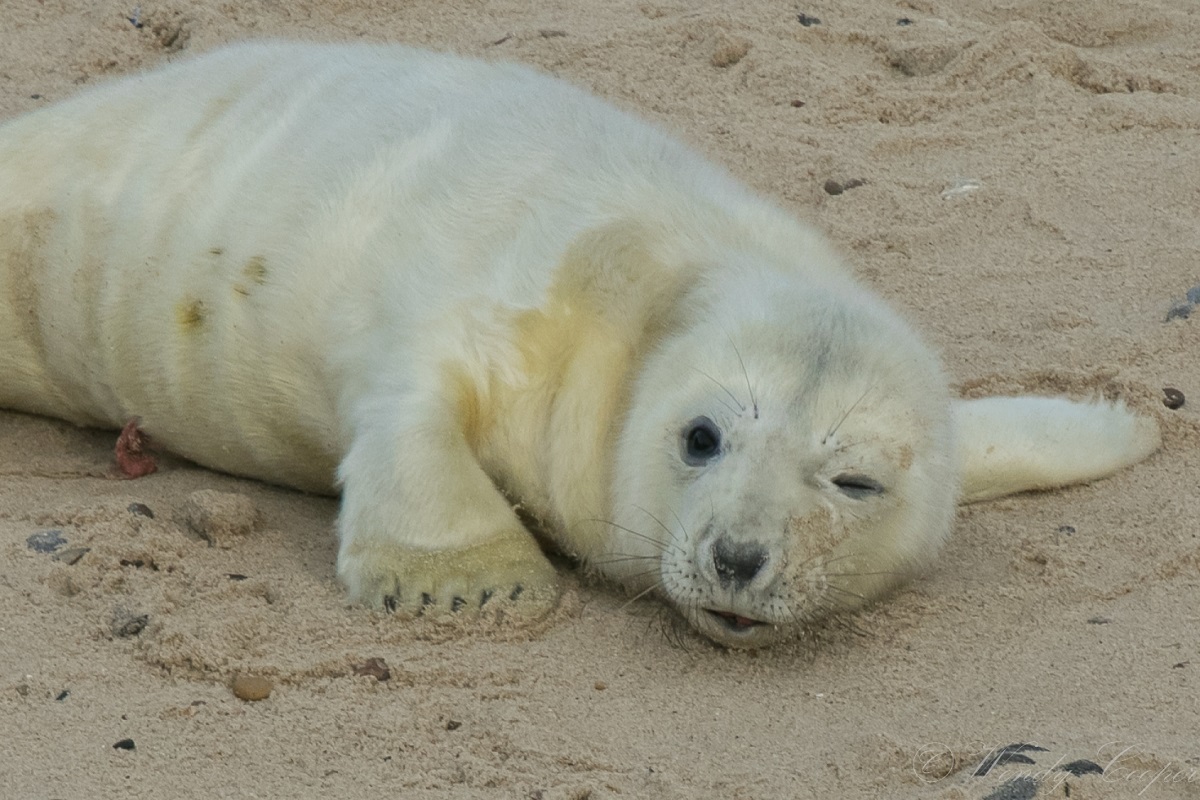 The Seals at Horsey Gap are monitored by The Friends of Horsey Seals, who are all knowledgeable volunteers. They record numbers, monitor the Seal's welfare and provide assistance to any in need of medical care; they also ensure that so far as is possible the Seals are not disturbed. For more information and news on the Seals, please do pop over to their website for a read.
I hope you have enjoyed my blog, if you would like an email notification when my next blog is published, please add your email address to the 'Sign Up' box below, you will then receive an email with which to confirm your subscription. (please be sure to check junk/spam just in case – without the confirmation I cannot let you know about a new instalment!)
As always, comments, feedback or questions are welcome, so please feel free to contact me via the comments section below or via the guestbook.