Forest Medicine
11/10/2020 - 16:17
So after several months of a weird roller coaster of the 'new normal' and beginning to fray around the edges, we took ourselves off to The Forest for some much needed recharging and relaxing…
After eleven Red Kites, one kestrel and twelve Buzzards, we booted up and went for a gentle wander at a nearby heath. As we started along the path into the reserve, we were given the once over by a Blackbird, who allowed passage after turning her interest back to the juicy sloes she was perched amongst;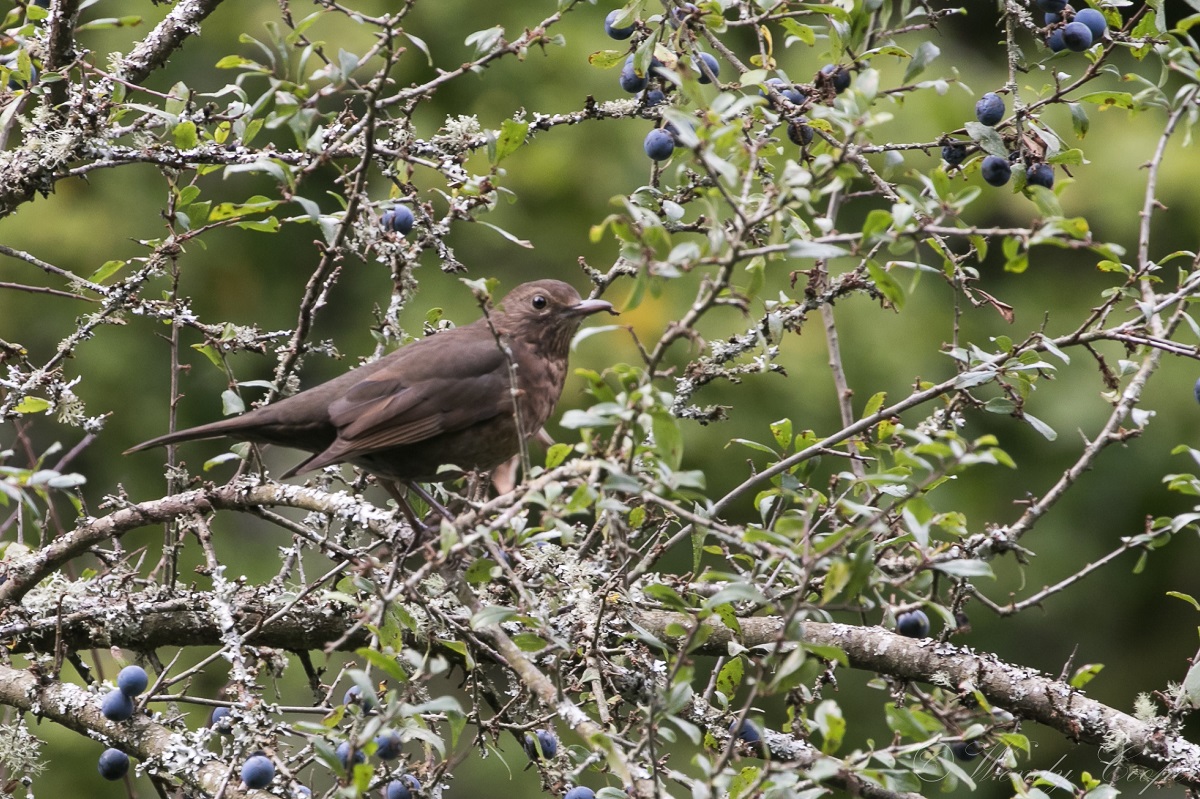 in the trees around us, we could hear Squirrels grumbling and occasional Wrens and Robins declaring from above and below.
Wandering along the path by the dragonfly pools, a flurry of brown and gold stripes took off in a panic – a Snipe, with a second one glimpsed in the grasses next to the other pool before it too exploded into the air. On the tops of the surrounding gorse, Stonechats were clicking and flitting,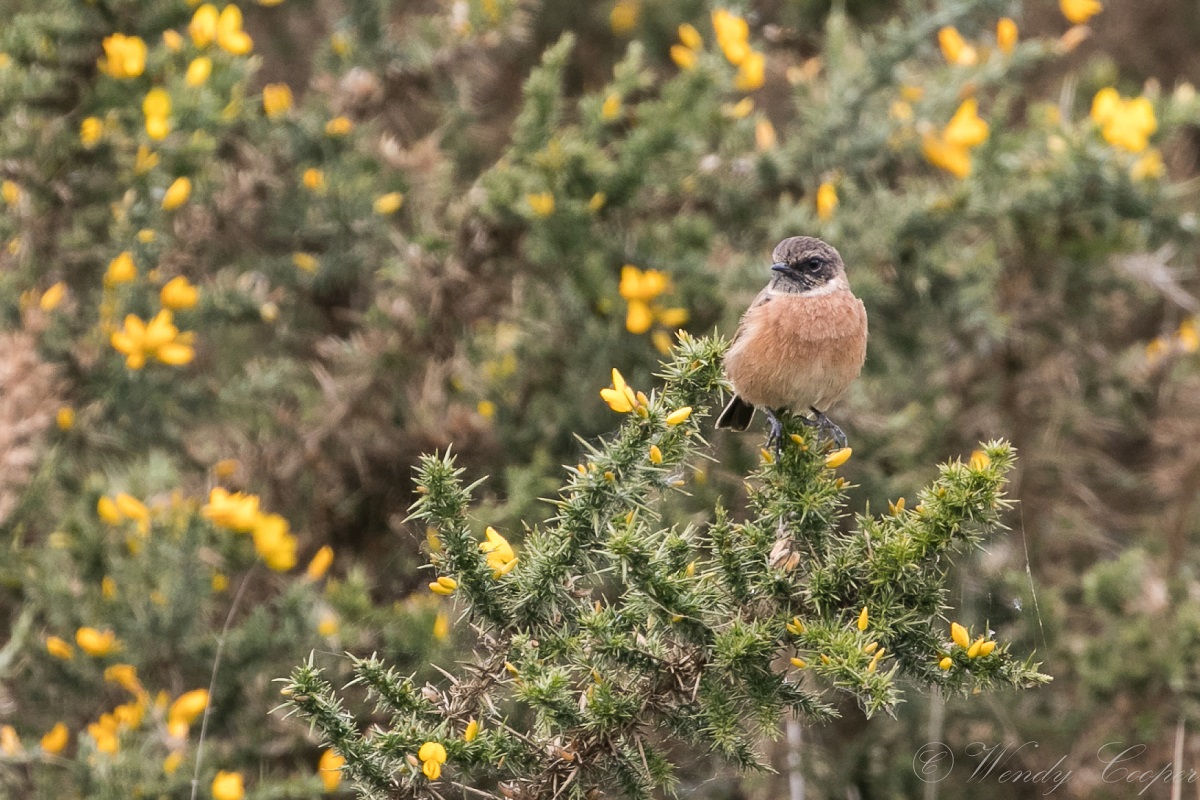 whilst crossing the path in front of me was a speedy Fox Moth Caterpillar!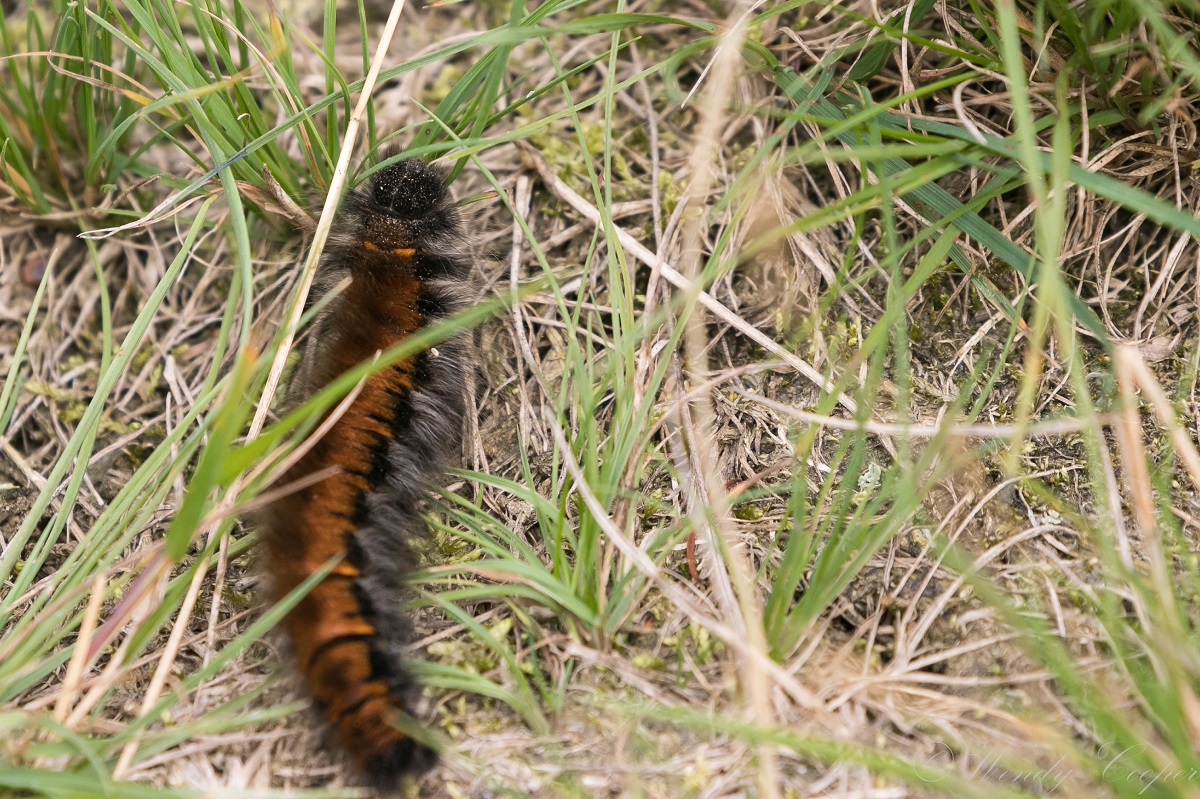 Standing a moment, we watched a Buzzard floating overhead before continuing onwards. Standing at the bottom of the heath, we felt we were being watched – looking at a stand of spruce in the middle, we could see two female and a male Fallow Deer. The ladies were busy grazing whilst the buck watched us a while.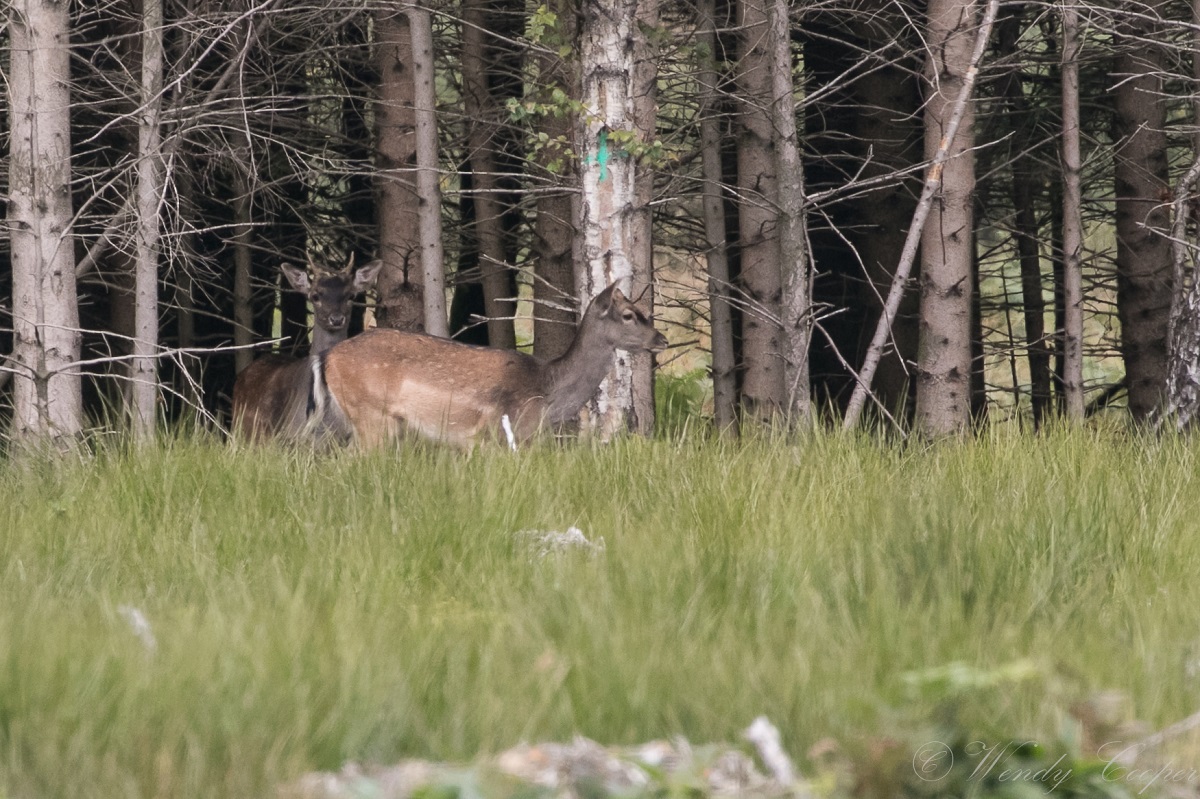 Taking a side path, we saw a flash of green across the track. Distracted by a Wren, I stood a while to watch and listen, then looked back down the path; in the middle stood a Green Woodpecker. Gradually it made it's way into the vegetation at the side, almost disappearing. As we continued our walk, we heard several Green Woodpeckers across the heath having quite a yaffley conversation!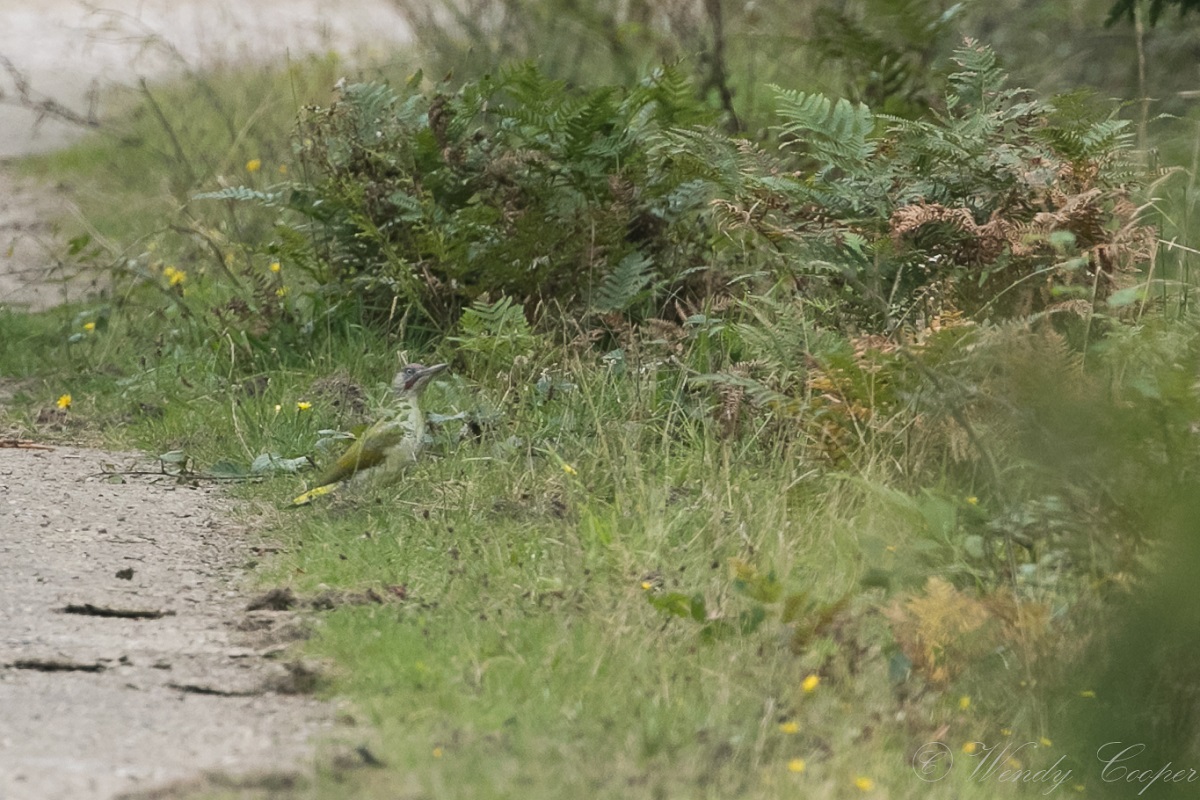 Following the path down through the middle of the heath, Stonechats could be heard and seen, still clicking and flitting to high perches as well as small flocks of tinkling birds that would disappear as soon as they landed in the birch trees – from song, I believe them to have been a mix of Siskin, Goldfinch and Linnet and glimpsed appropriate colours through the binoculars.
Here and there across the heath, above the bracken and gorse were splashes of scarlet, waiting for the birds to feast – Hawthorns were laden with berries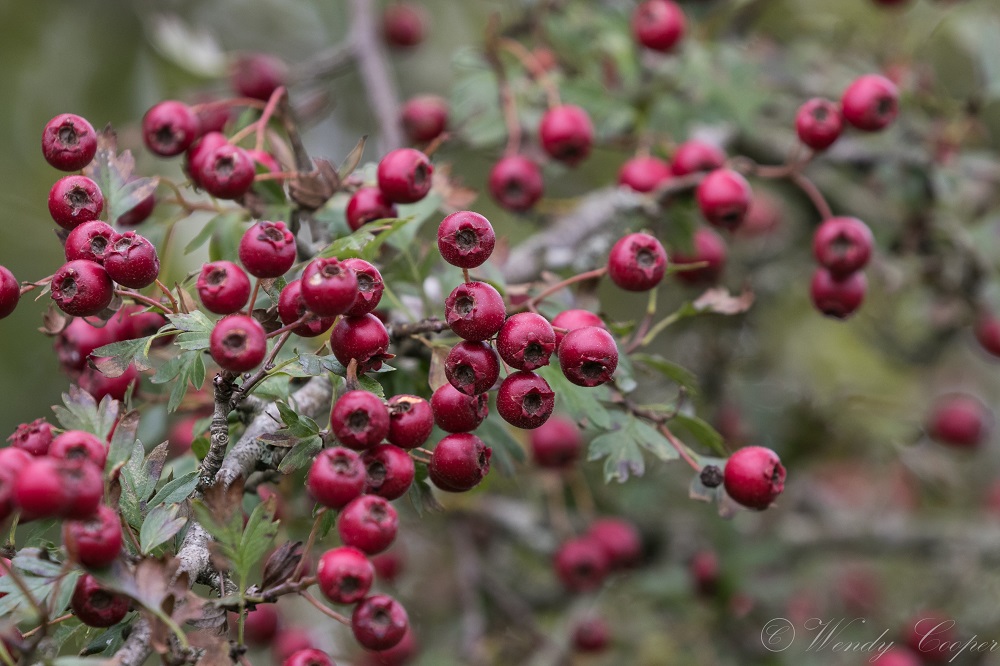 as were several Holly bushes.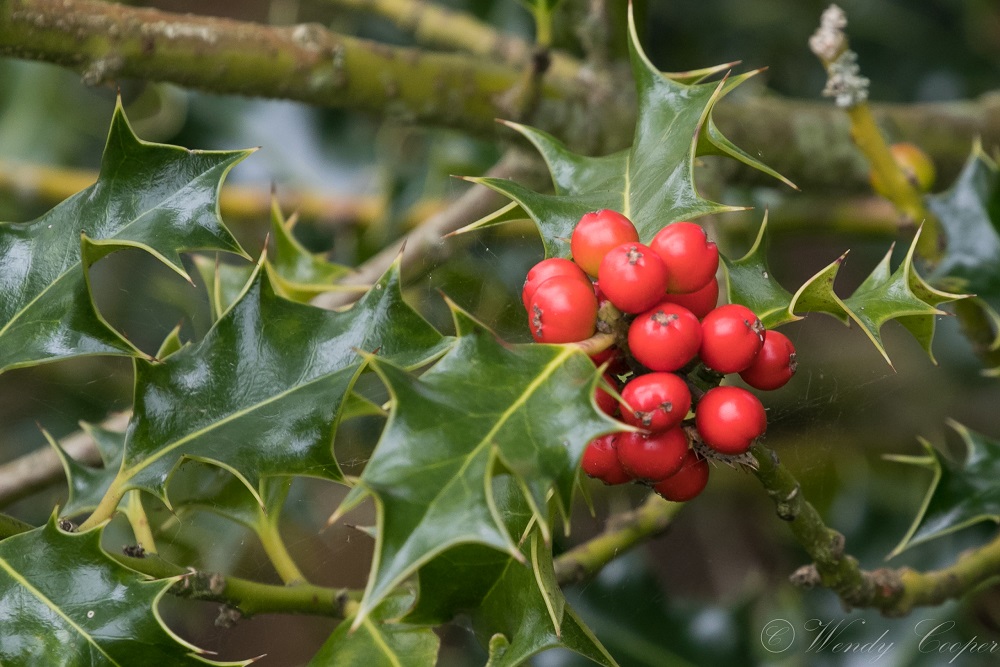 Once again we watched the Buzzard float across the heath, before alighting in a tall tree and surveying the area for some time.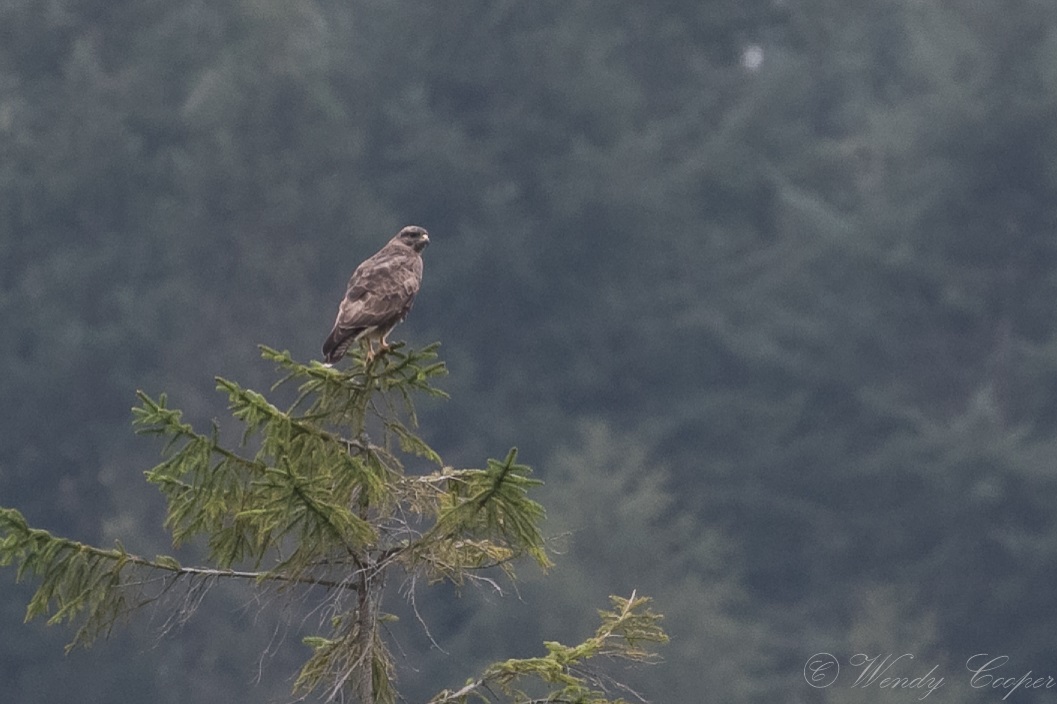 As well as Stonechats, and Wrens, Robins could be heard singing from various perches – the Wrens low down whilst the Robins this time of year seem to perch much higher up. Whilst we sat on a bench, admiring the view, we enjoyed a chorus from this character before he moved on.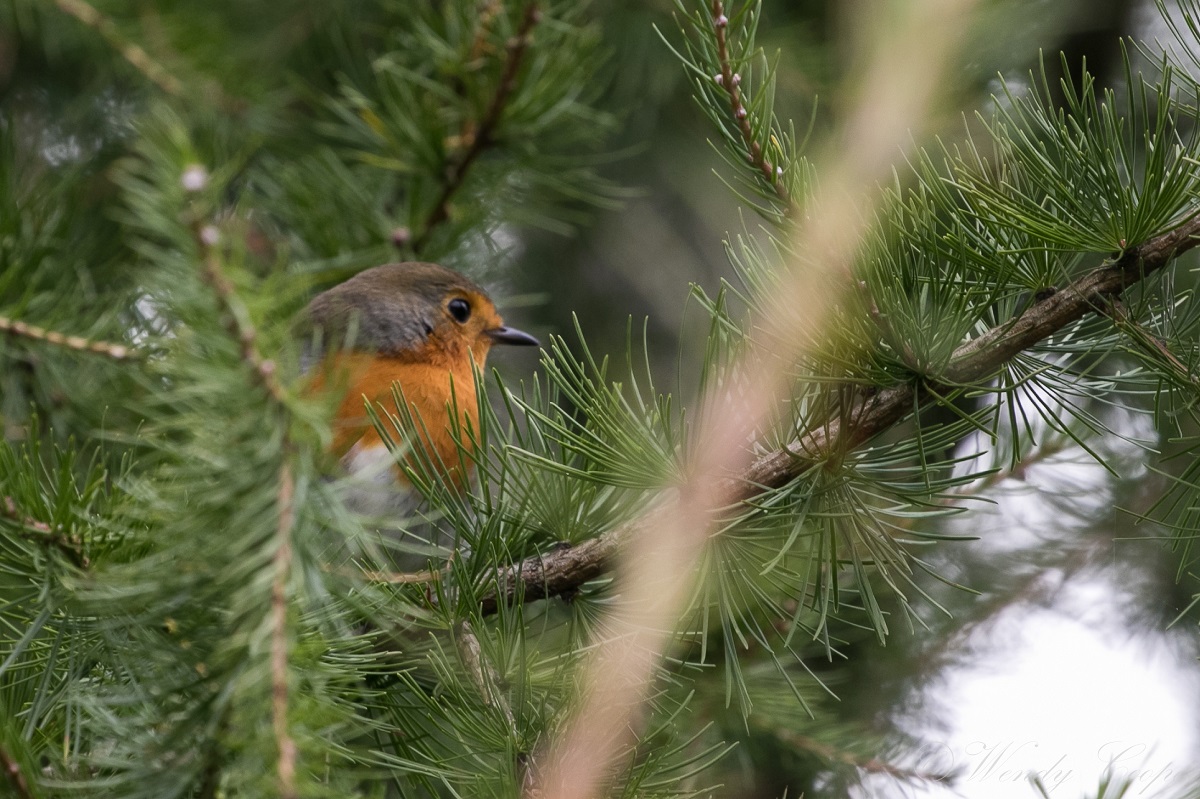 Along the path back I had a few moments with a tired looking Hornet; after saying 'cheese' for me, I lifted him on a leaf to a safer spot away from heavy feet. Close up, Hornets are rather beautiful and despite their size are not harmful to us, although to other minibeasts they are a predator to be wary of!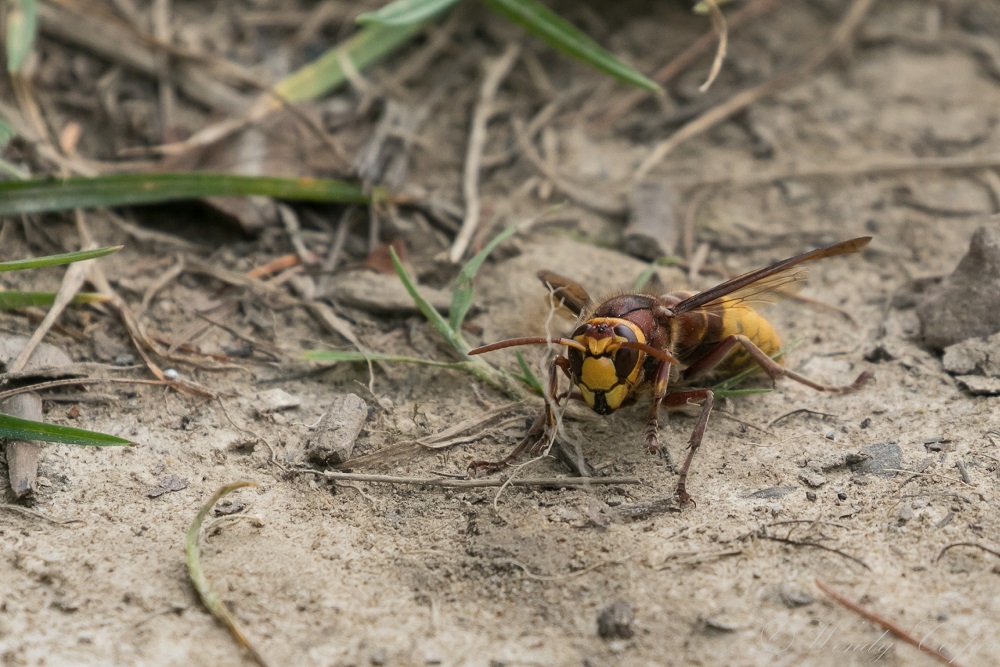 On the walk back to the car, a serene moment was had watching a handsome Grey Heron through a window in the willows as he hunted for supper.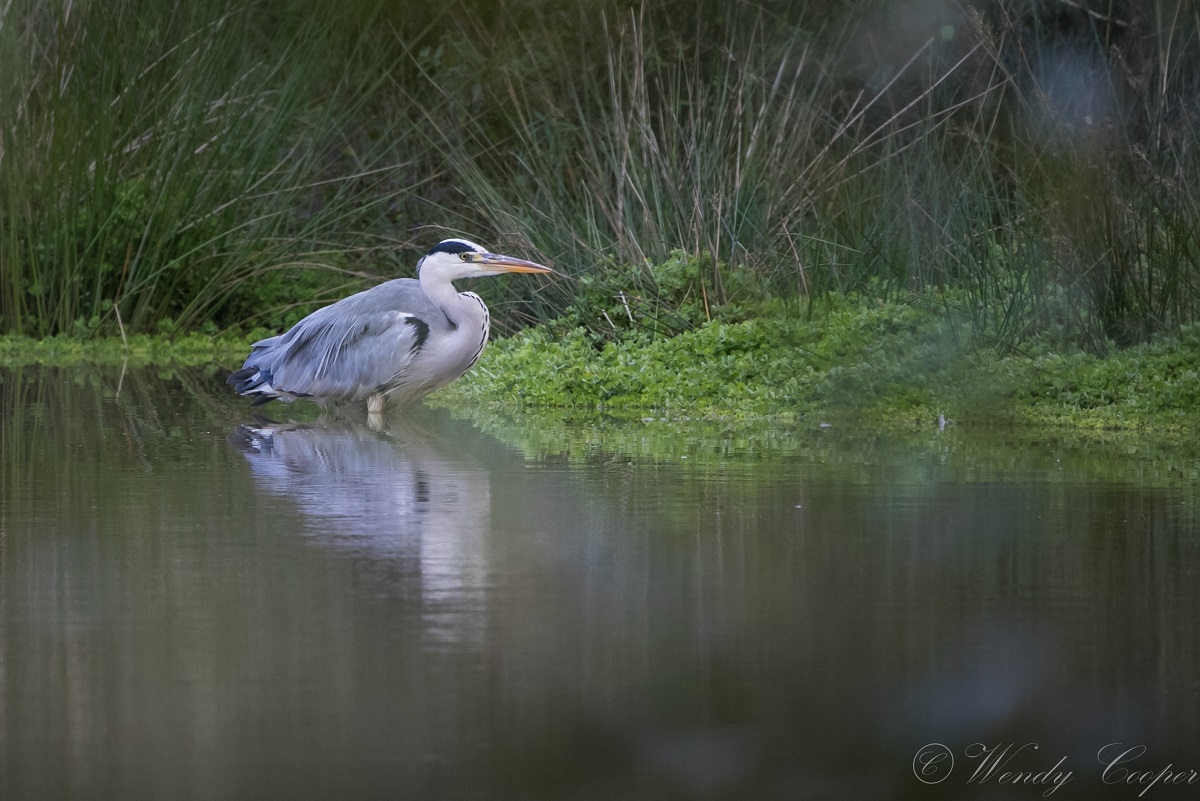 The next morning dawned bright, with blue sky, sunshine and the promise of a warm day. I met up with a friend for an off the tracks wander through the Forest.
Now sometimes the Forest residents give fireworks moments, other times they are content to allow us glimpses and no more, however on that beautiful morning, our wander took us through avenues of trees,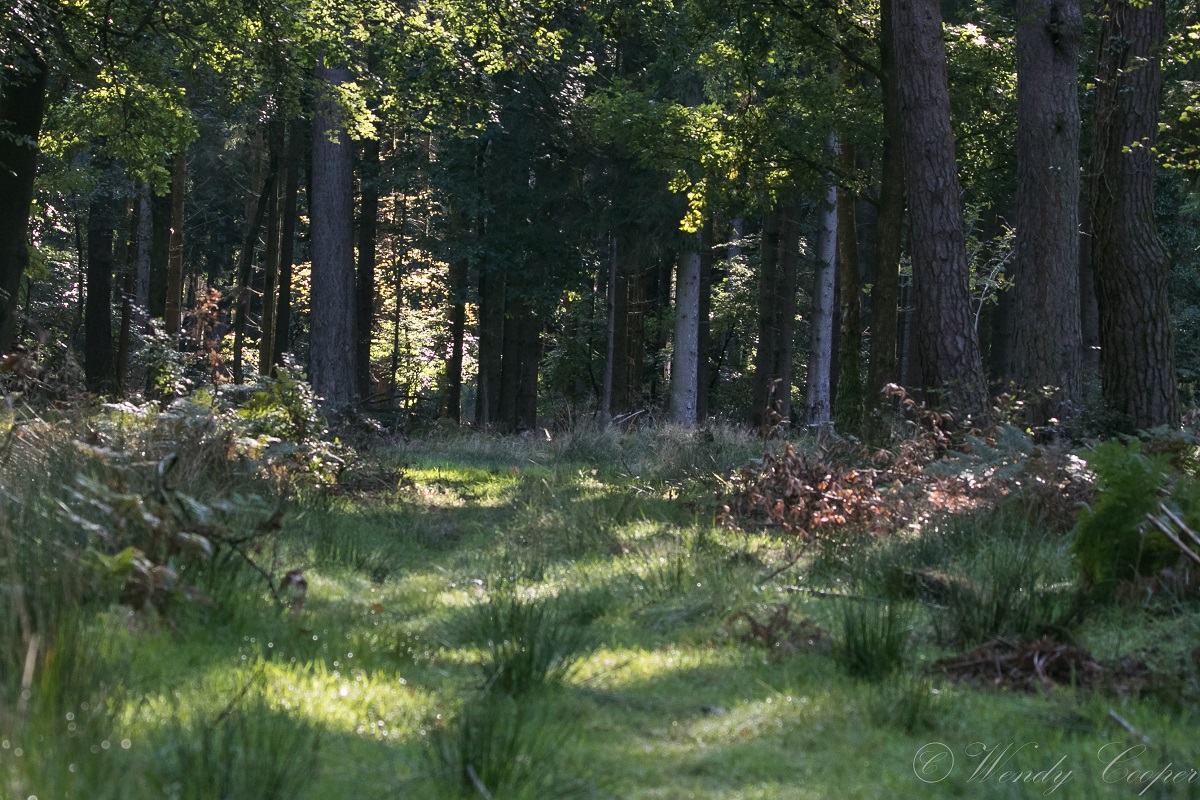 with motes of gold flying as the sunshine lit emerging Hornets, bracken turning in tone and vegetation dripping with dewy diamonds,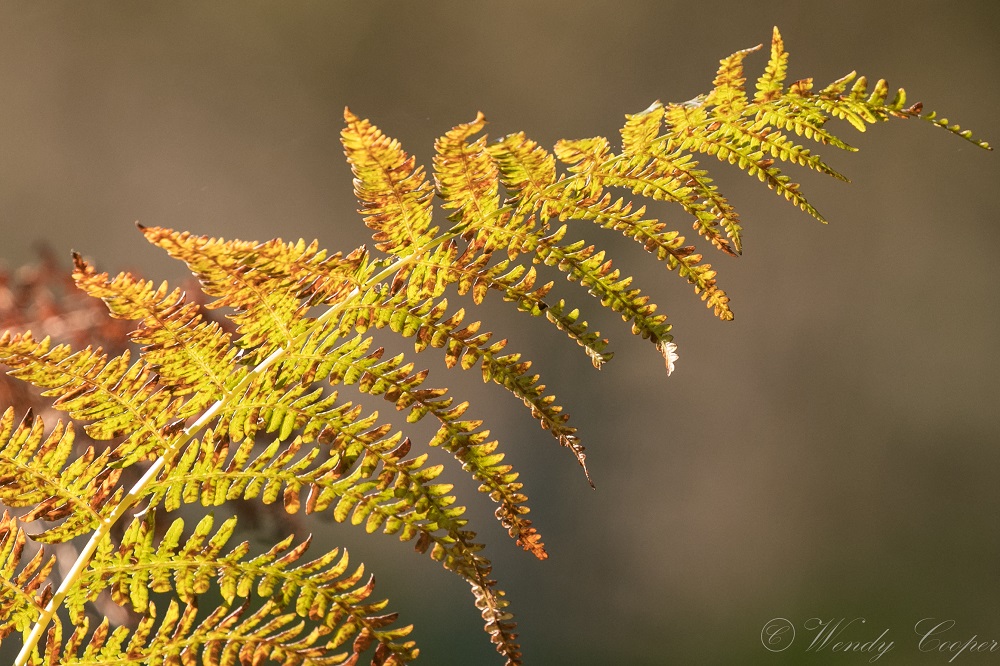 glowing yellow gorse,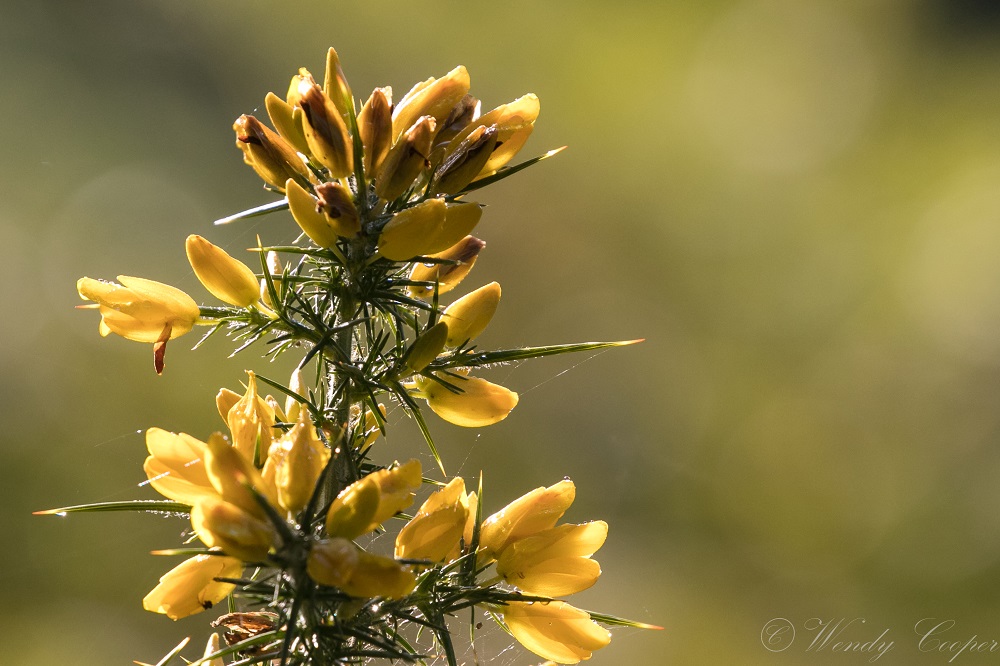 and in a shaded area, spotlights of sunshine through the canopy above onto a rich mossy carpet covering the brash below that was bejewelled with Dor Beetles; for once I was focusing on the environment, awed by simply how beautiful it was and could happily have just stood, turning slow circles as I drank it all in…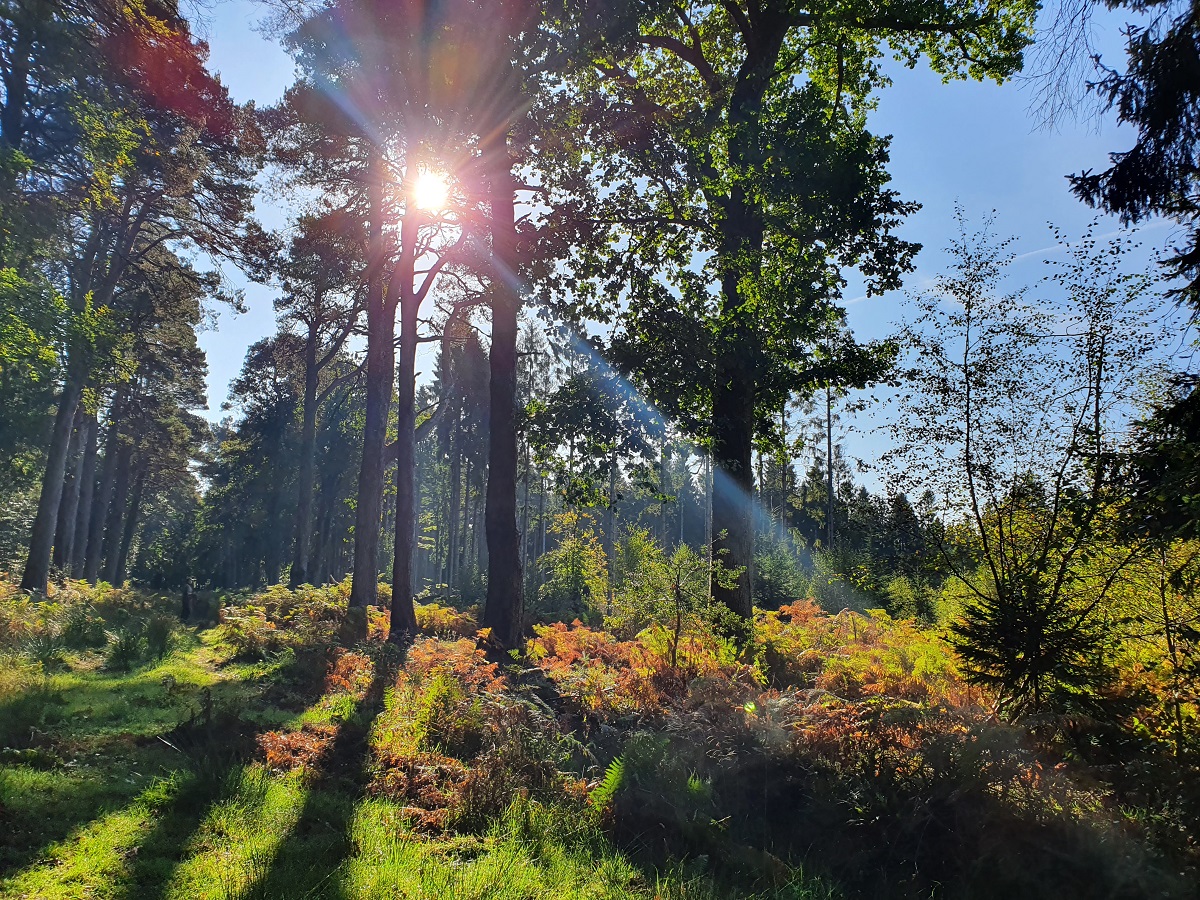 And wildlife moments ? Well, we watched a solitary Boar trotting away from a pool, giving us a cursory nod almost, on his way past; we were kept under scrutiny by distant deer – us being watched at one point quite closely, but at other times seeing lots of legs moving through the trees. At one of the pools we sat a while, watching Migrant Hawkers over the water and flying very close around us, whilst hearts of darters floated and settled as they concentrated on creating the next generation.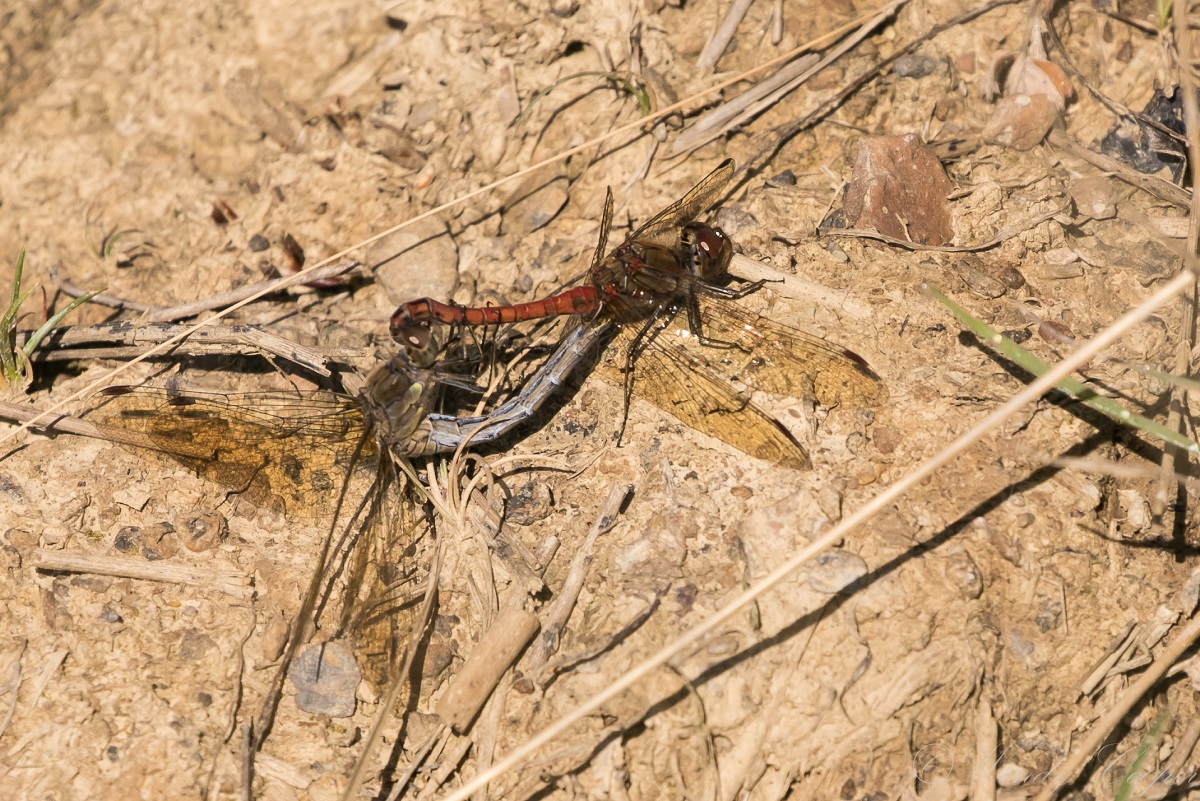 Fireworks are not always needed, sometimes simply long moments of calm and wonder are….
After lunch we repaired to Wenchford for a little wander along the brook. It was surprisingly quiet bird-wise, however a Grey Wagtail was busy foraging, as well as a Blackbird who seemed to be finding a few watery treats.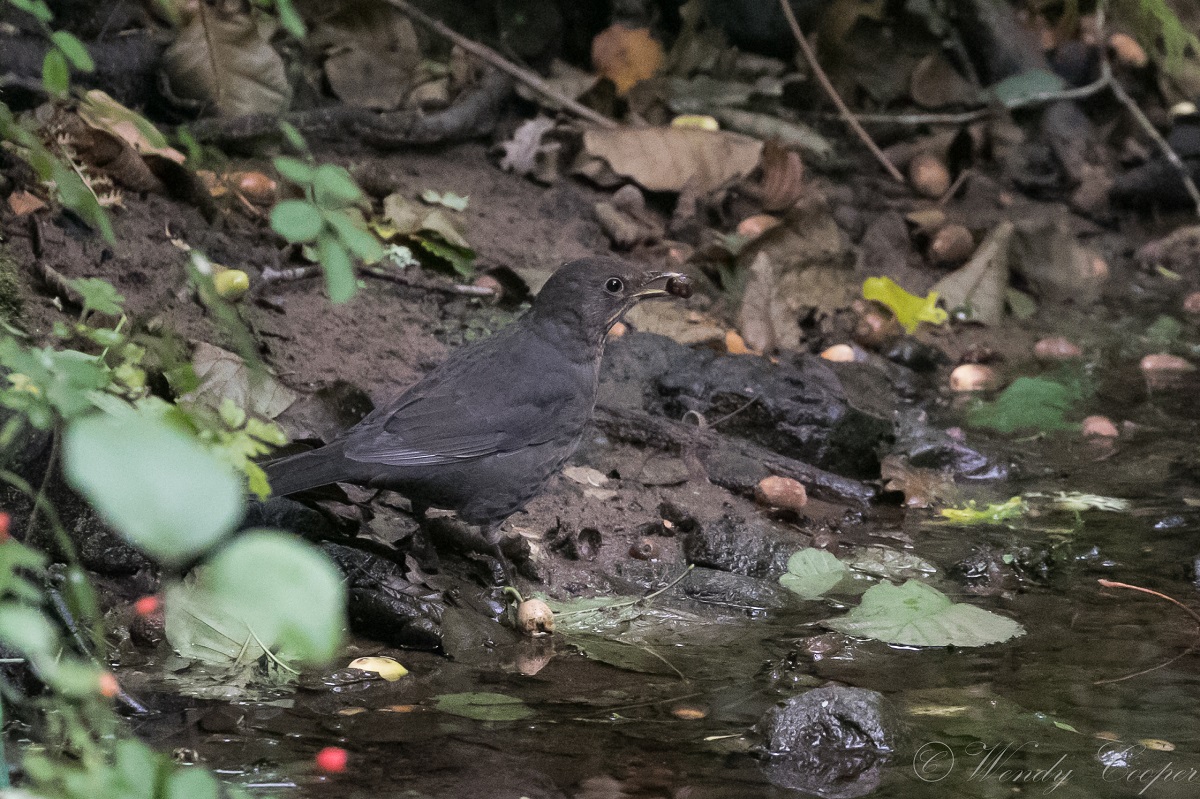 Just occasionally a Dipper would rocket up and down the brook, however it was certainly not stopping to pose for me!
After Wenchford we decided on a circuit of Woorgreens to finish the afternoon; a quiet and calm wander, the trees full of smaller birds with Great, Blue and Long Tailed Tits chatting away and flitting about.
Far out on the island, the Heron was striding along to a favoured lookout point,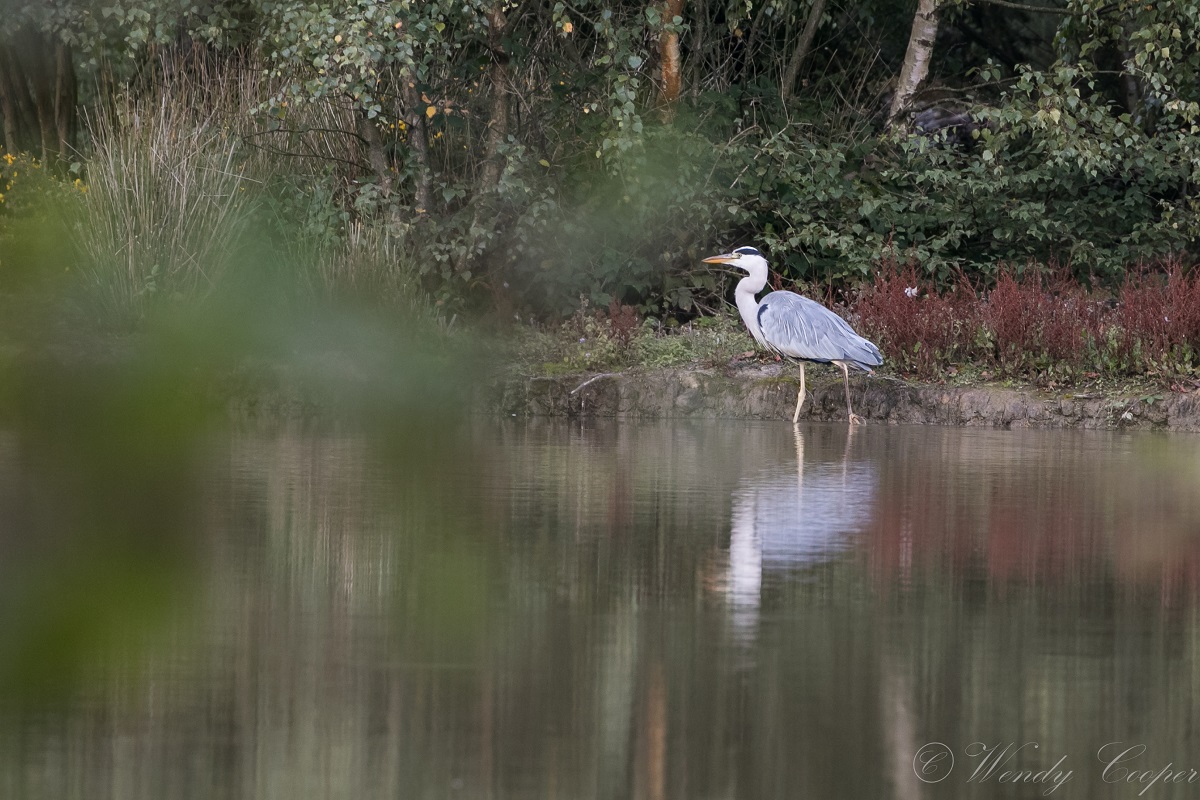 whilst further across rafts of water lilies glowed in the late afternoon sunshine. The lake was like a mirror.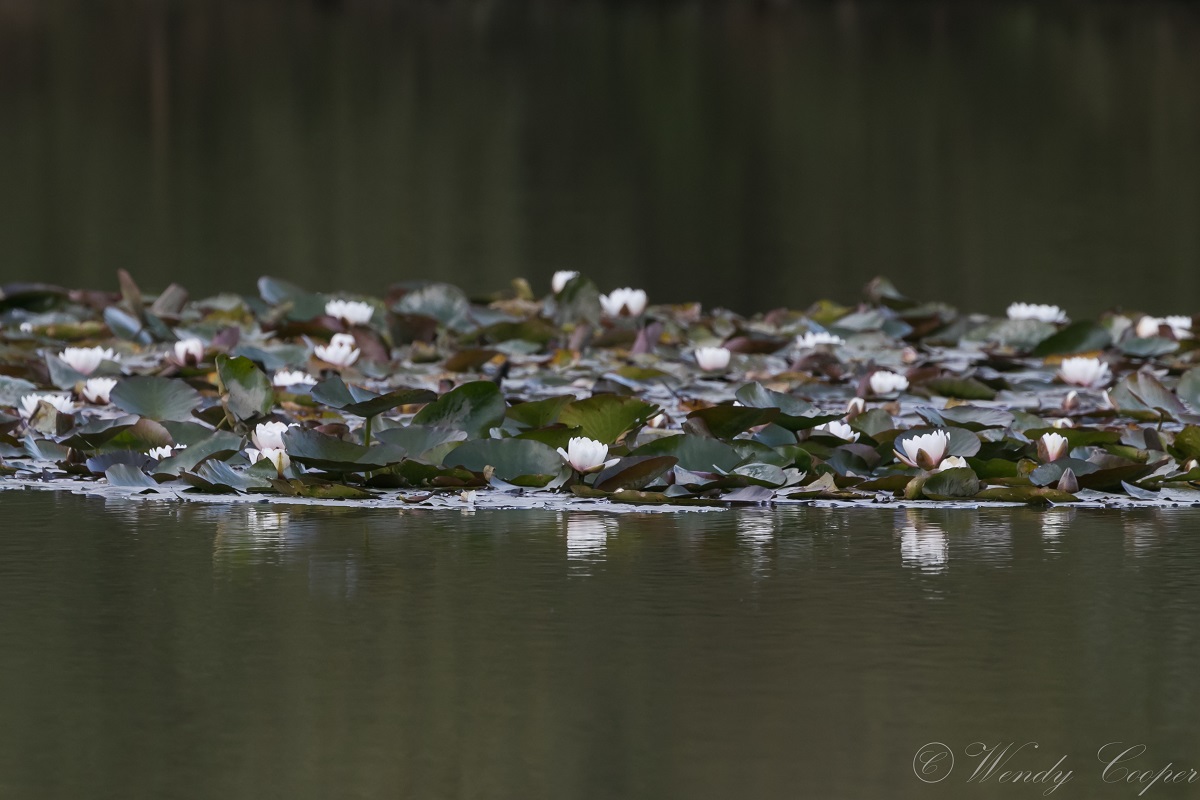 The Grey Heron, having surveyed and chosen, flew across to the far side and we stood watching him pick his way along the edge of the still waters as he looked for supper.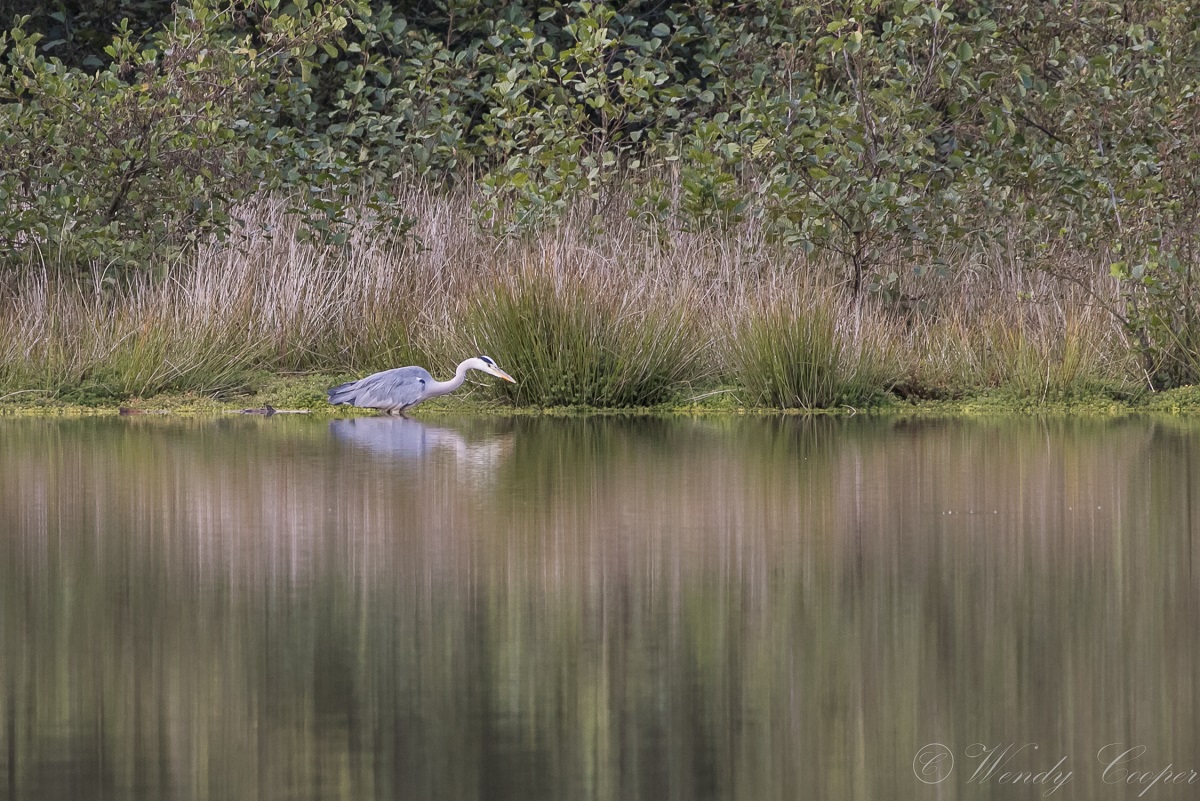 A 'beat the rain' wander at Cannop was in order for the next morning and we were not disappointed – the residents were all out and about! The Mandarins were very vocal as well as very lively, with a lot of displaying behaviour going on between the colourful males, whilst the Ladies continued about their business, calmly dodging the attentions of the boys!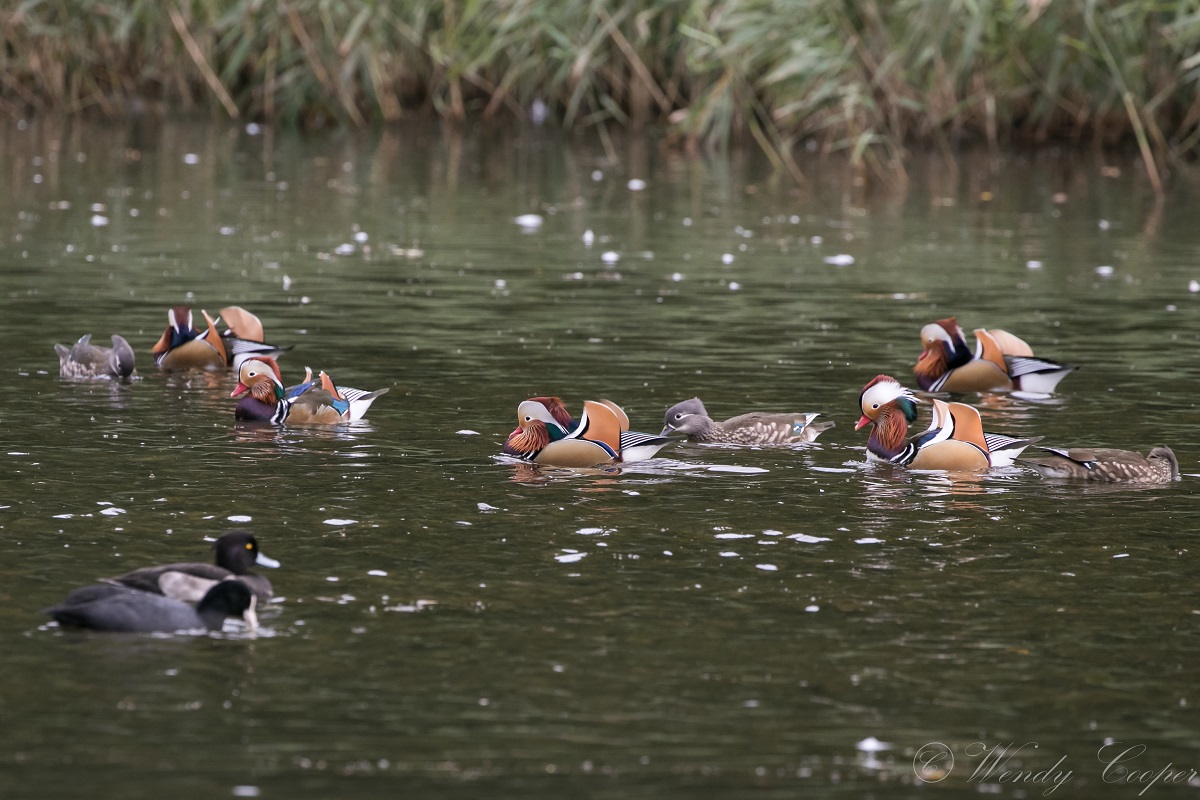 The two resident Mute Swans were majestically on patrol and cut a swathe through the Coots, Mandarins and ignored a solitary Gull.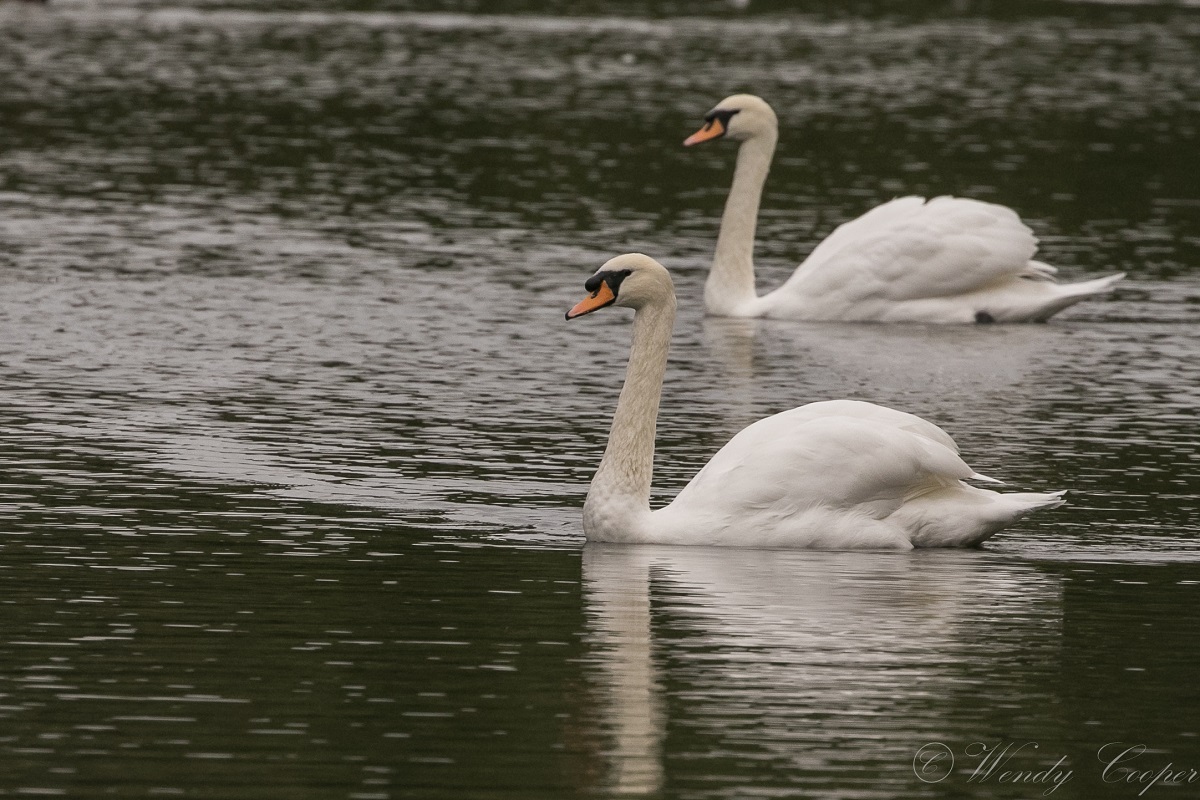 Here and there Little Grebes bobbed along before suddenly disappearing under water to go fishing.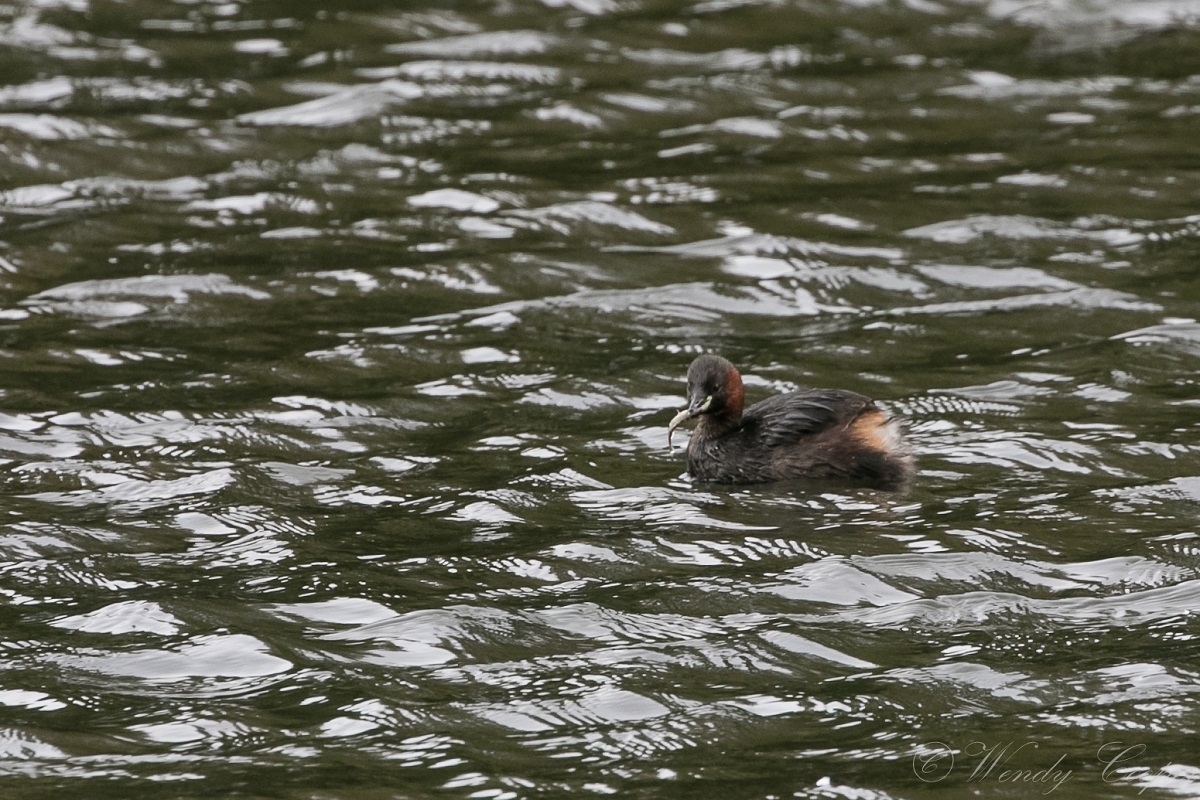 Elsewhere Coots dabbled for weed or floated along calmly – a lot less squabbles than in other seasons and the Mallards, whilst vocal, were keeping themselves to themselves.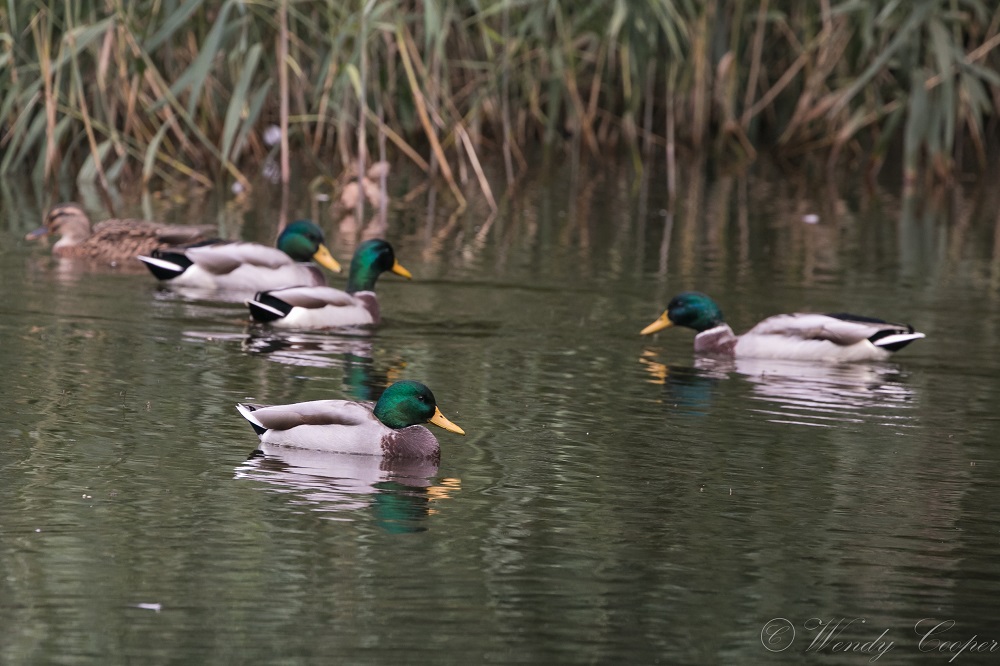 We took some time out and sat on one of the benches to just watch… The Mute Swans had picked a spot opposite our seat, so we watched a lot of very graceful preening behaviour whilst they ensured their plumage was kept in tip top condition.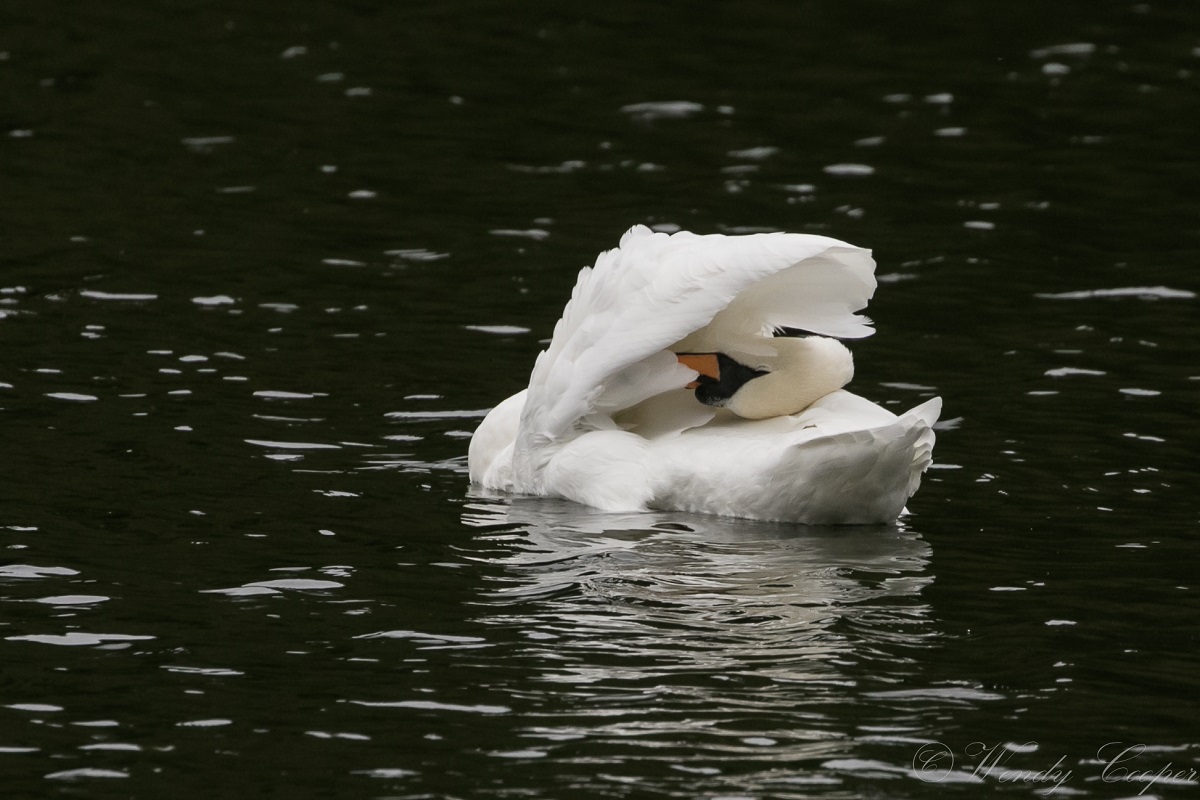 Closer by, a small group of Mandarins continued circling, parading and showing off how handsome they were to a couple of nearby Lady Mandarins.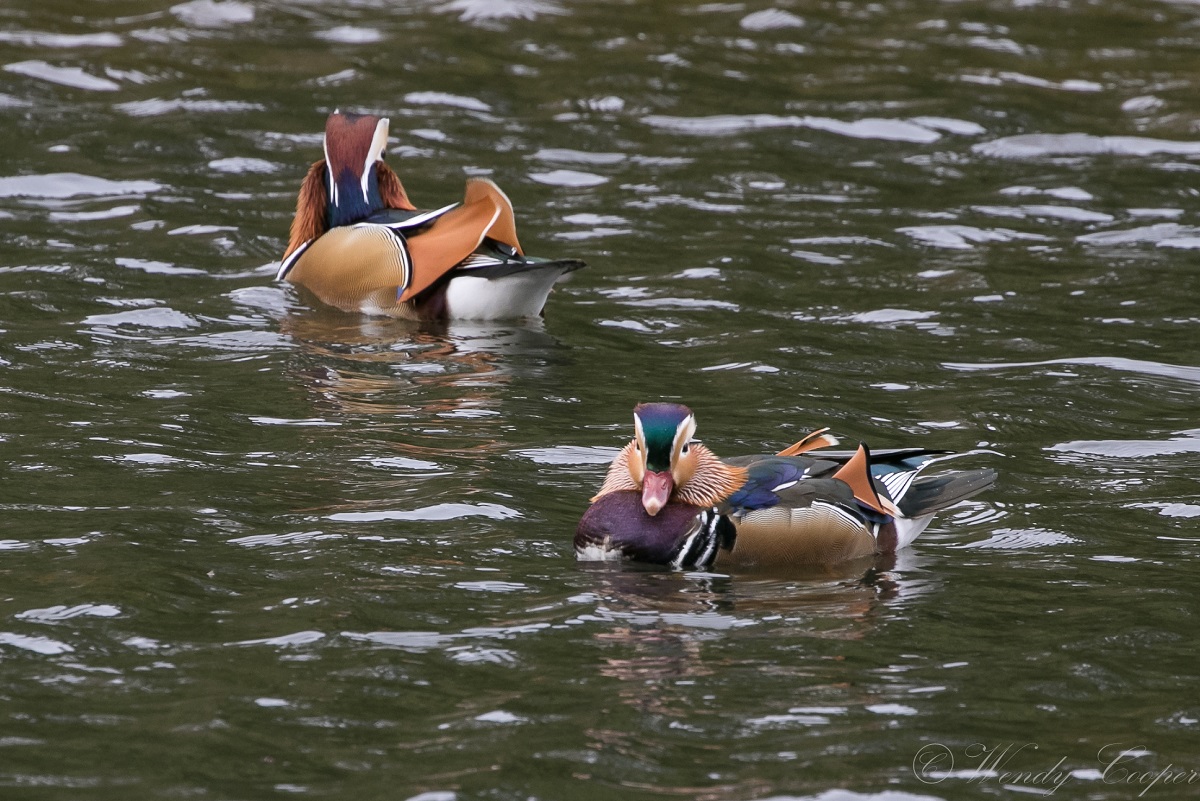 Continuing our stroll, we wandered back over the bridge, Hubby being ahead of me, pointed out a Dipper foraging amongst the rocks, flowing water and tree debris in the brook.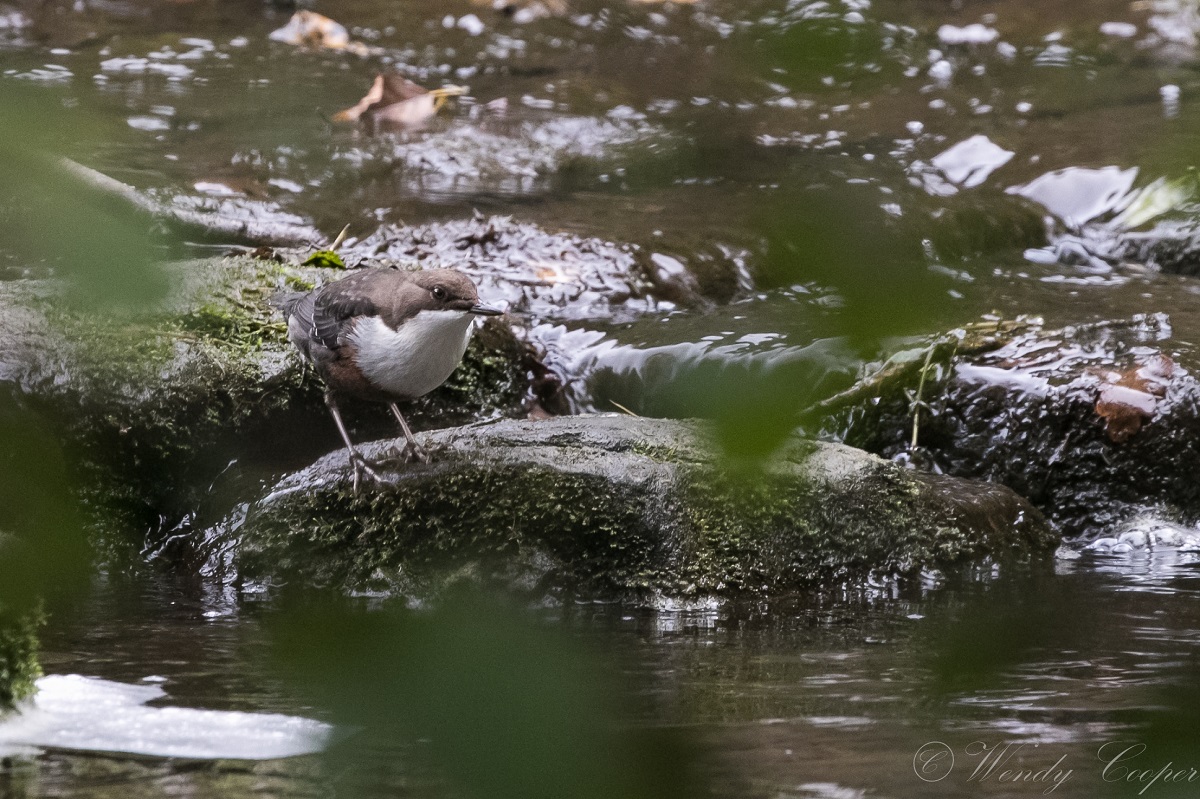 We watched this handsome little bird as it hopped and bobbed around, popping it's head under the fast moving water and picking up titbits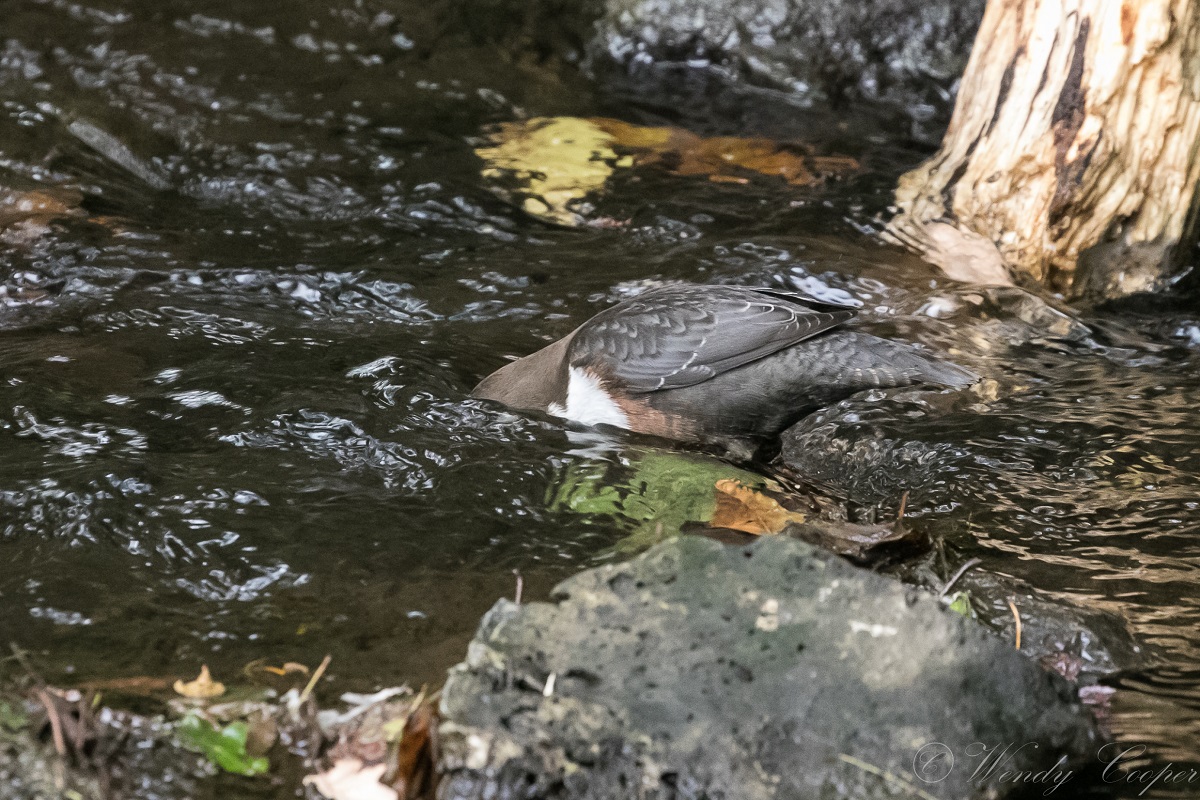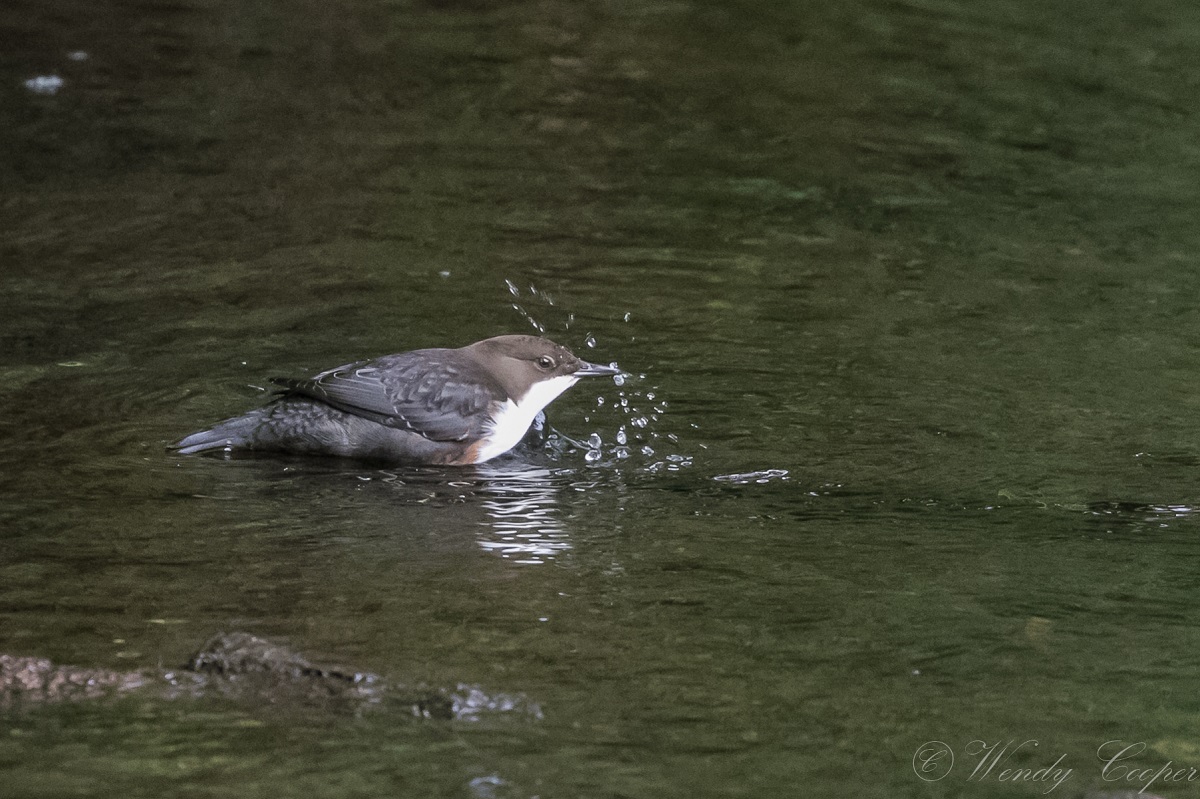 or perched on various rocks as it surveyed the bed of the brook below.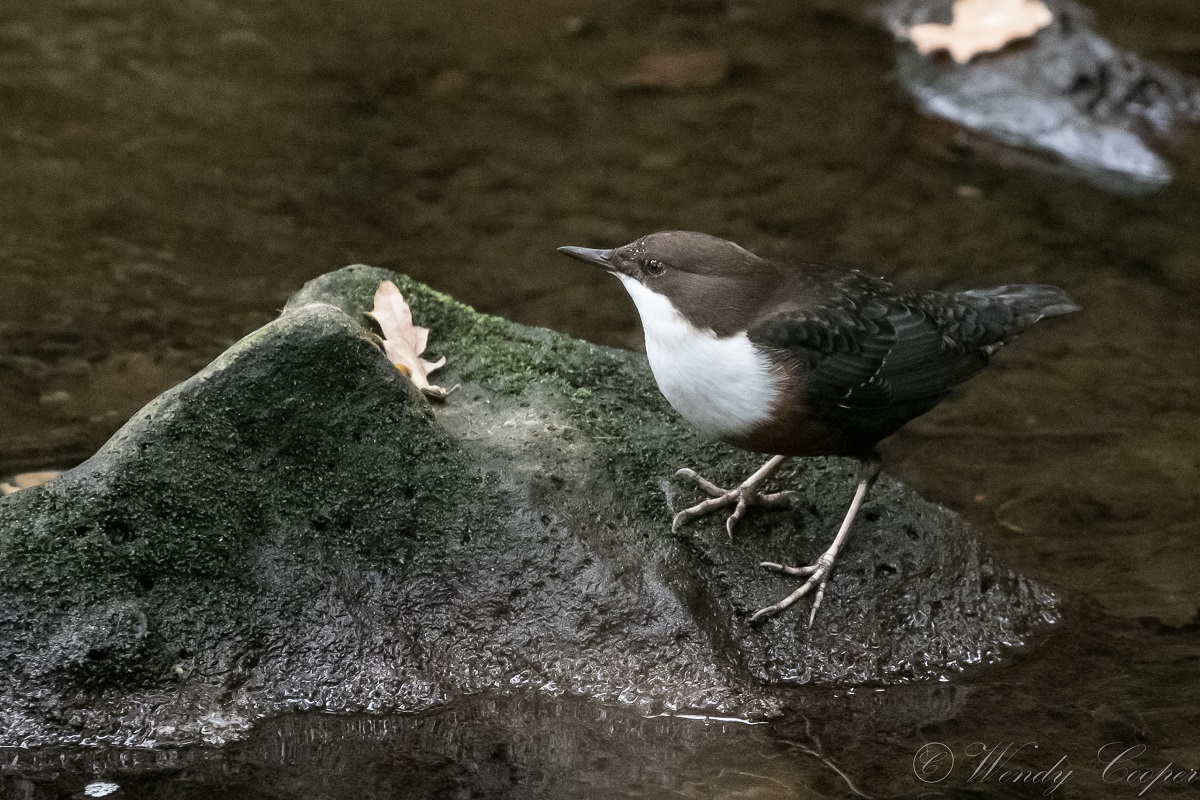 There was something of a 'Cheshire Cat' grin for the rest of the day because of the views we had had!
Thursday dawned dry and bright, so we spent much of the morning admiring the view from Symonds Yat. We could literally see for miles and miles!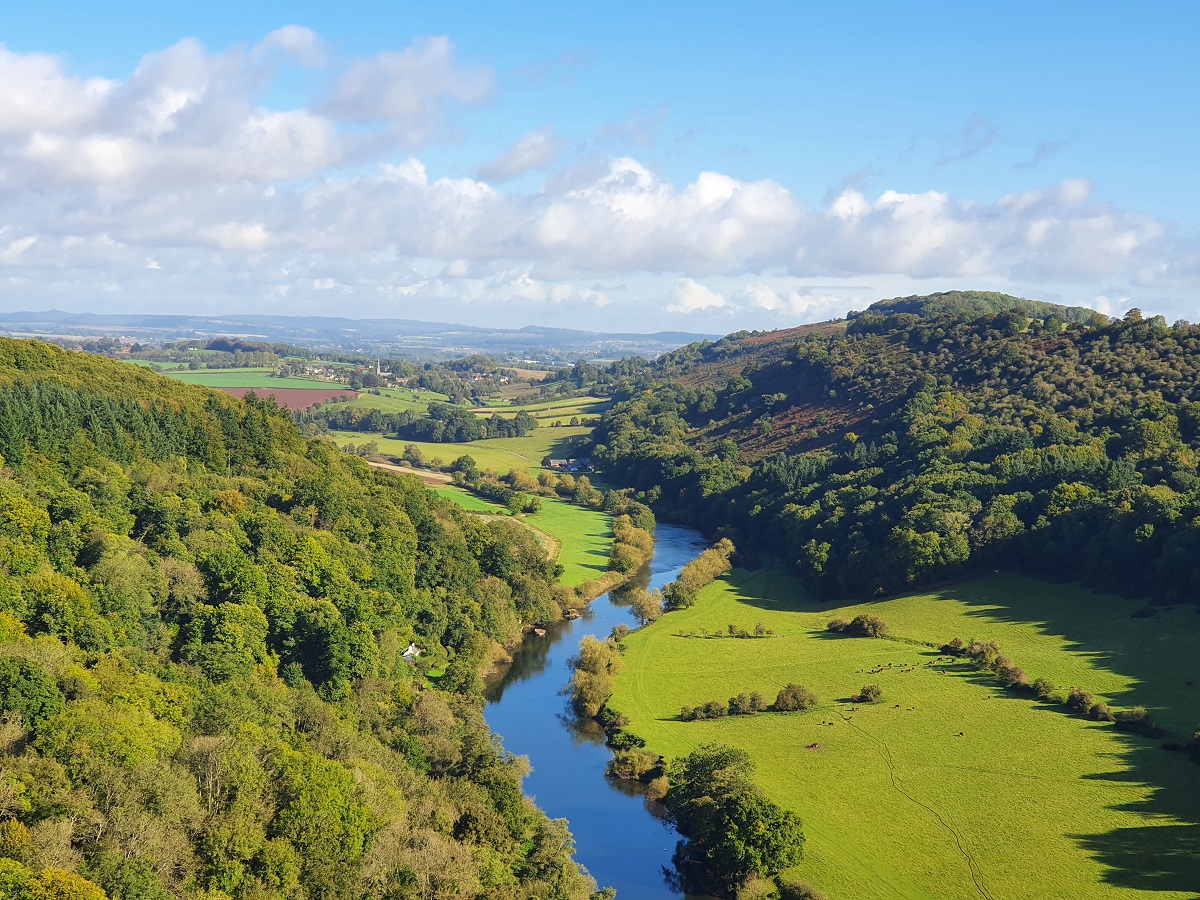 On the river below, curiously devoid of the Greylag Geese we are used to seeing there, a pair of Mute Swans made arrows in the smooth water as they paddled along.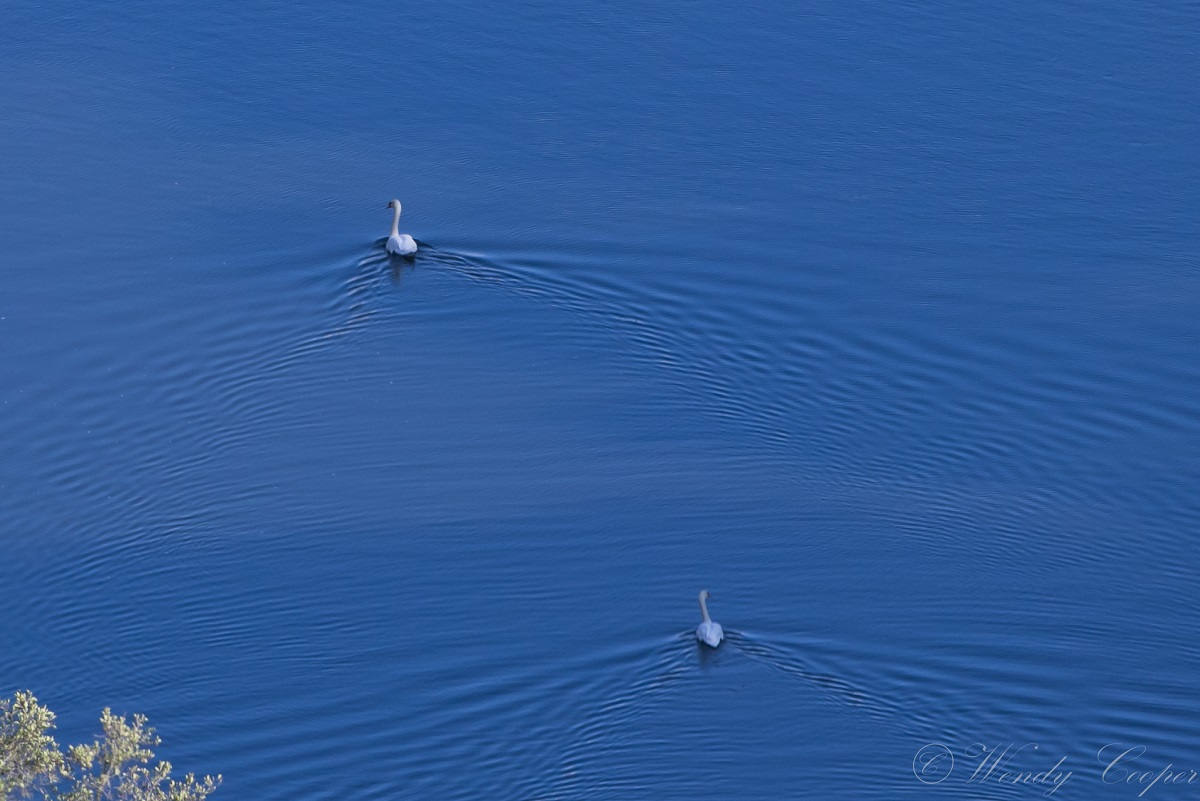 Far off on the horizon (much too far for the camera) we watched four Buzzards circling and climbing higher and higher until out of sight.
We then had a quick stop off at the lower pond at Cannop before lunch, where we spotted a pair of Boar foraging in the bracken.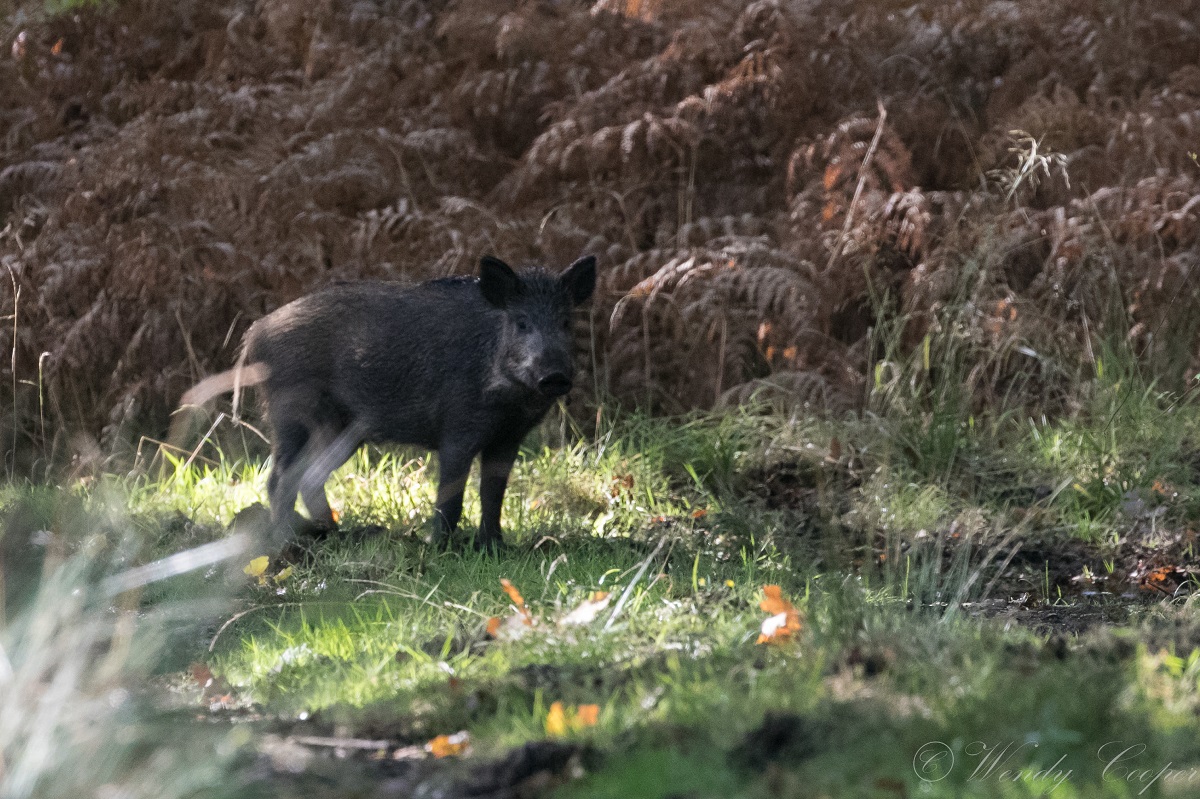 A fleeting glimpse, but a delighted one nonetheless! Overhead our path a Buzzard began to climb,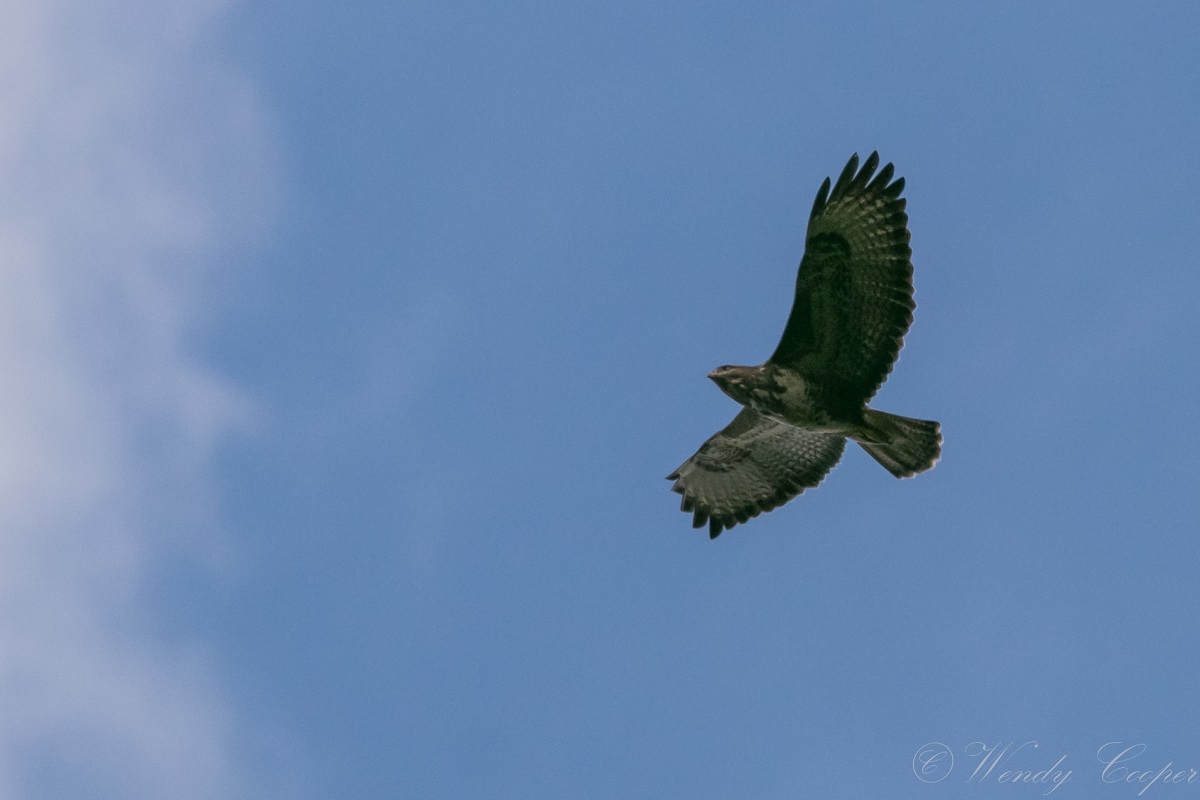 however, the woodland was very quiet; at the pond itself, surrounded by fishermen, a pair of Coots were taking some time out and at the outflow a Grey Wagtail was busily picking for titbits.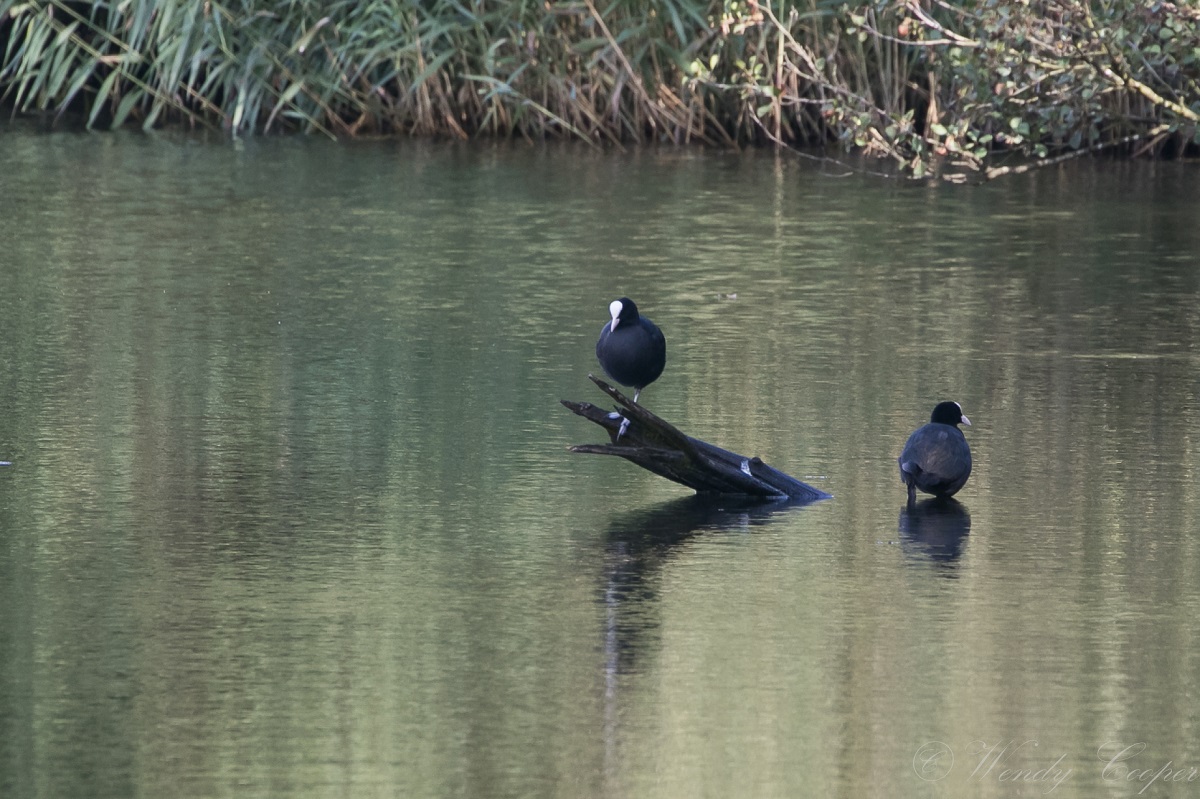 For the afternoon, we took a stroll along part of the Sculpture trail, a new route for us, which took us through areas of deciduous Forest instead of pine. It was beautiful but quiet, with occasional chatter heard from Jays and songs from Robins. Here and there a few bright autumnal colours were showing amongst the trees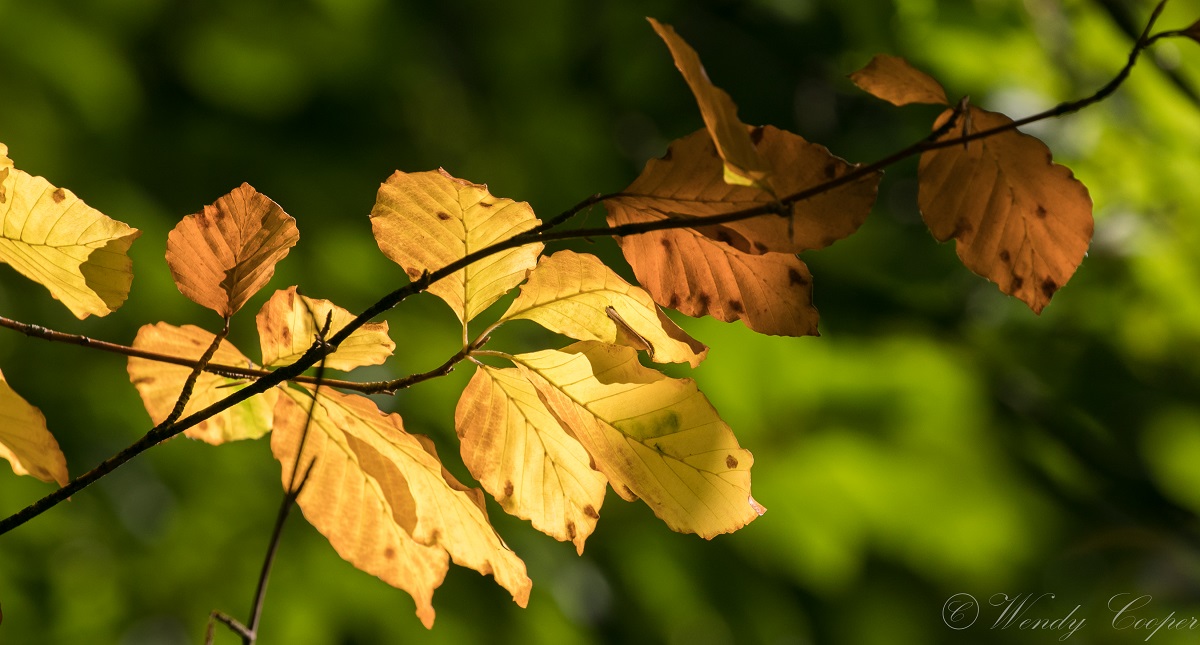 and the understory of grasses and bracken had begun to change to golden tones as well.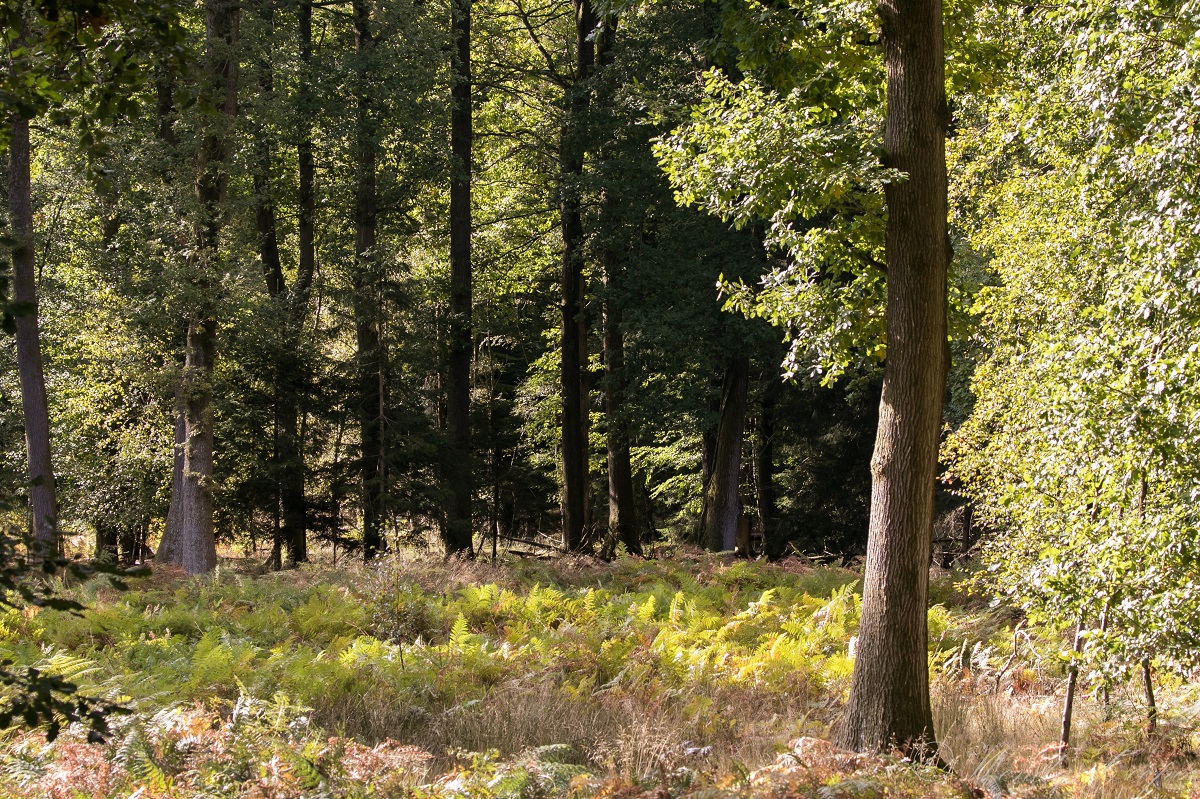 From time to time I was still seeing butterflies – mostly Speckled Wood and spent awhile with one jousting around an Oak bough, before it took a moment, thinking itself out of sight.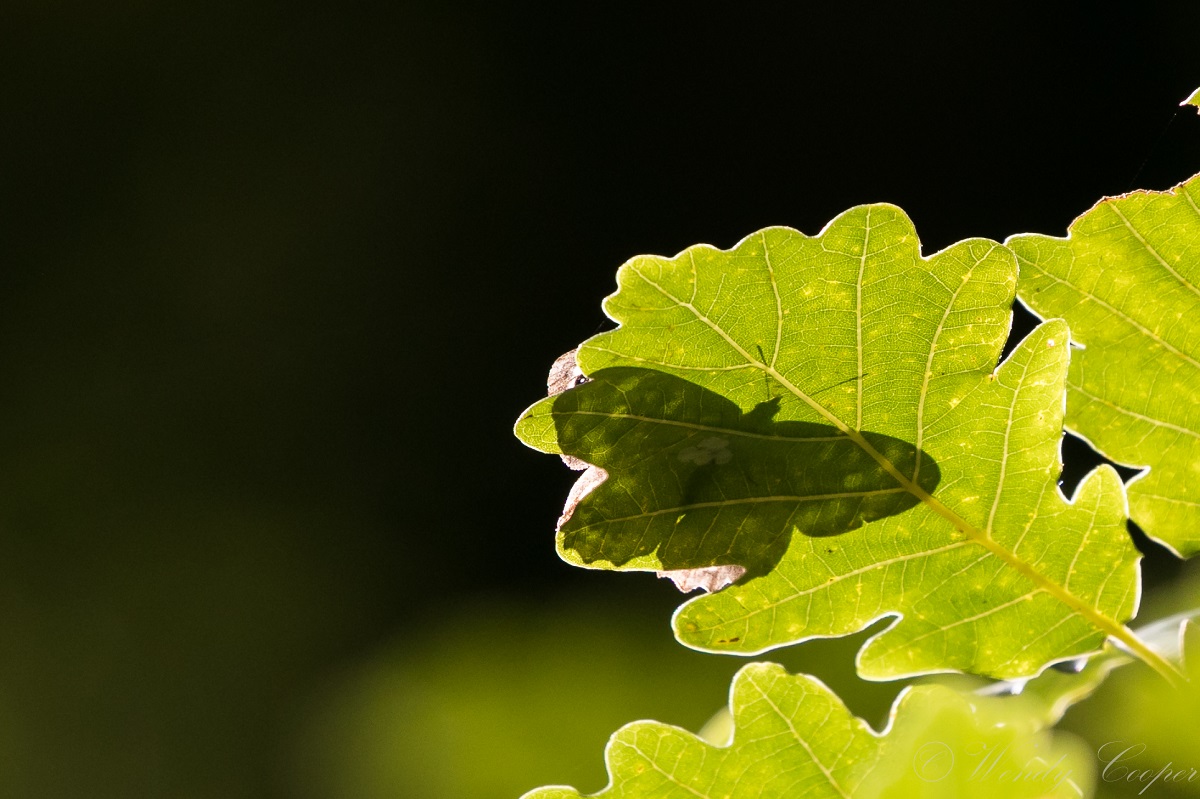 Along the track, we had to watch our footing as well, there were rather a lot of Dor Beetles lumbering quickly along as they crossed from one side to another.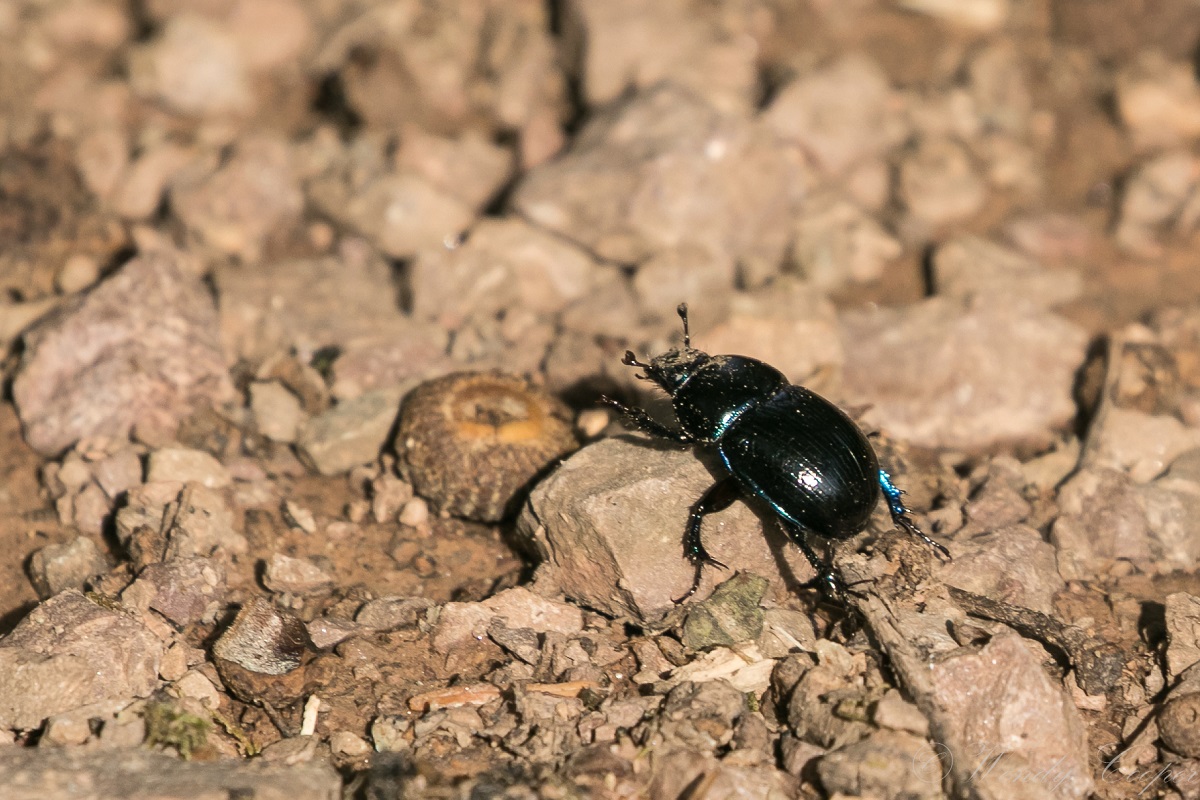 Eventually our walk brought us out to the top of the heath again and we wandered down along the central track. Stonechats were once again in evidence as they flitted from gorse perch to gorse perch and a flock of little tinkling birds settled in a tree right above me. Peering carefully upwards, their identity was finally revealed – a flock of Linnets. I watched whilst they preened and fed, before flitting off again at some hidden signal to another distant treetop.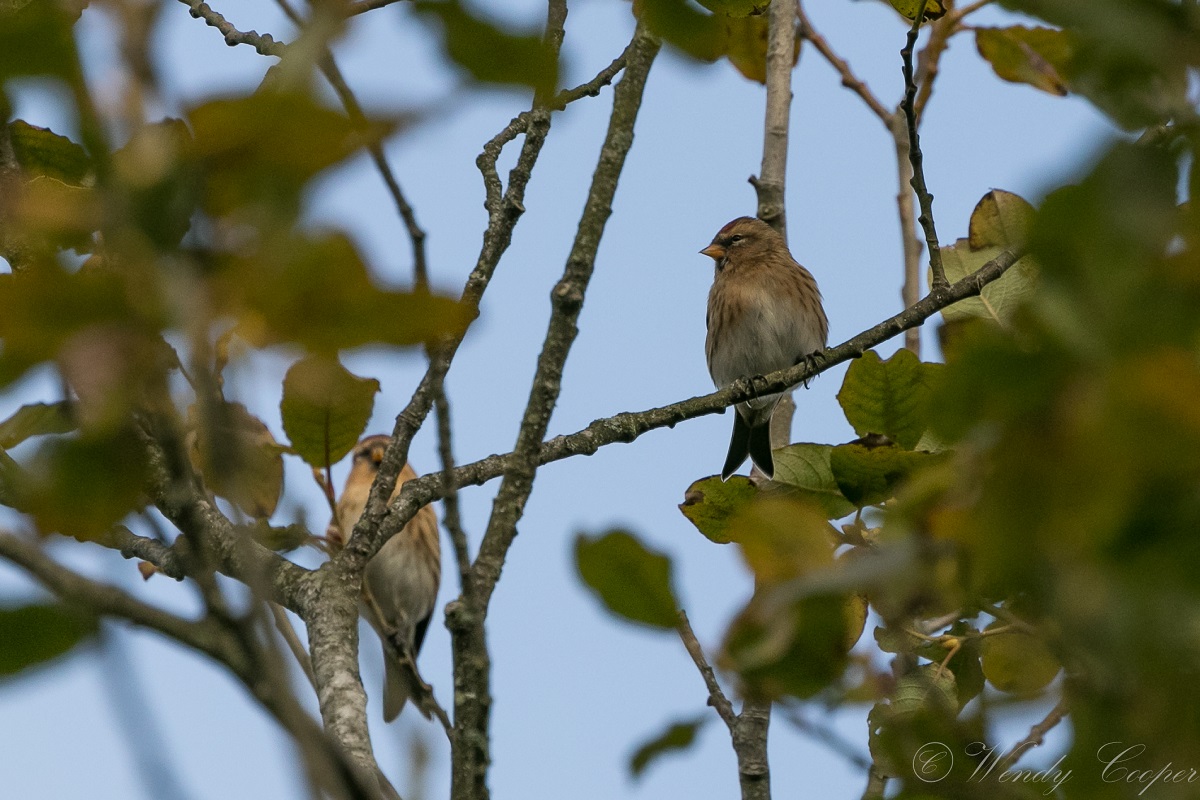 Watching across the heath, we stopped suddenly as five Fallow Deer Does morphed out into the open. We stood watching them as they cautiously grazed and edged downhill, before peering concernedly at a pile of brash and then suddenly bounced off out of sight.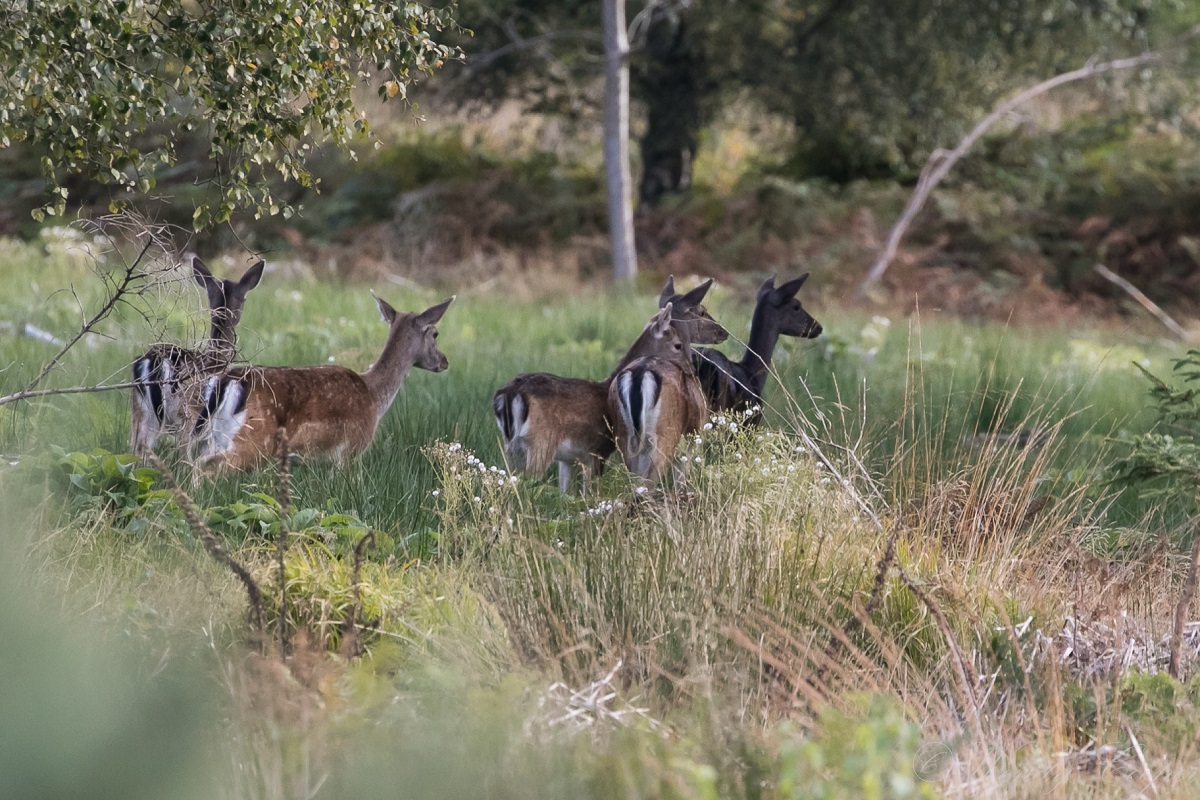 Through the Dragonfly pools again, with clicking and flitting Stonechats bidding us farewell, refreshed and recharged, it was time to return to that roller-coaster again.
I hope you have enjoyed my blog, if you would like an email notification when my next blog is published, please add your email address to the 'Sign Up' box below, you will then receive an email with which to confirm your subscription. (please be sure to check junk/spam just in case – without the confirmation I cannot let you know about a new instalment!)
As always, comments, feedback or questions are welcome, so please feel free to contact me via the comments section below or via the guestbook.