A Year Starting And Ending With The Letter 'O'
Allsorts!
> A Year Starting And Ending With The Letter 'O'
31/12/2018 - 15:59
Well I thought I'd had a quiet year…. Then I started to review my nature diary and realised there were so many moments of utter delight , sometimes at 'firsts' but more often than not at watching our familiar everyday extraordinary Creatures;
I have tried to pick (for me) the most special memories, so settle back and join me in some of my special moments of 2018!
In early January, I decided a trip to the Brecks was in order… I'd heard rumours of something rather special, so thought I would try… Arriving just at the right time, I spent a happy morning watching a young Otter, doing Otter things, in a river in the English Countryside.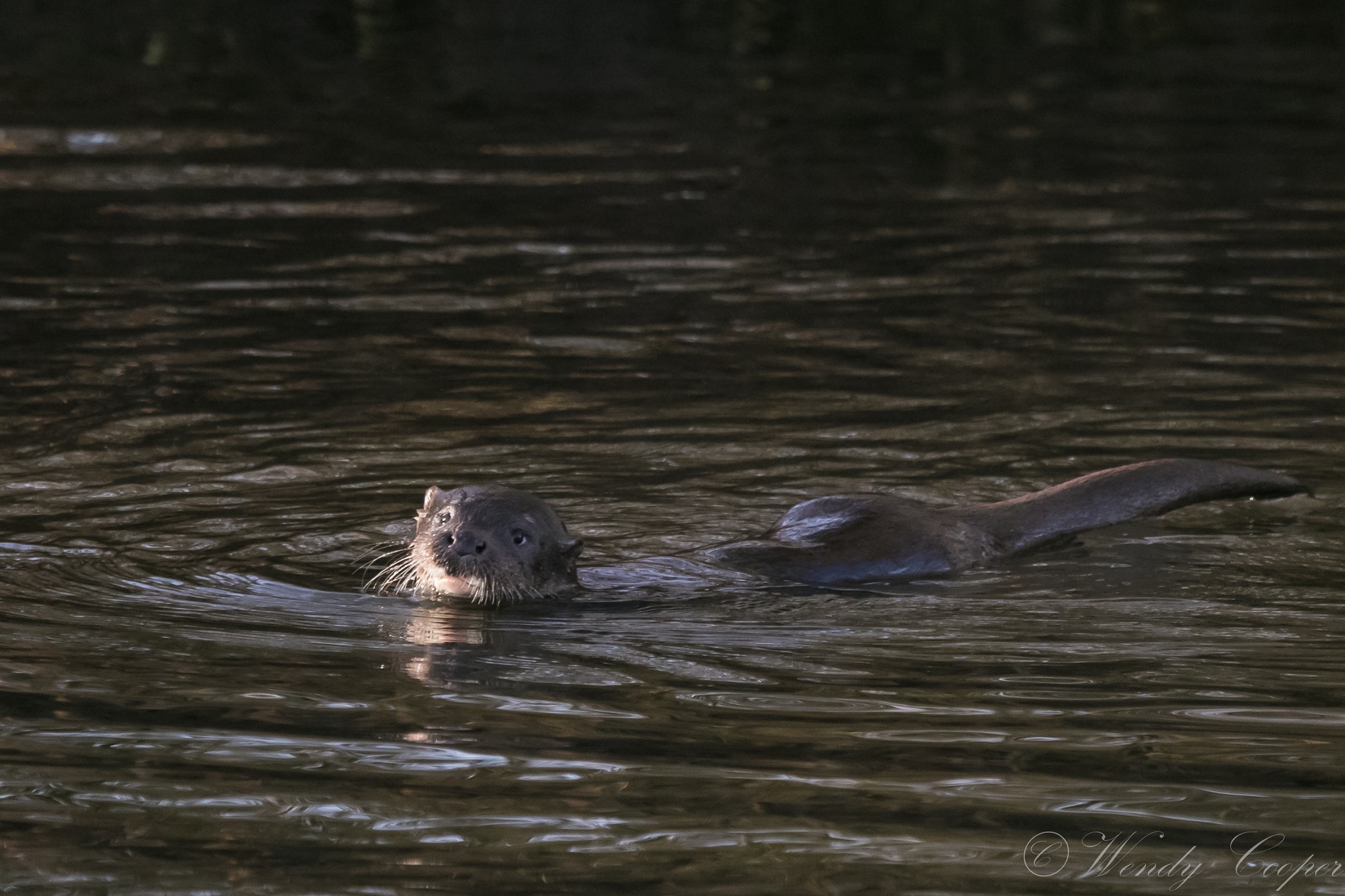 My wonder at watching this beautiful animal was no less than when we had seen our first ever Otters up on Mull in 2017 and the very silly grin lasted a long time!
During January it was soo cold! We also had snow, which saw the garden café become very busy! Whilst I did my Big Garden Birdwatch on a fine sunny day, there were also days when the birds looked positively baffled at the conditions!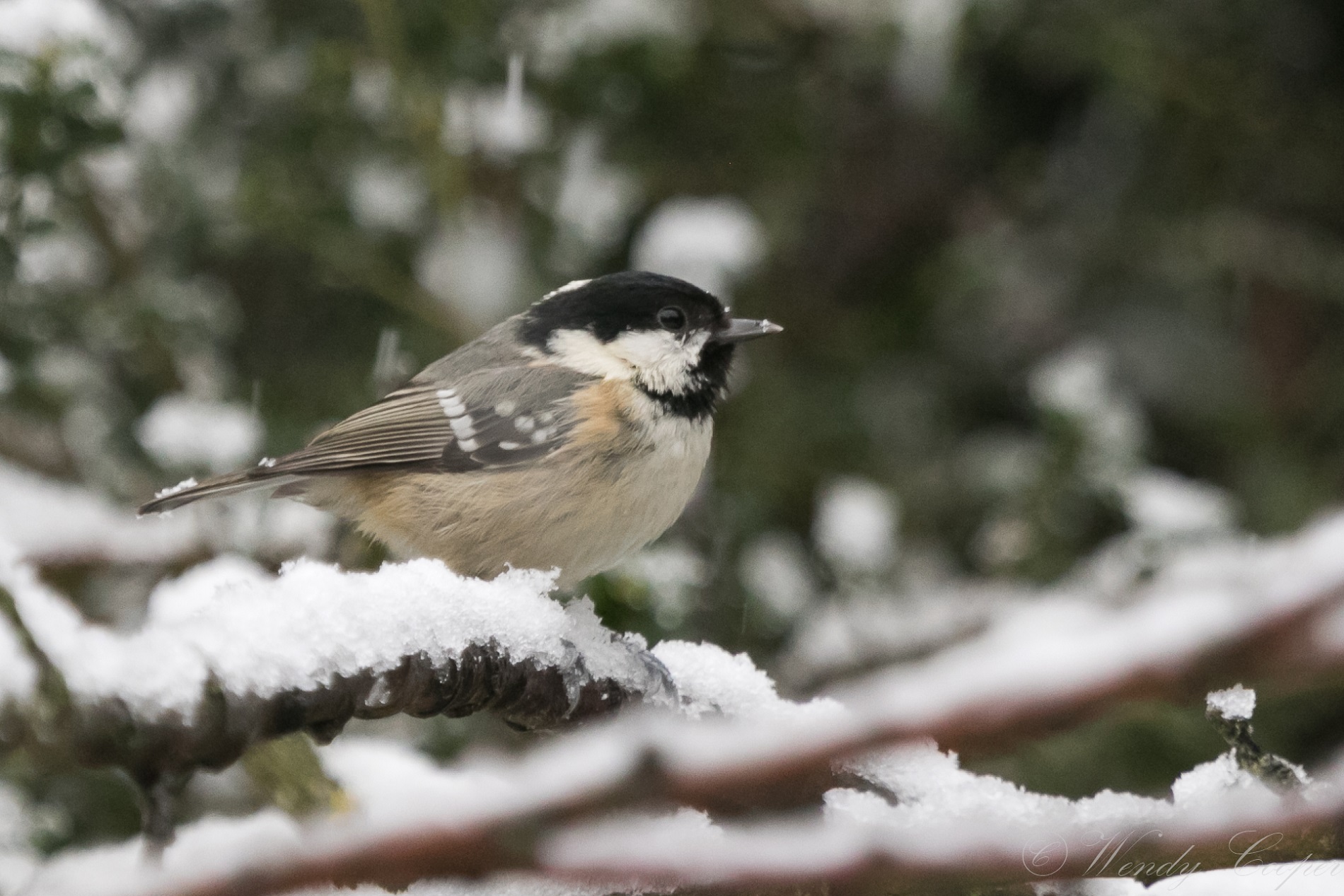 I stood out in the snow, well wrapped up, watching Blue, Great and Coal Tits, as well as the Robins, Sparrows and Blackbirds making good use of the feeding stations.
In the Local Woodland, the birds were all busy foraging, however during February, I caught sight of the Buzzards beginning to display and discuss territory.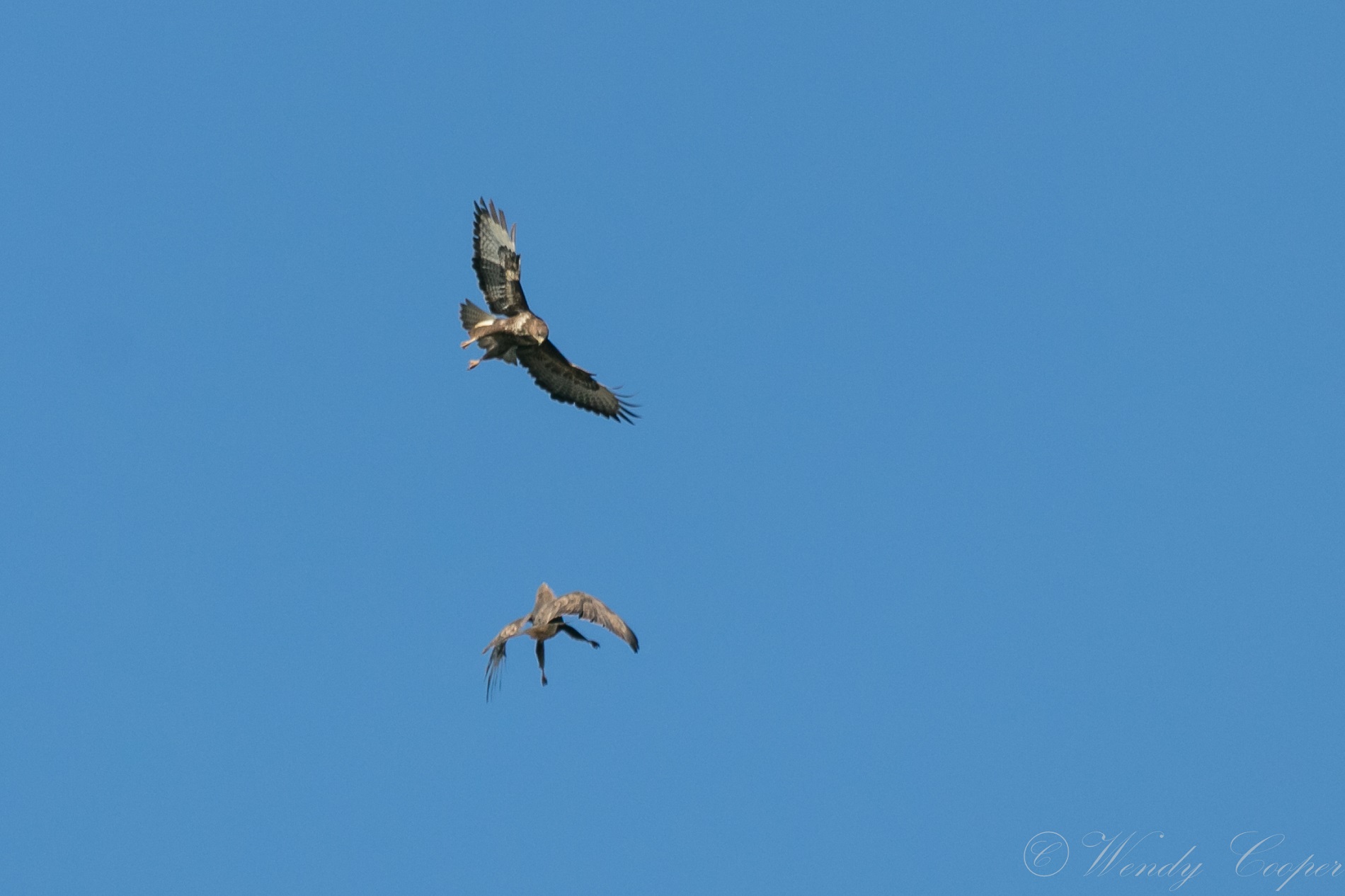 A further surprise was had, when in a corner of the meadow, I encountered the Little Egret, whom I have seen in flight many times, fishing in the little brook.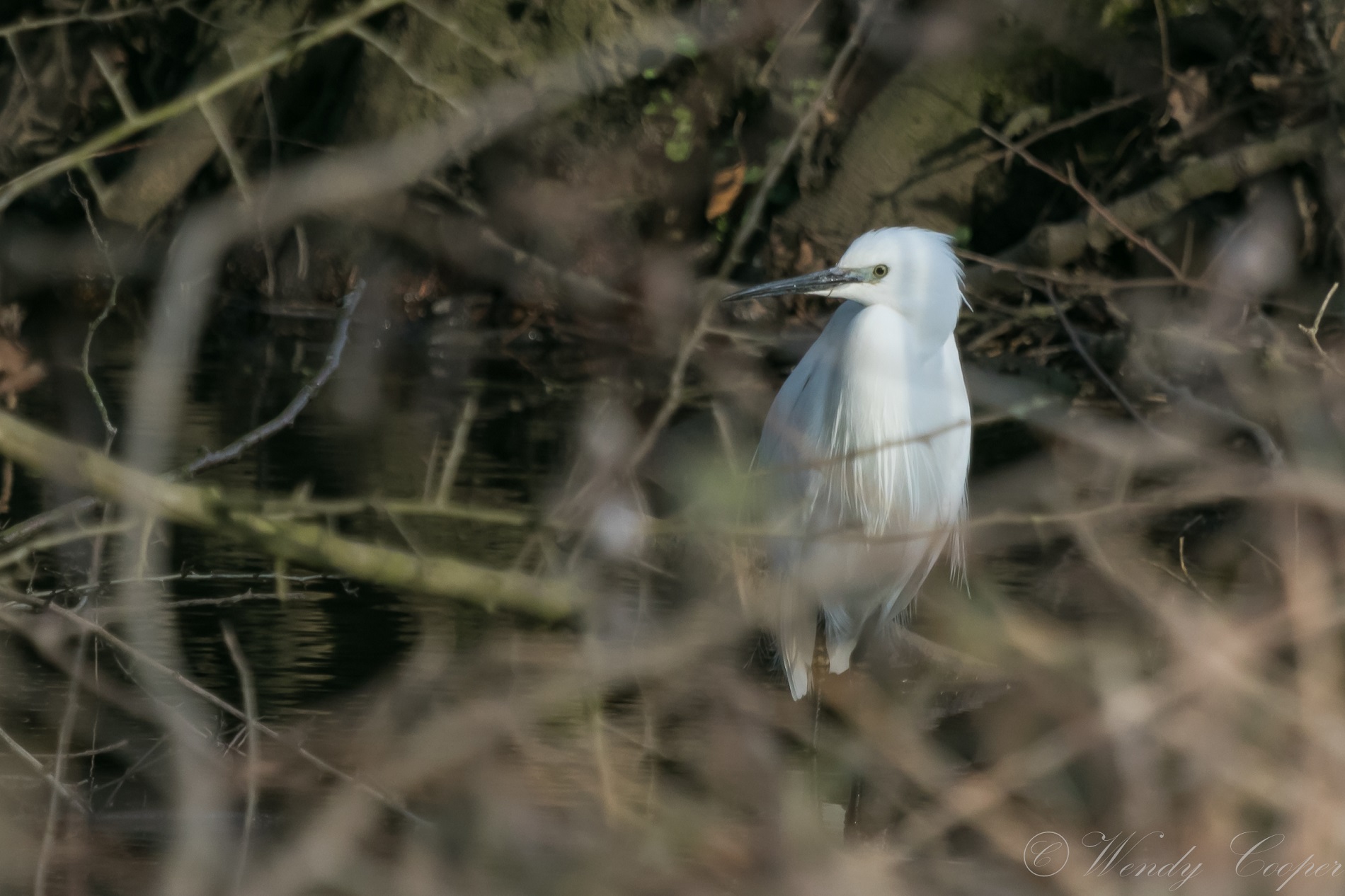 During March, an afternoon out to Lackford Lakes gave us a bracing but pleasant walk, plenty of 'moments' including watching Long Tailed Tits feeding, Siskins, Coots courting, a bashful Muntjac, an energetic Marsh Tit feeding and some lovely views of a Bank Vole as it fed on leftover birdseed.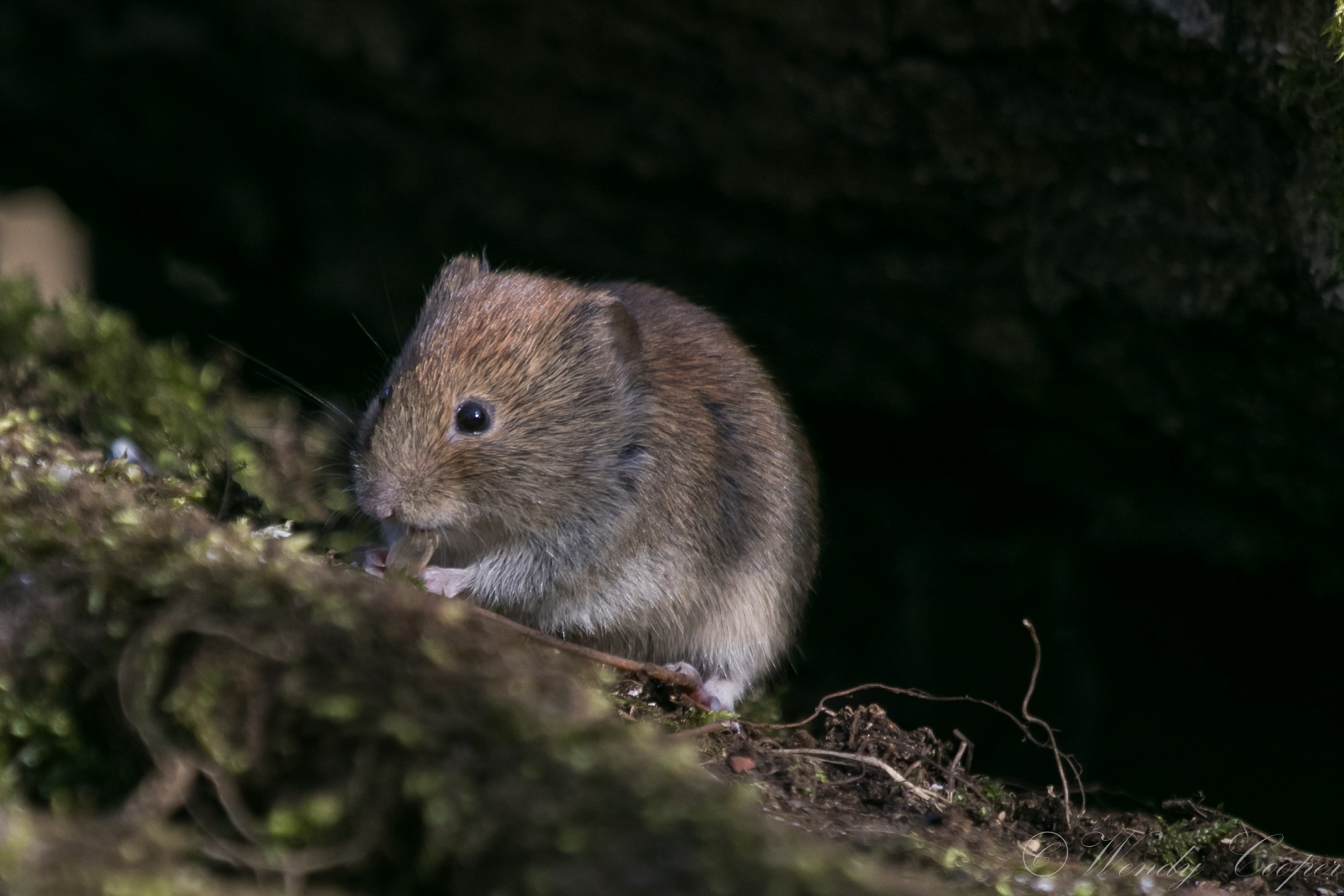 The Frogs gradually began to congregate on the pond in the woods for the Annual Frog Ball, however this year their numbers were not as great, with their courtship efforts continually thwarted by the cold weather. I still spent some time watching them and enjoying their antics, as well as those in my little pond in our garden.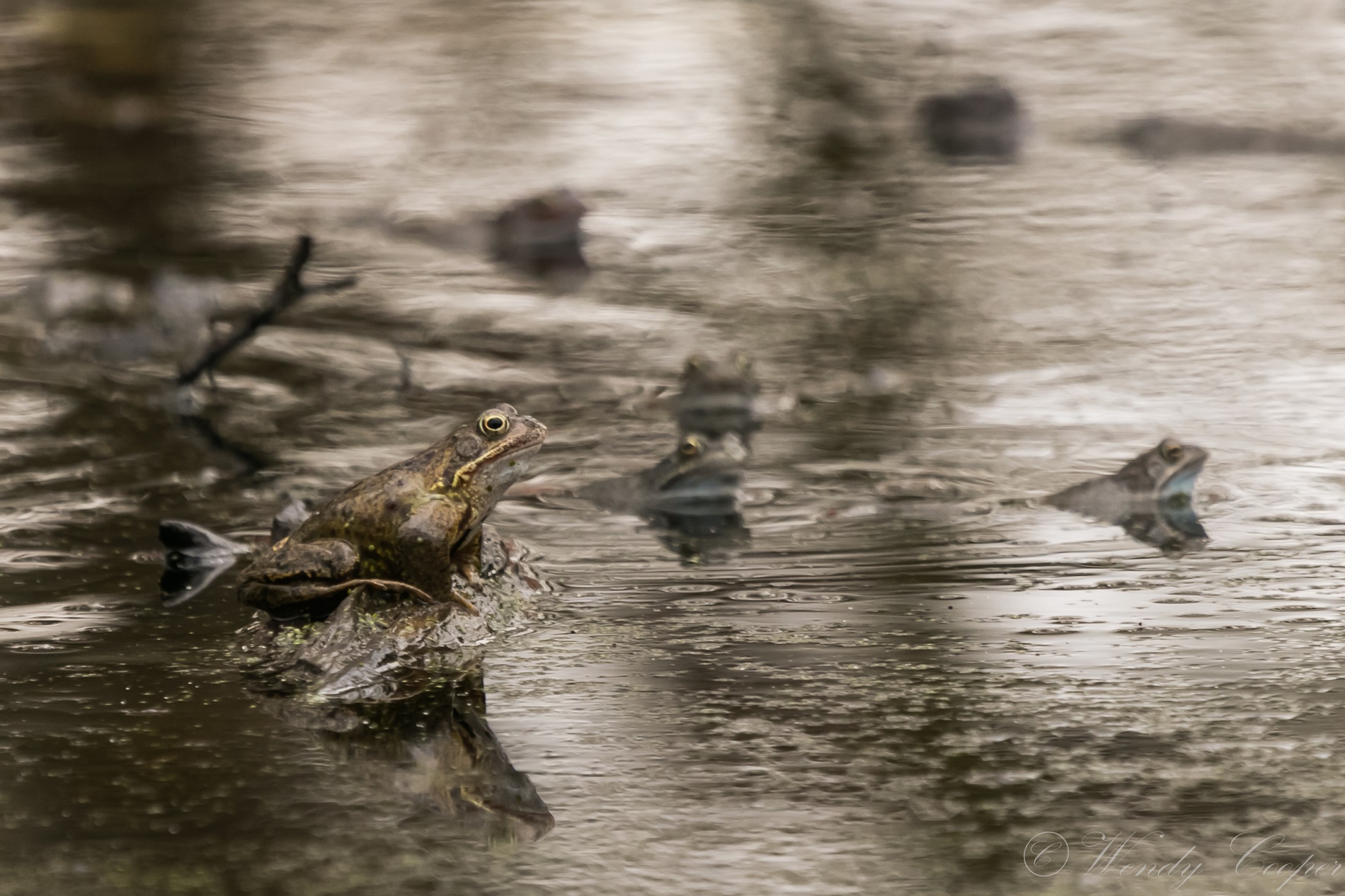 In April things began to warm up a little with the first Comma's and Small Tortoiseshell Butterflies appearing and a slightly late arrival of the first Chiff Chaff on the Local Patch; along with the Chiff Chaff, quite a few more Whitethroats and Blackcaps arrived than in previous years, there also were quite a few Song Thrushes in full voice as well, so over the next few months I could often be found just standing in the meadow listening to their songs with a ridiculous smile…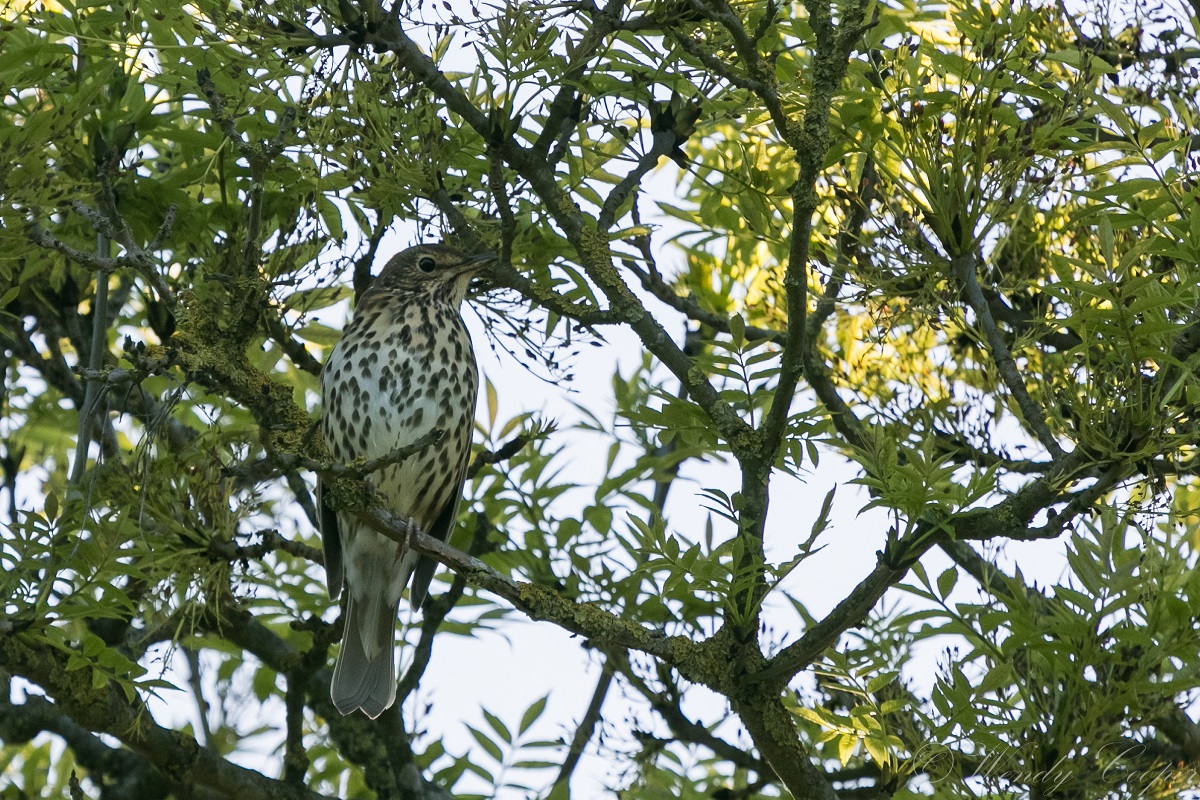 One afternoon, having spent some time watching the Common Lizards and early Butterflies,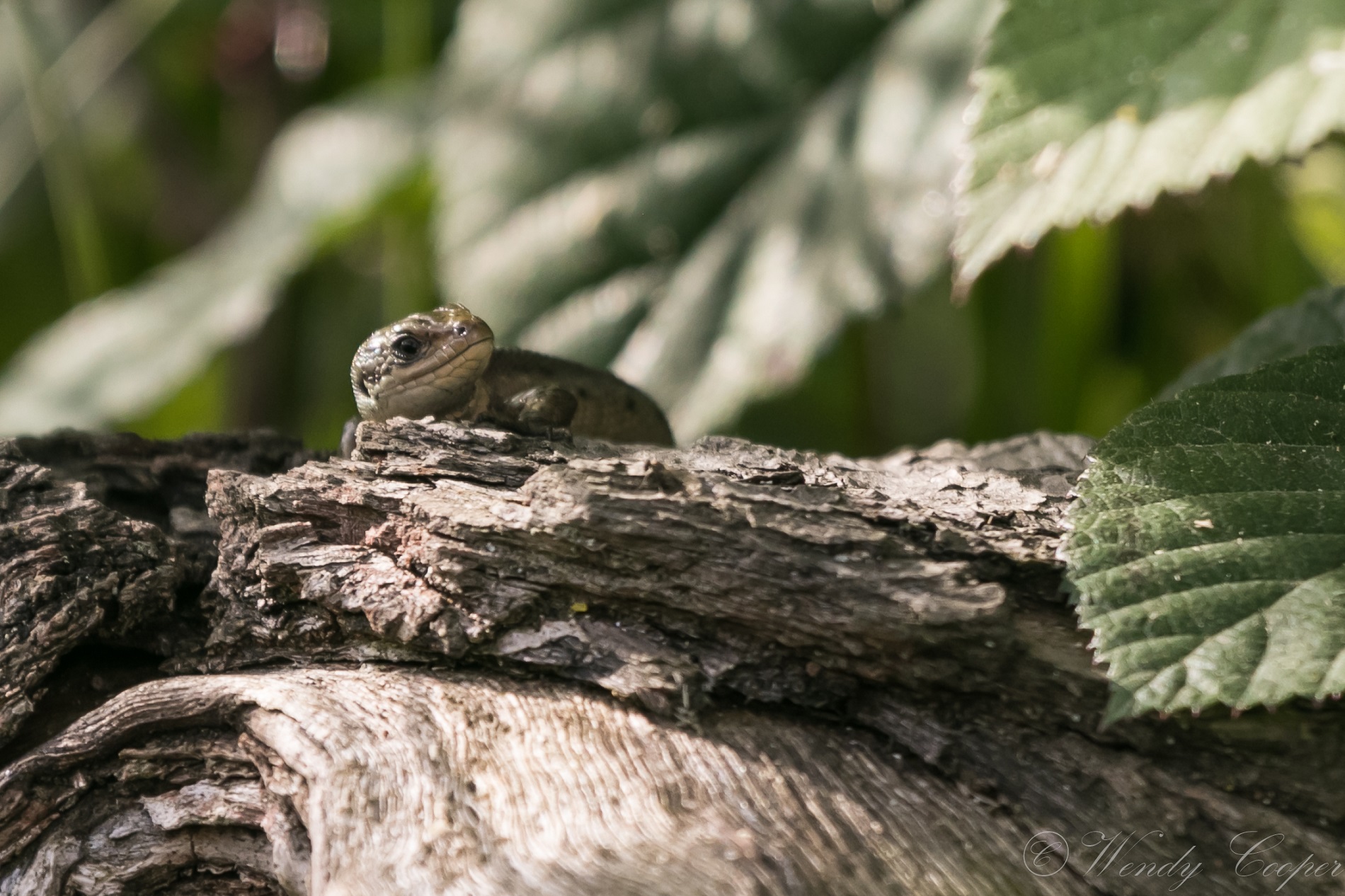 as I was walking I saw a Comma and a Peacock perched next to each other. It was the first Peacock I had seen this year so I readied the camera, then realised that it was not a vine that the butterfly was resting on, instead, it was a Grass Snake that was basking in the sunshine!!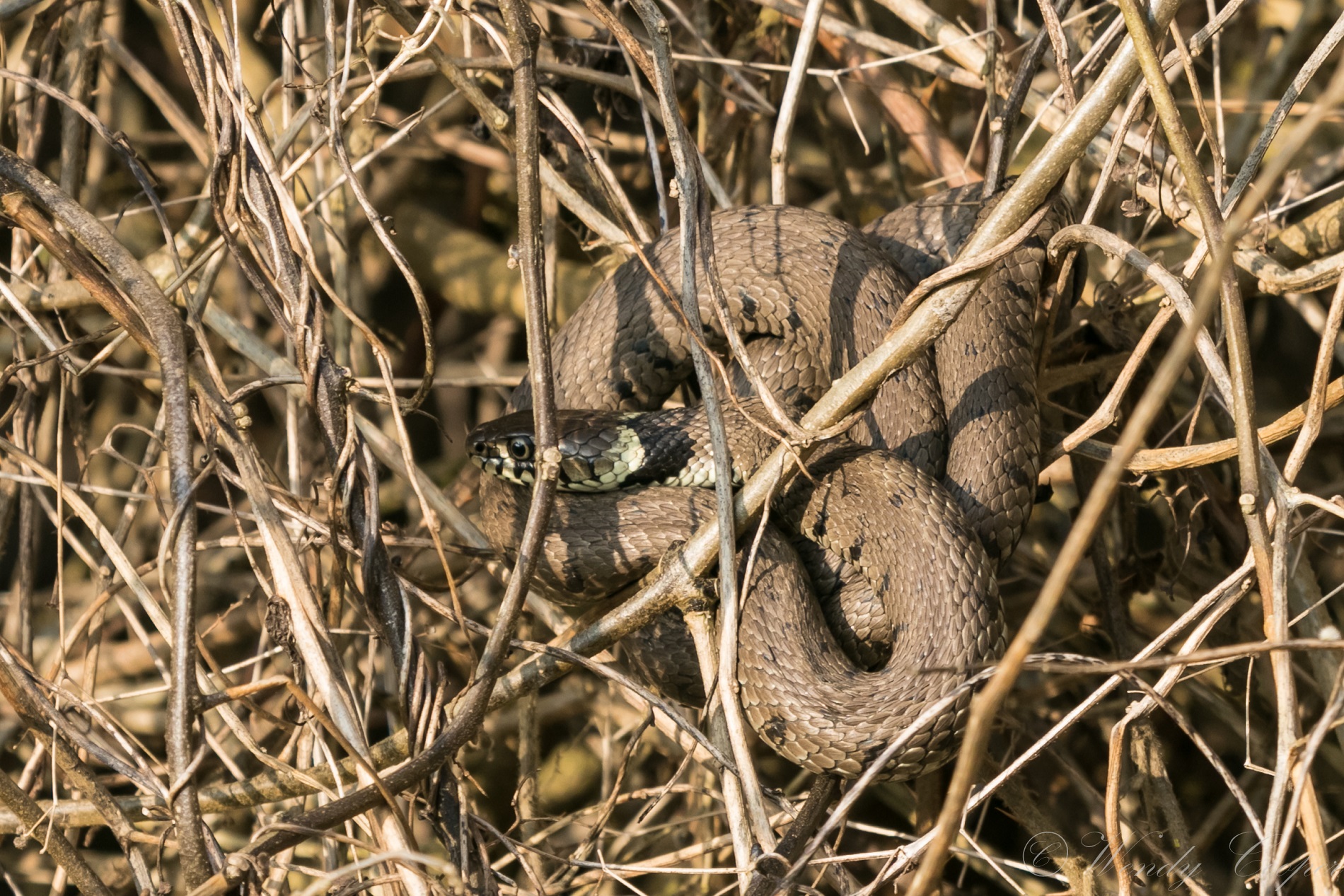 I had seen hints and glimpses previously, however this was a magic moment indeed !
We then spent some time up in Suffolk for our Birthday week, where a few 'moments' were had… I managed a dawn walk where I was serenaded by Skylarks and Sedge Warblers,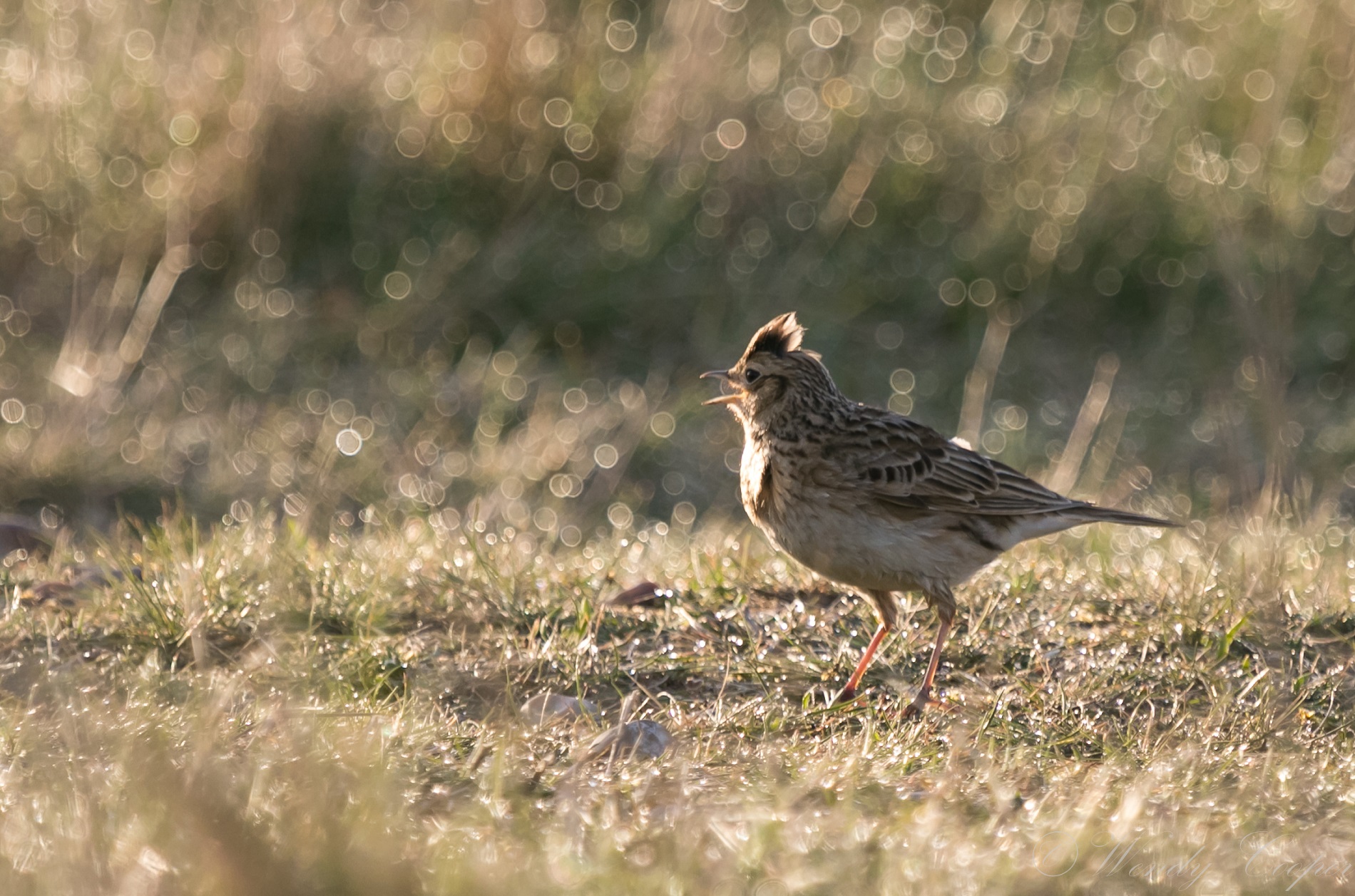 We had lovely views of Dartford Warblers on Dunwich Heath as they popped up and down atop the heather calling for a mate,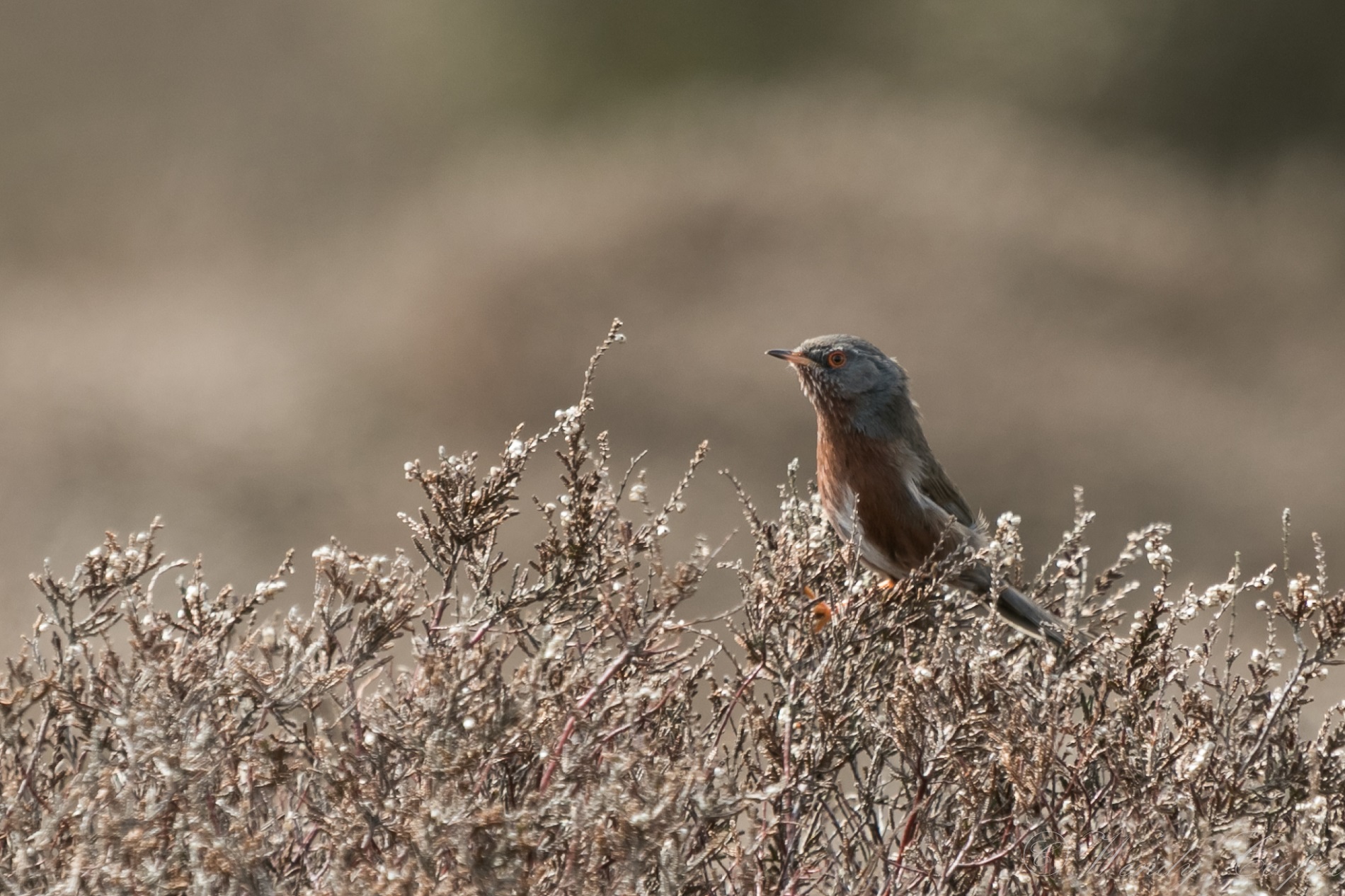 We watched mesmerised at the Sand Martins' wall at Minsmere as they chose and prepared burrows to raise their youngsters in,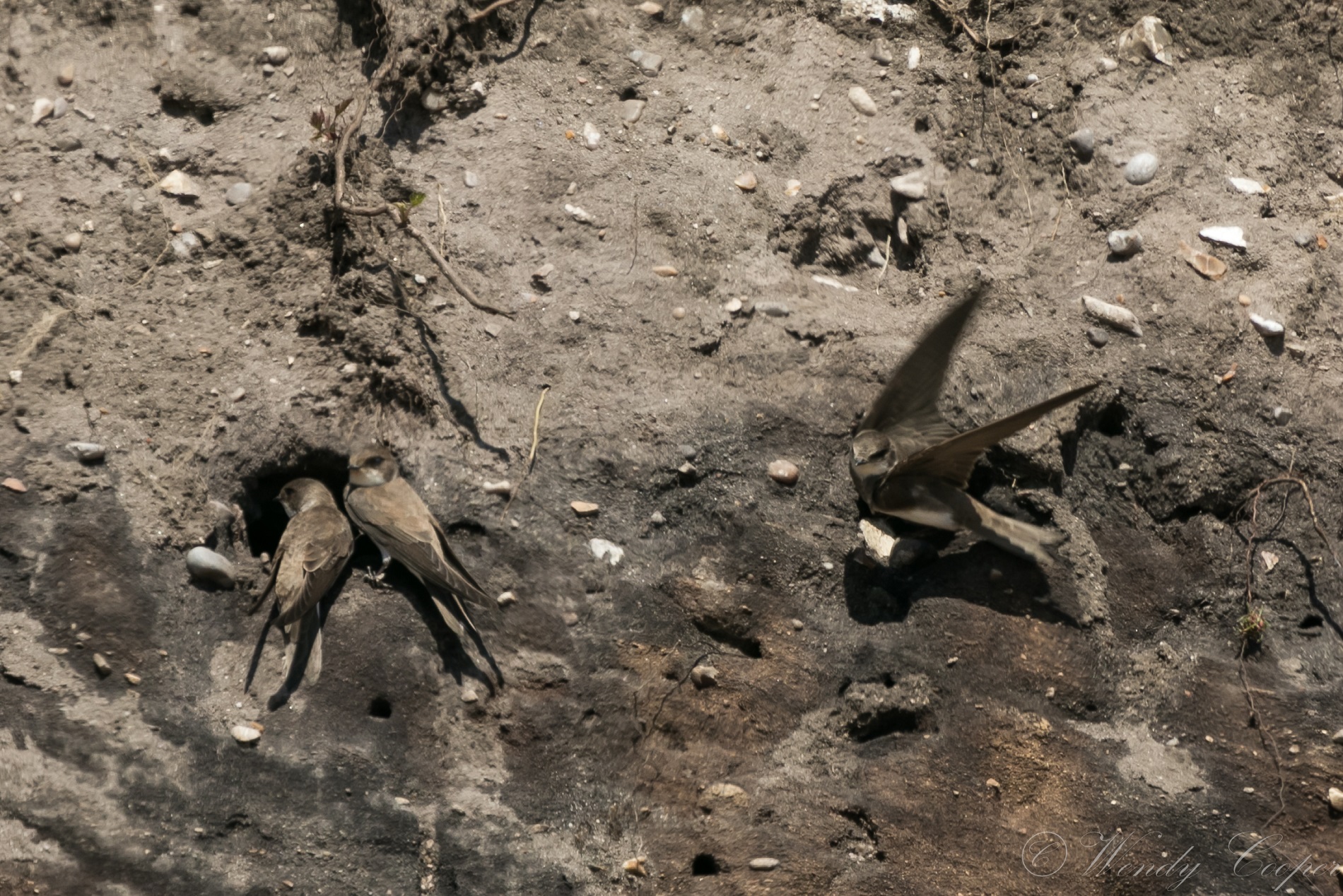 I watched chirping Spruce trees full of Greenfinches feeding, Muntjac deer in the woods and Red Deer in the reedbeds, we caught a fleeting glimpse of a pair of Bearded Reedlings at Island Mere and rounded off each afternoon watching the Marsh Harriers quartering over reedbeds.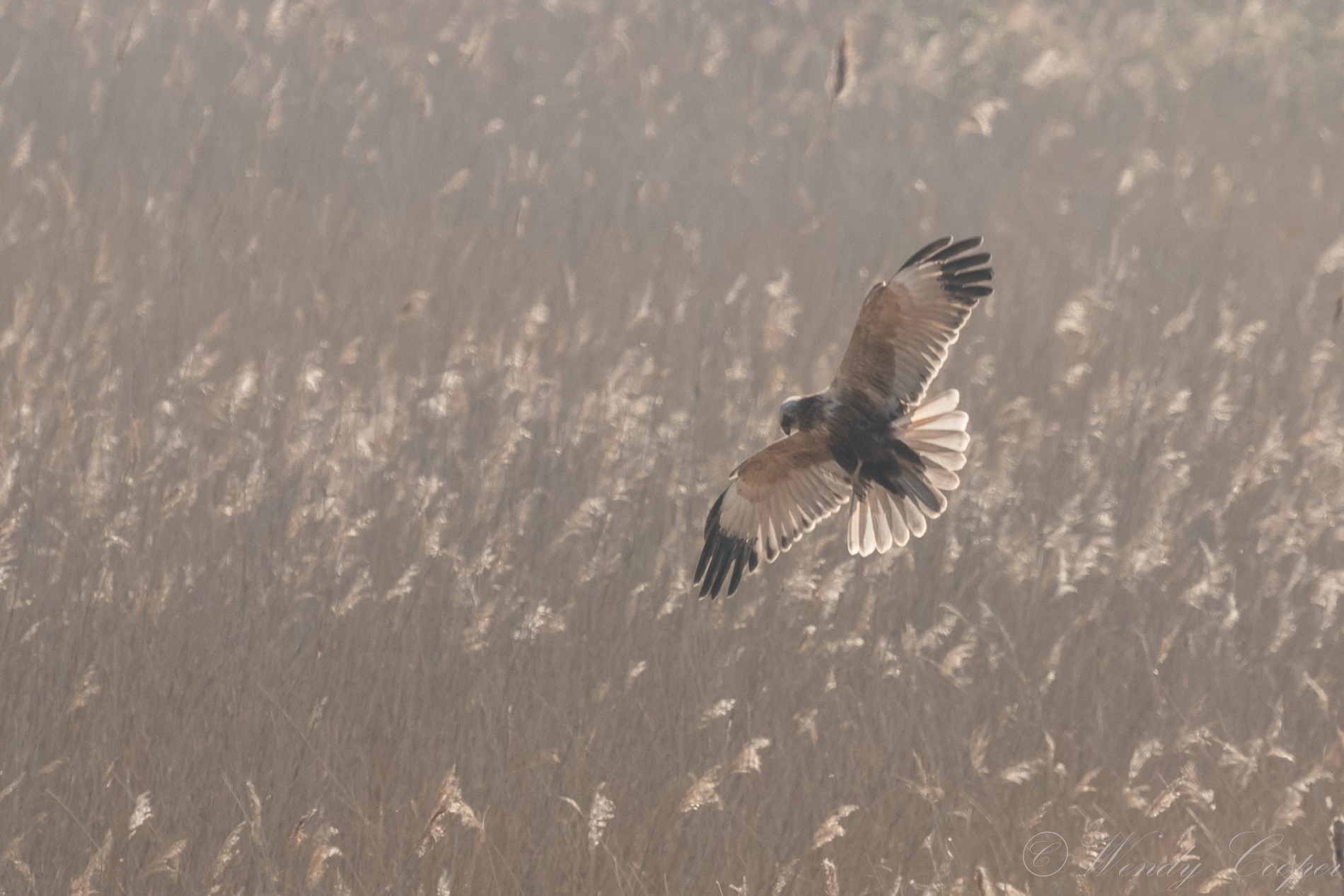 In May, I paid an early morning trip to Cavenham Heath for the first time. The whole heath was full of song, Meadow Pipits, Stonechats and Skylarks all in full voice whilst displaying or foraging for hungry mouths.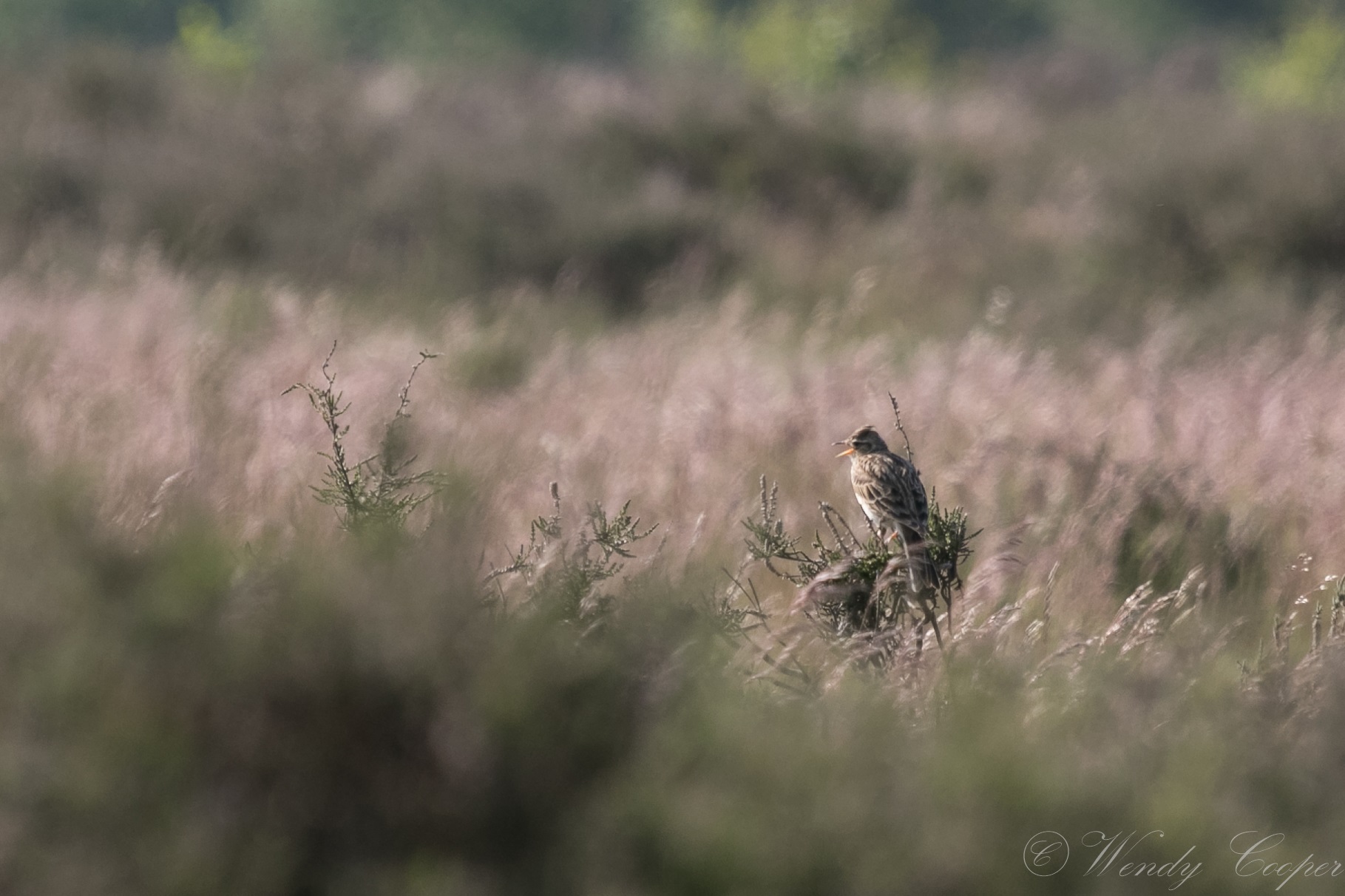 I watched clouds of Common Blue Damsels amongst the vegetation as well as a few butterflies. I even watched a Kestrel hunting and catching dragonflies.
On a brief trip to Lakenheath, where we watched many of the usual suspects on our walk round, instead of just hearing, we also saw our first ever Cuckoo, in flight as it had a 'discussion' with another Cuckoo about who was on who's patch.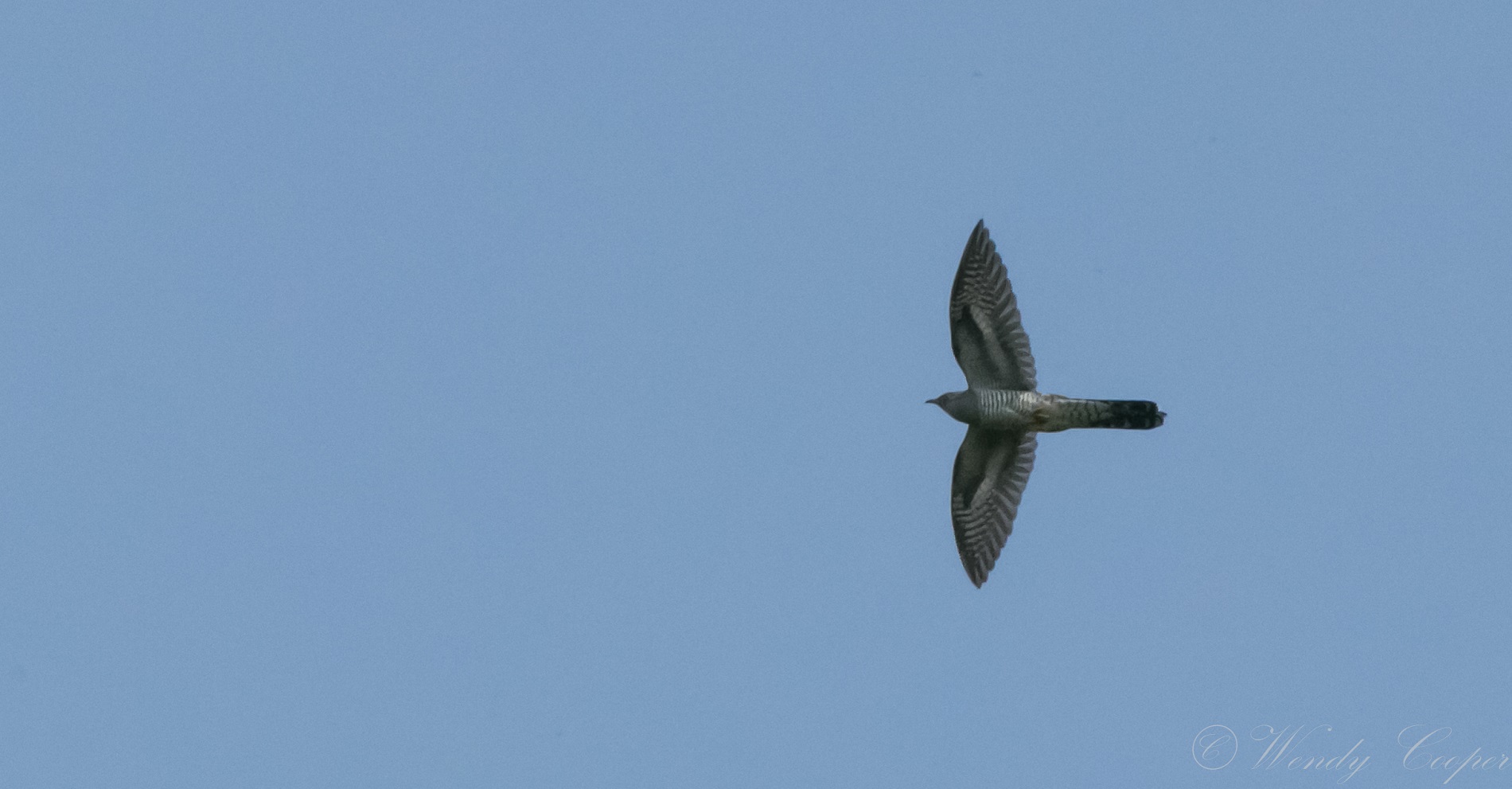 In the back garden, the birds had wasted no time in raising families once the weather had improved and suddenly we were watching Pigeons and Blackbirds attending to nests as well as families of Coal and Blue Tits visiting and bringing the youngsters to feed.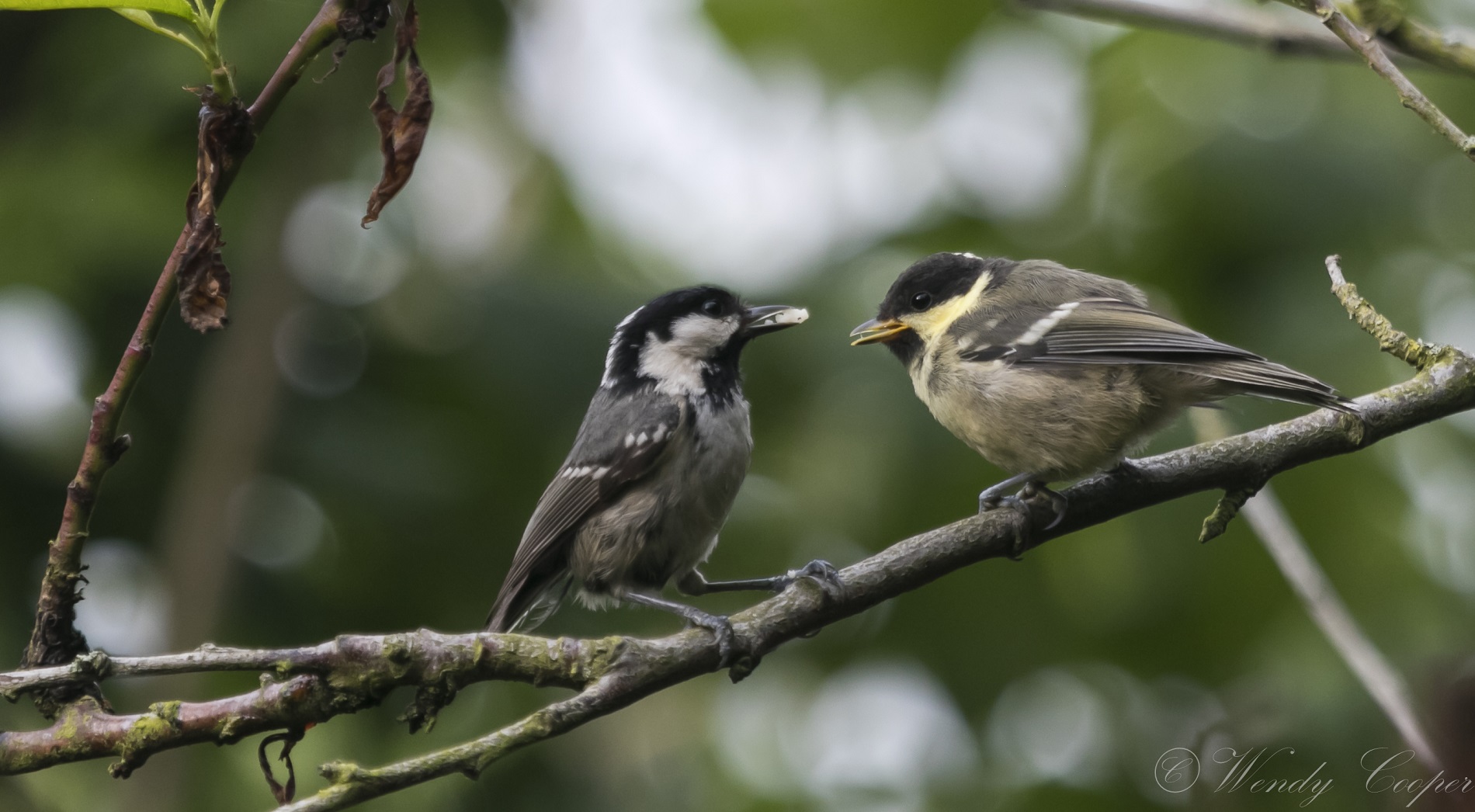 Delighted time was spent watching the adults teaching the youngsters how to manage their food.
In June, for several evenings I heard some squeaky calling from the local woods. After a little bit of careful detective work a totally magic moment was had – the local Tawny Owls had raised two youngsters and I was able to watch one of the youngsters enjoying some late afternoon sunshine.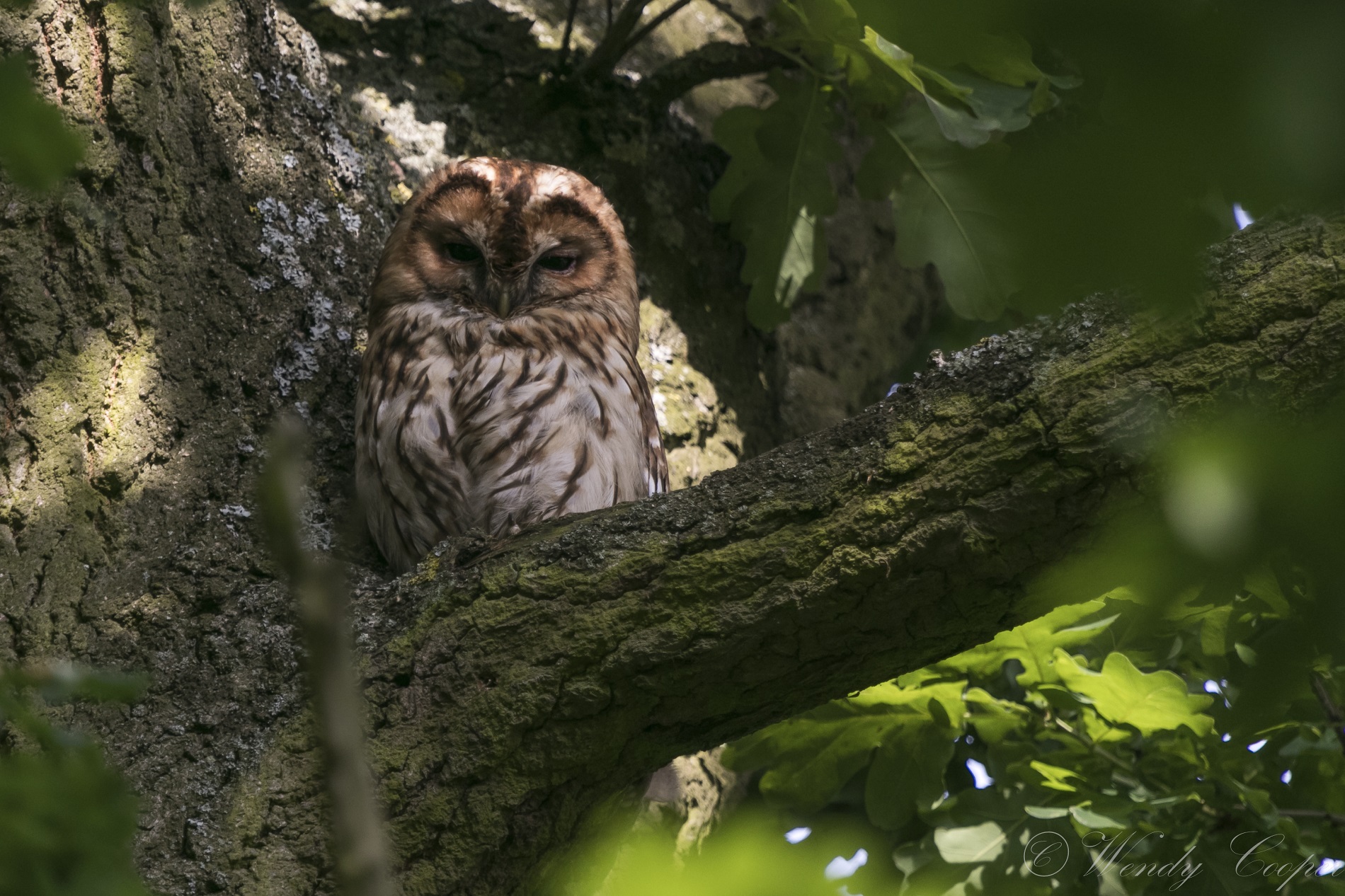 We have lived here for a long time and whilst we often hear them, we have never seen them, so a view like this was just brilliant!
A very warm trip to the Forest of Dean to see the Forest in her summer clothes did not disappoint on the wildlife front. We watched many species of dragon and damselflies, caught glimpses of the Peregrines at Symonds Yat, watched juvenile Dippers and Grey Wagtails at one favourite spot,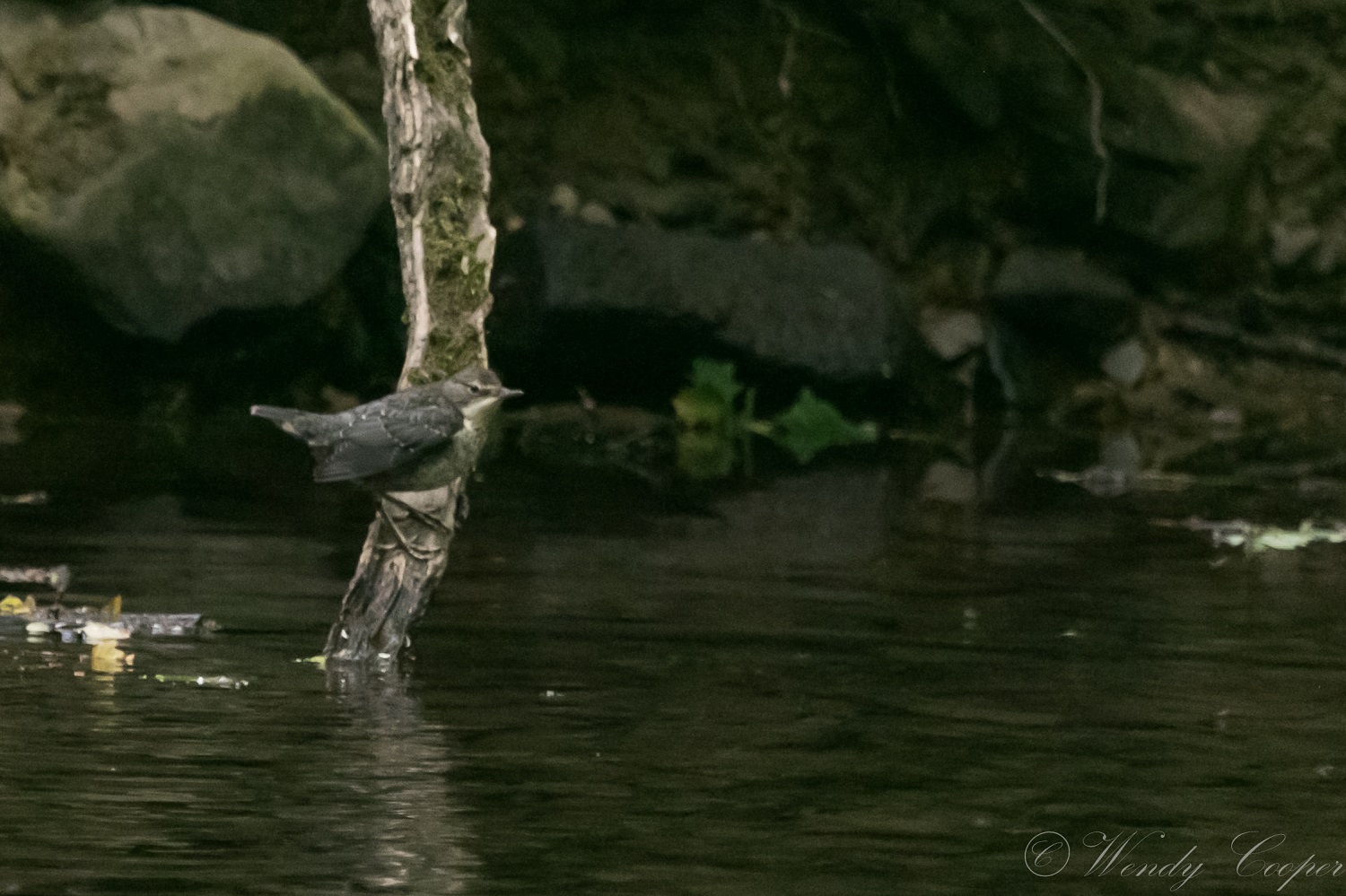 Saw a drama with a Mandarin duckling, a reminder of the realities of nature – survival of the fittest, watched Treecreepers feeding youngsters (something I'd not seen before)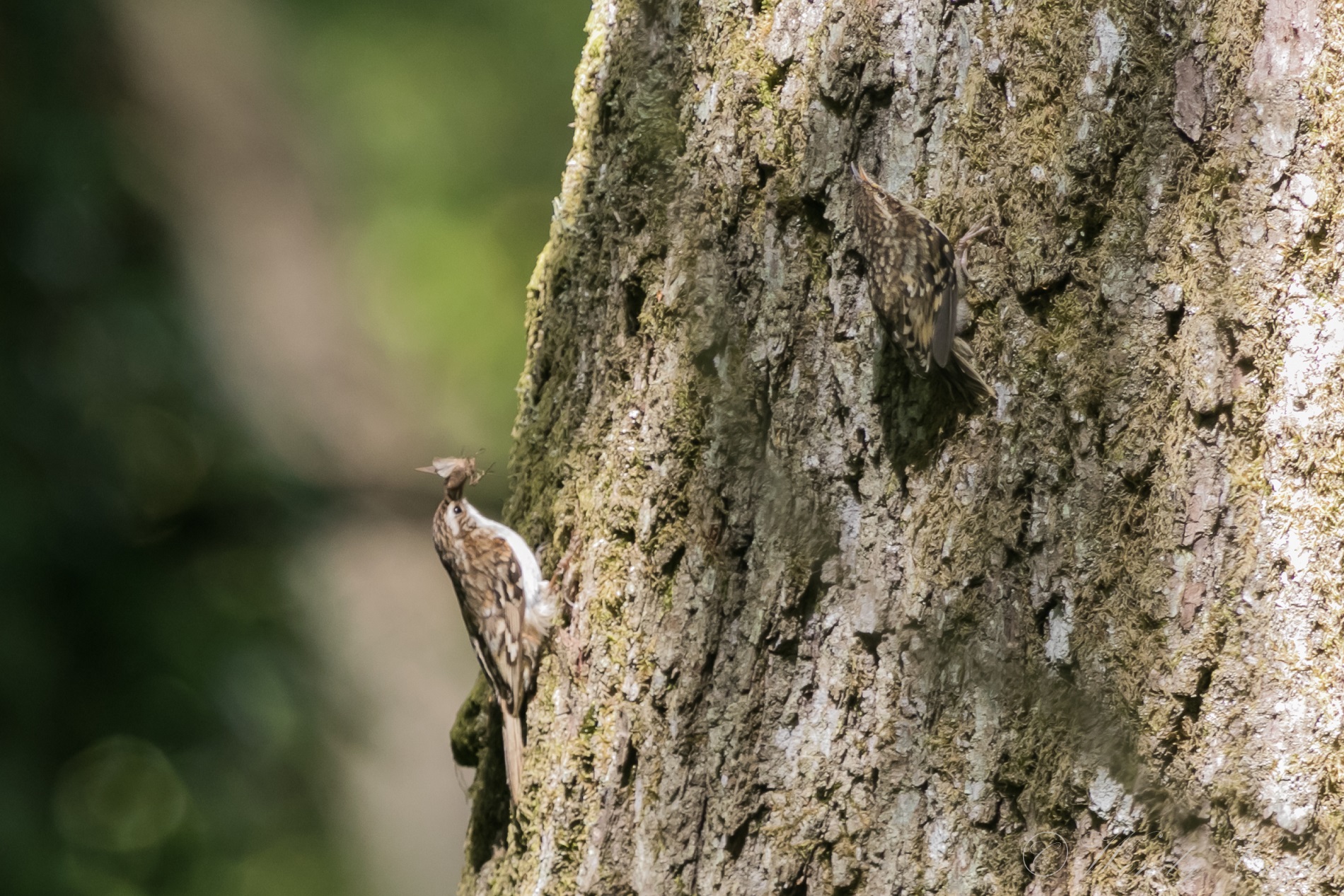 and watched a pair of Redstarts foraging to feed youngsters,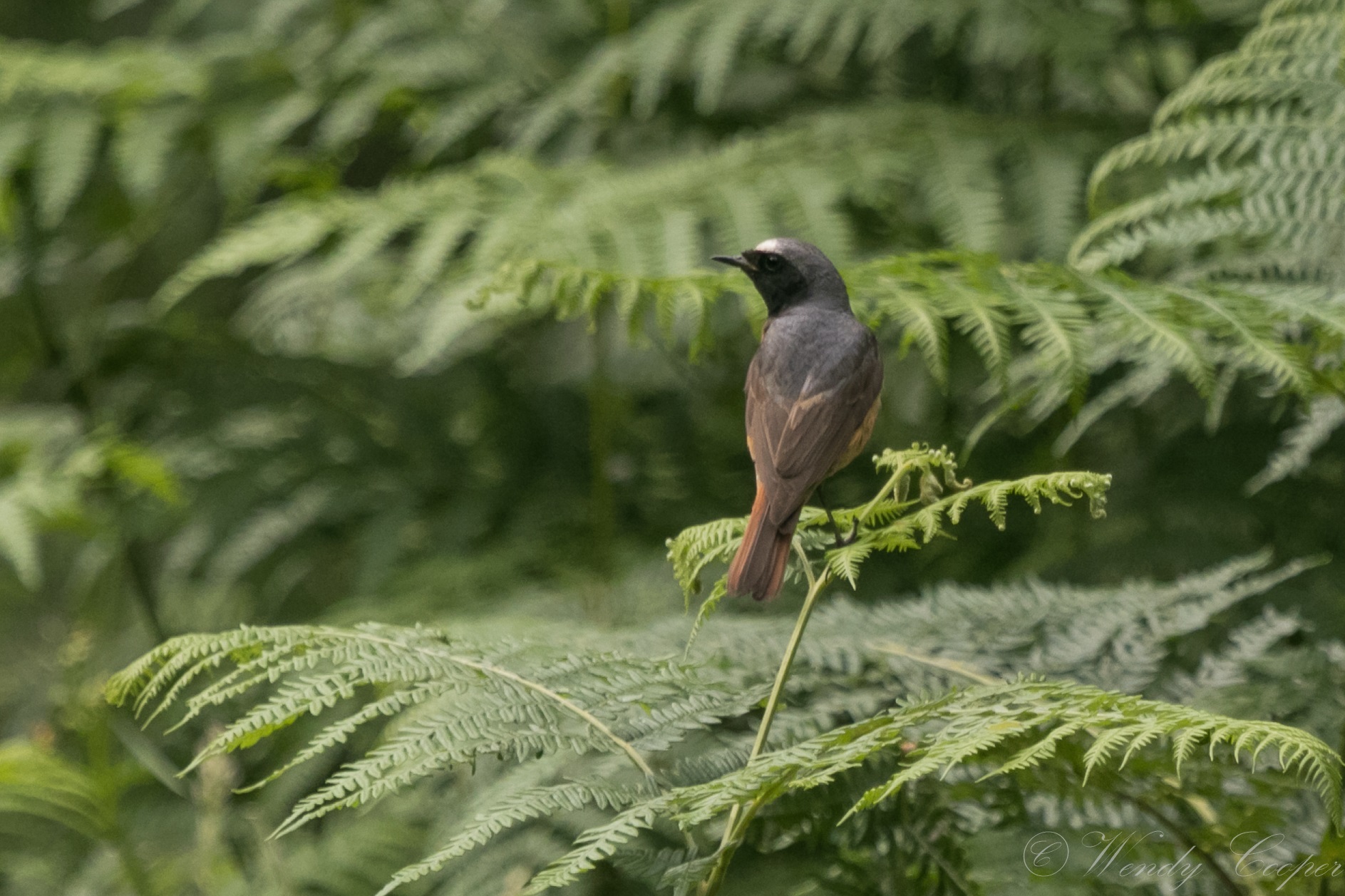 And whilst out on a walk to find Boar, sat and watched a curious Fallow Deer gazing back at us.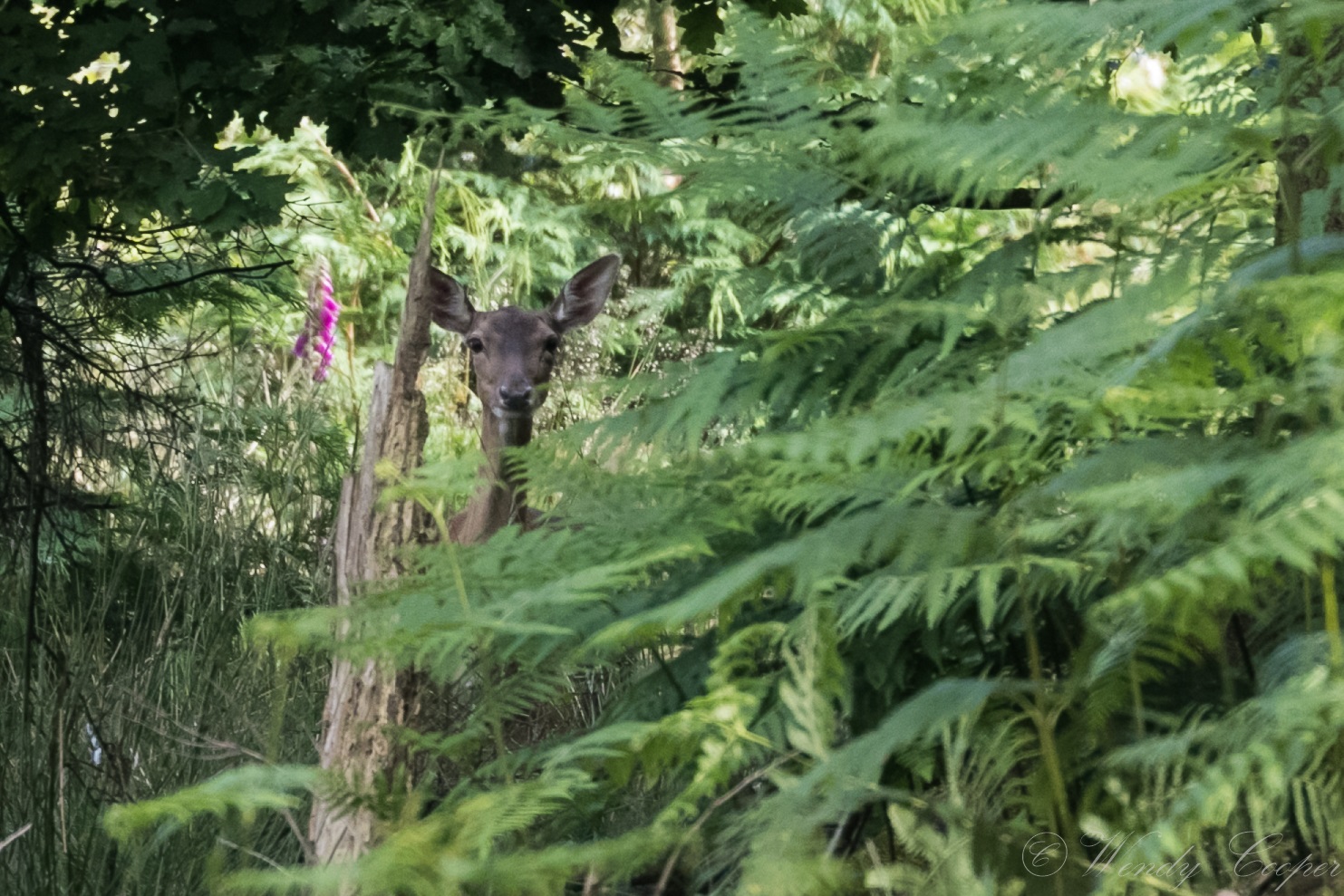 Into July and on my local patch in the meadow much time was spent just standing watching Common Blue and Small Copper Butterflies – a welcome return after their absence of a few years.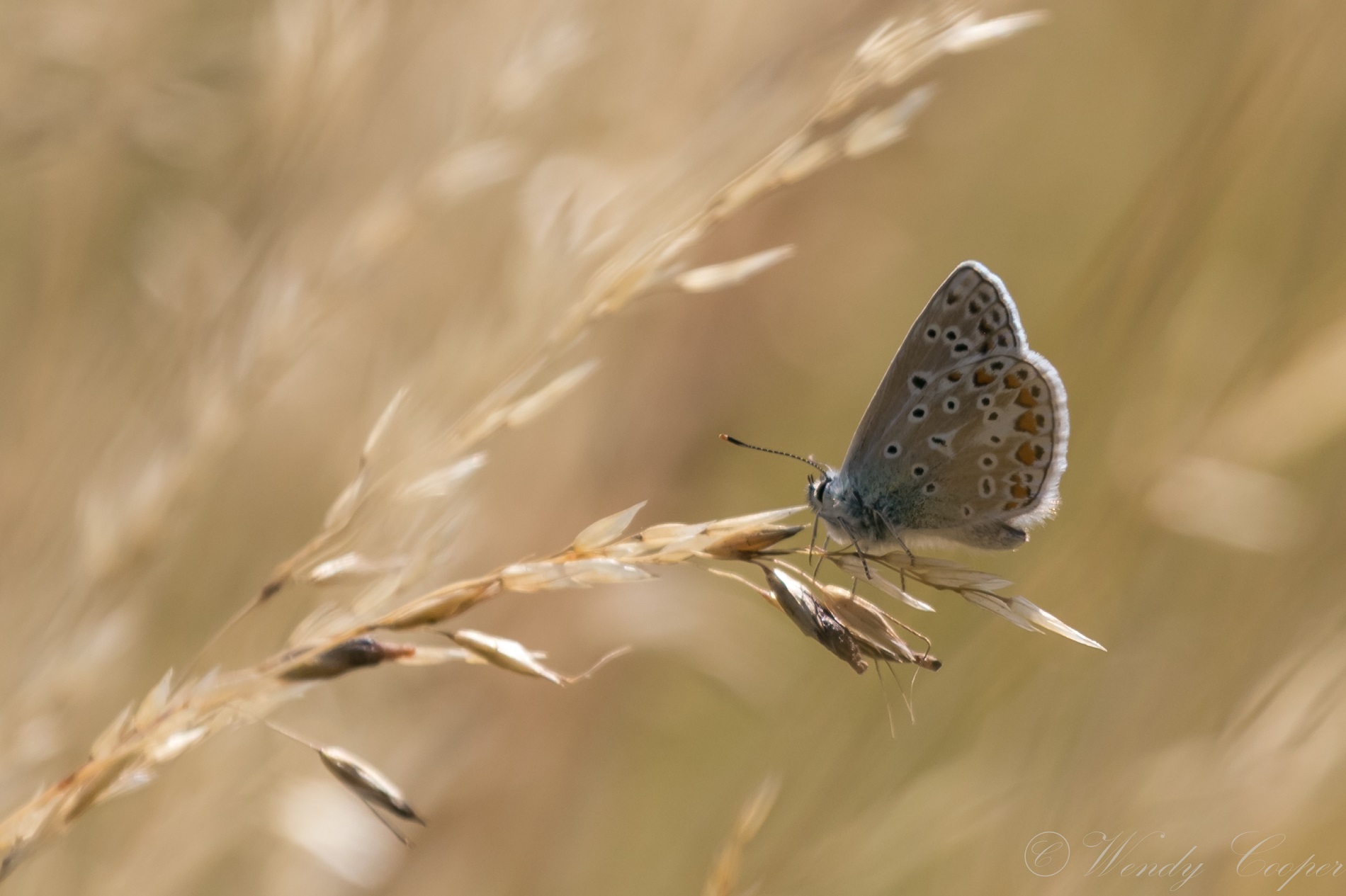 Other Butterflies appeared, however not in their usual numbers, that said, many moments were had just enjoying and watching them as they went about their business.
Brief trips to RSPB Lakenheath gave wonderful views of a juvenile Bittern, balancing in the reeds as it waited for Mum to return with a meal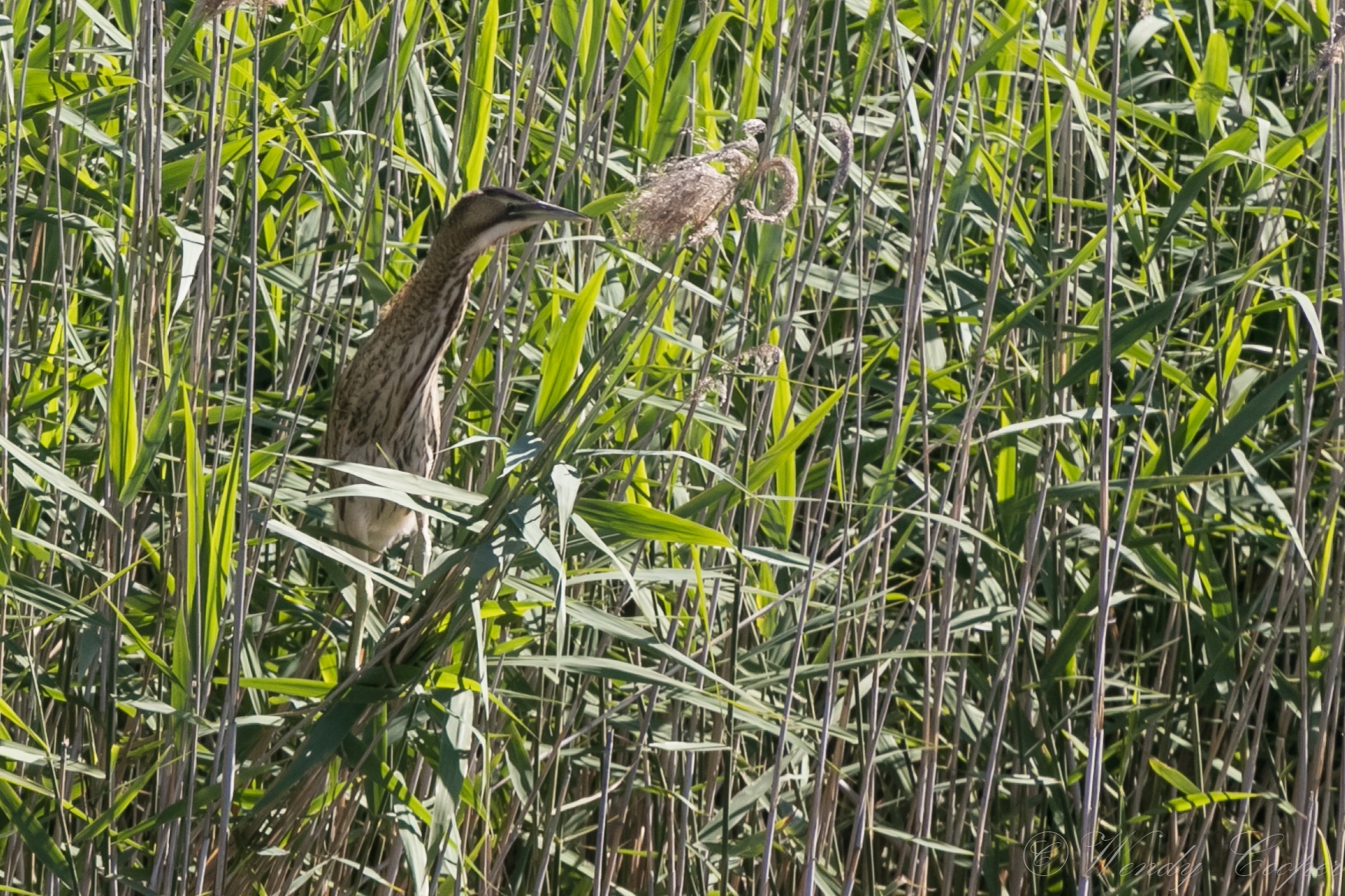 and to RSPB Minsmere once more, where we sat on the beach watching the Terns go by as they picked the best places to fish, then realising as we watched, that amongst the 'Common'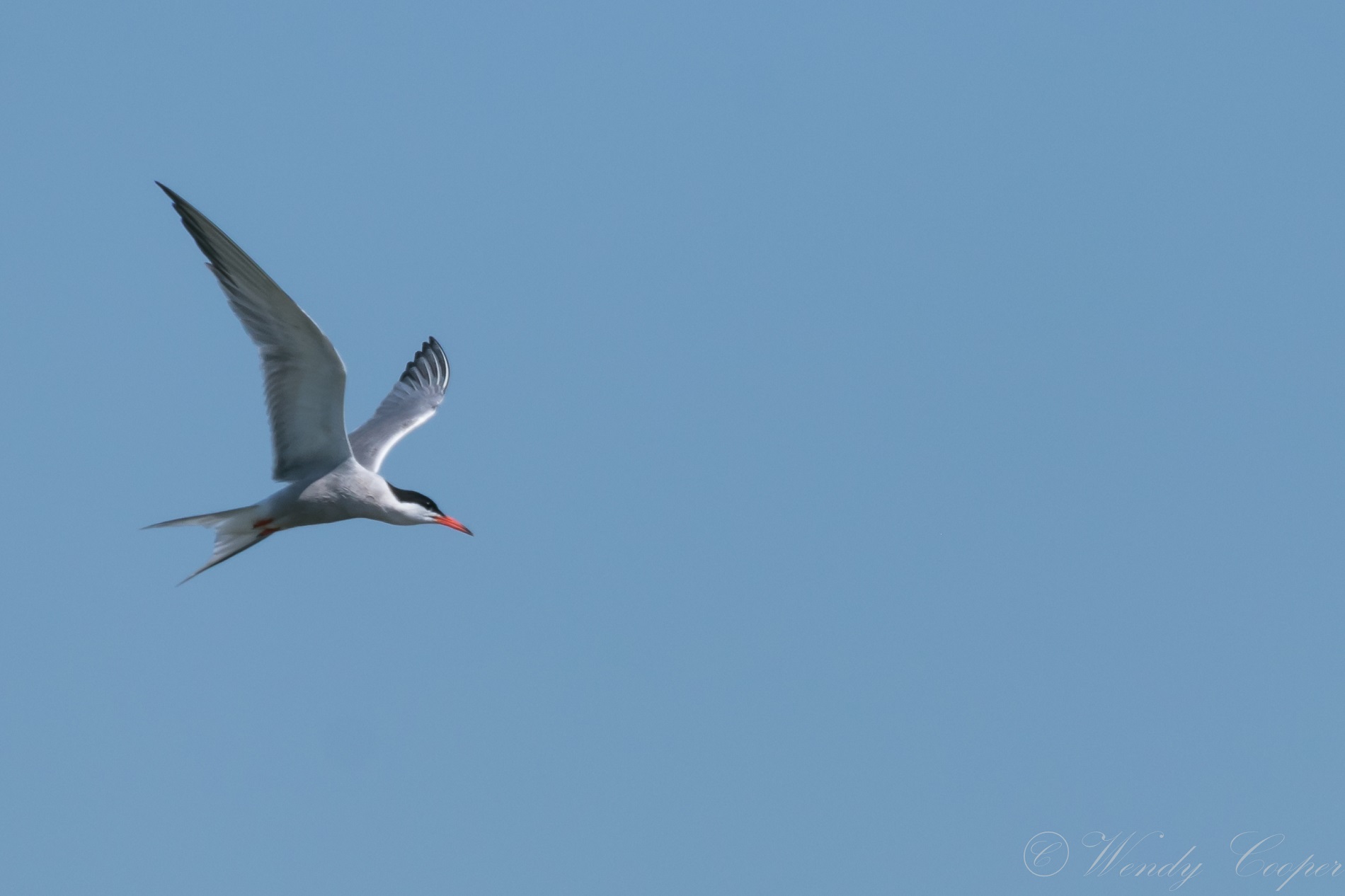 there were also Sandwich Terns which we were watching for the first time.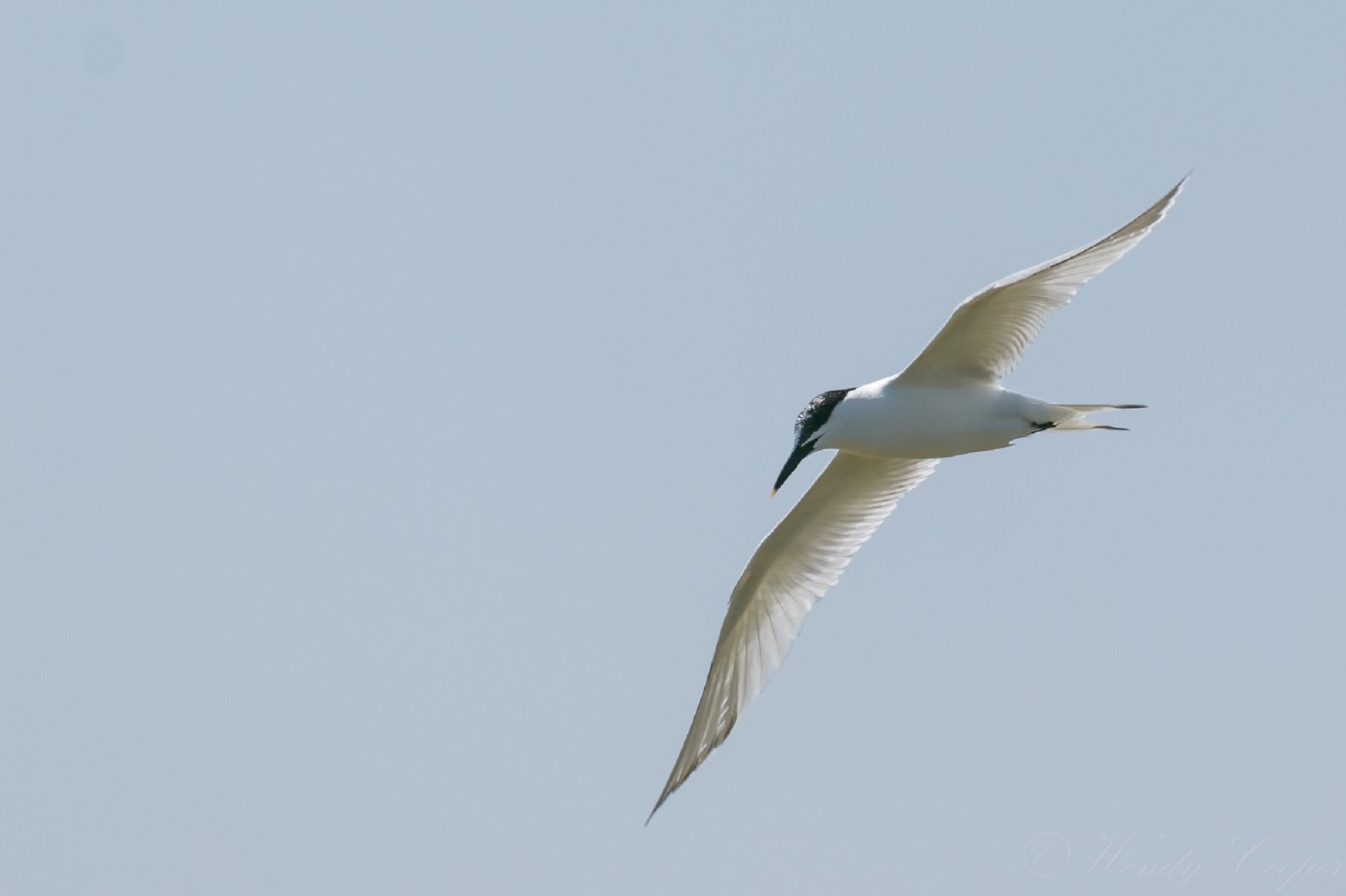 In August a real treat was had on my local patch; I had been discreetly watching the Buzzards and avoiding a particular corner of the woods, for fear of disturbing what I thought might be going on… One morning though after meeting a fellow birdwatcher on my patch, my suspicions were replaced with delight as I 'met' one of the Buzzard youngsters, peering down at me from next to the nest!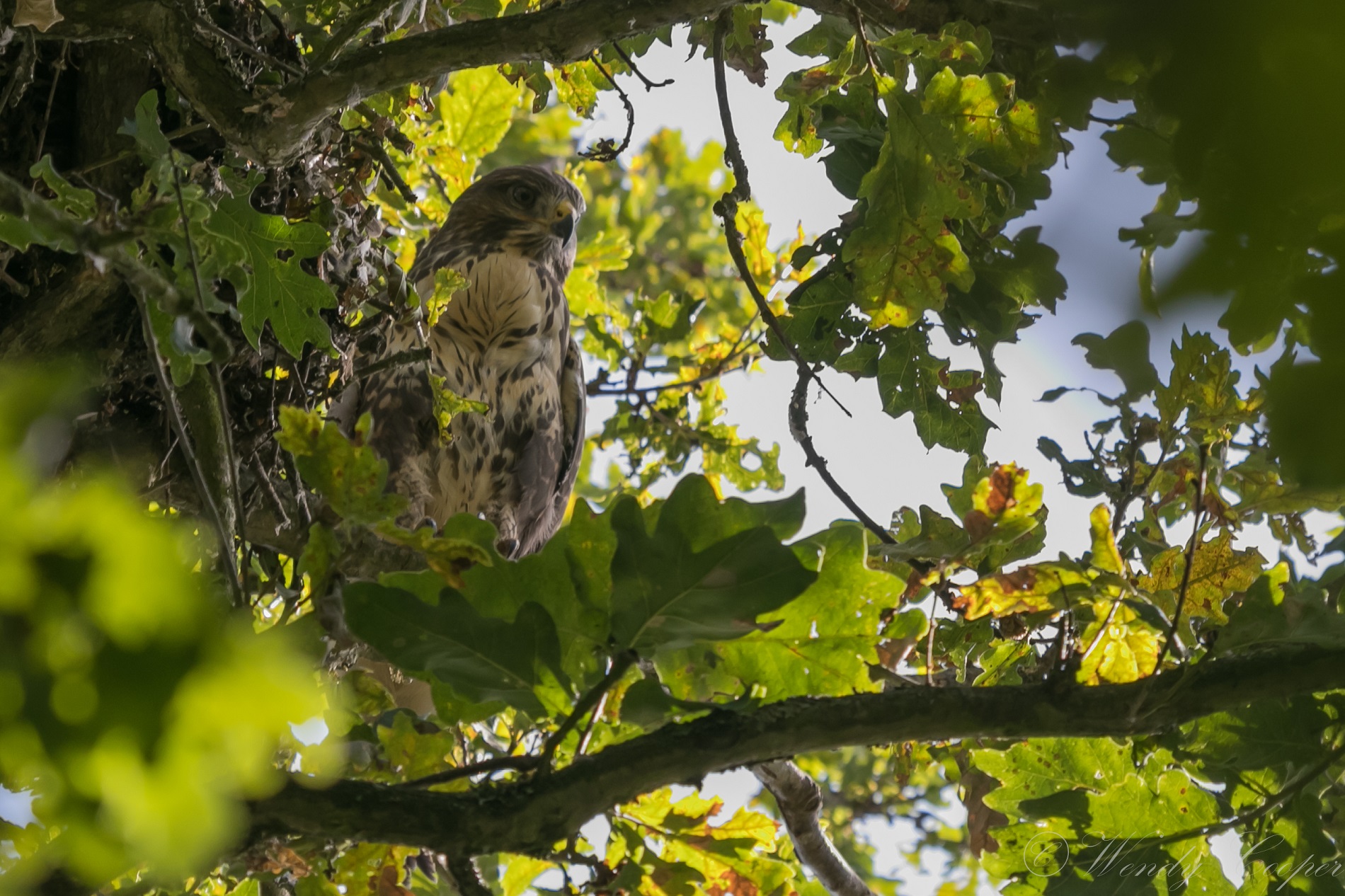 Autumn arrived with a gradual change in colours and new visitors to the garden – we now have a Nuthatch, Jay and Great Spotted Woodpecker all visiting regularly, alongside the family of Starlings,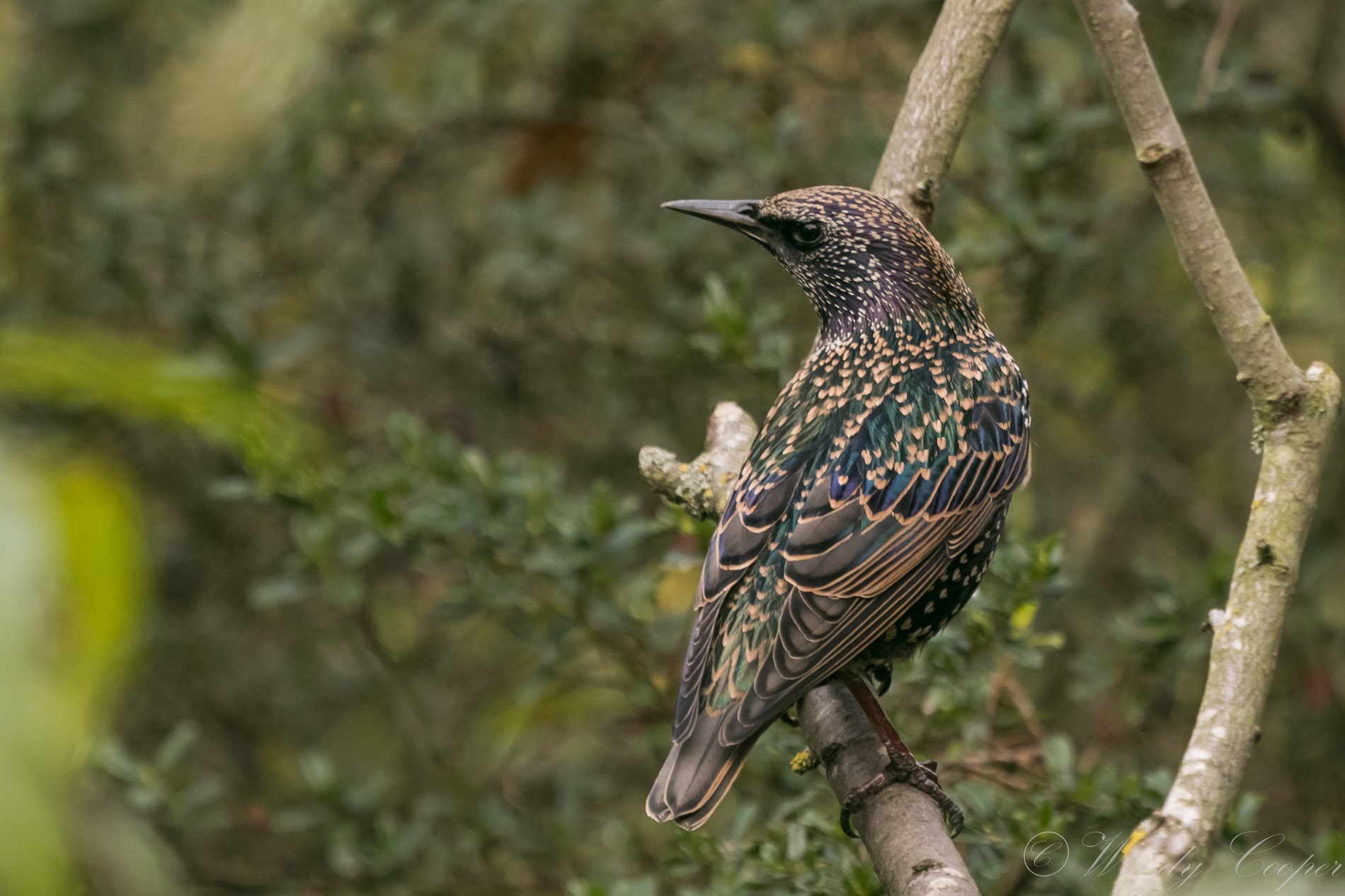 troupe of House Sparrows, Blue Tits, Great Tits, Coal Tits, Wood Pigeons, Collared Doves, Dunnocks and Robins. We also have a small gang of Grey Squirrels bouncing around the garden and have also spotted a Hedgehog for the first time in years. The woodland is full of the smaller birds all feeding up for the winter and on the calmer brighter days, the Buzzards have been soaring overhead in the blue.
Further afield, I have been a somewhat regular visitor to the Fens, entranced once again watching the Short Eared Owls and the other residents on the Fens…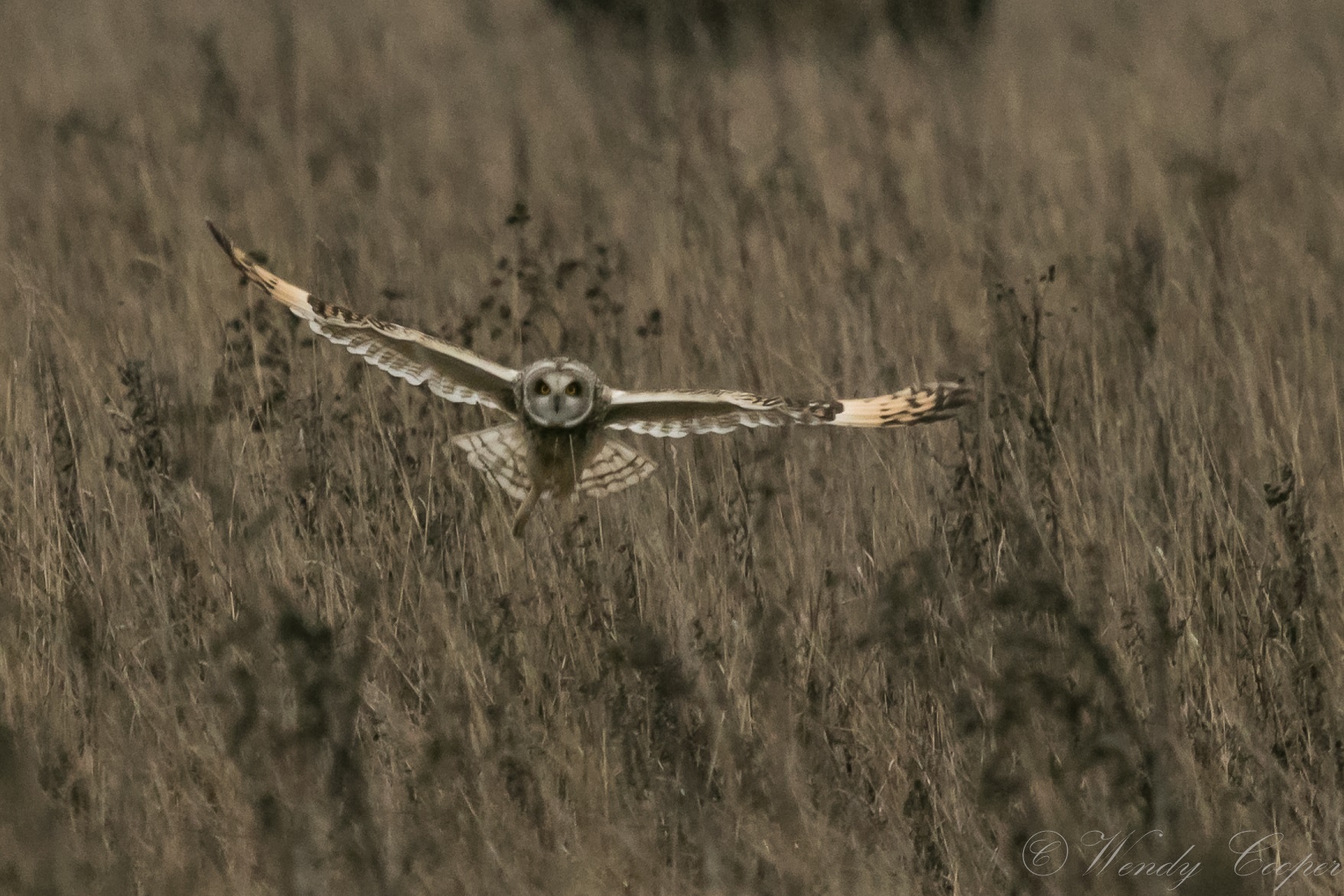 I hope that your 2018 has been filled with as many magic moments as mine and may I take this opportunity to wish you and yours a wonderful, happy and healthy New Year!
I hope you have enjoyed my blog, if you would like an email notification when my next blog is published, please add your email address to the 'Sign Up' box below, you will then receive an email with which to confirm your subscription.
As always, comments, feedback or questions are welcome, so please feel free to contact me via the comments section below or via the guestbook.